The Takata Airbag Scandal: What Auto Investors Should Know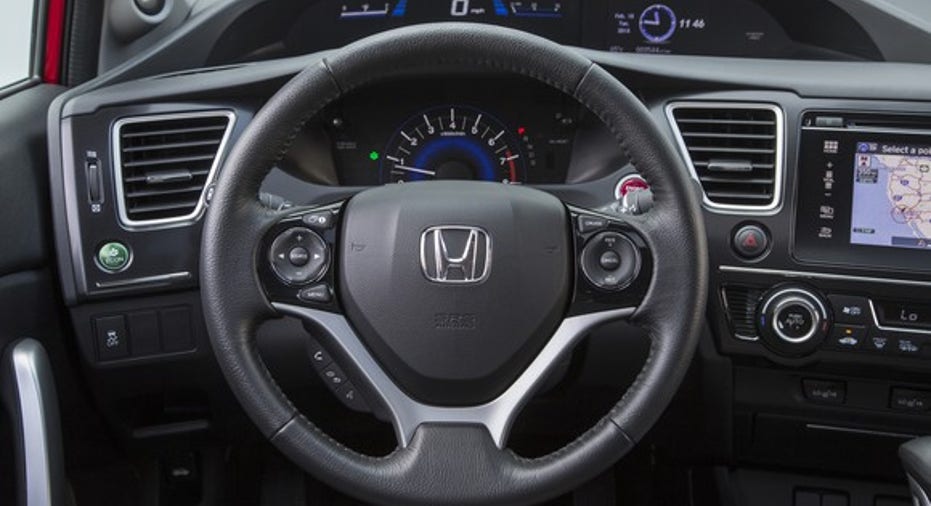 Is there a time bomb in your steering wheel? Millions of vehicles, including many Hondas, are being recalled because of defective airbag inflators that can explode suddenly. Image source: Honda.
Millions of vehicles around the world have been recalled to replace airbag inflators made by Japanese auto-industry supplier Takata (NASDAQOTH: TKTDY).
What exactly is this all about?
What's an airbag inflator?
Automotive airbags are inflated by a small explosive charge -- that's how they're able to inflate to full size in a fraction of a second when your car's sensors detect a collision. The "airbag inflator" is the part of the airbag that contains that explosive charge.
While "explosive charge" may sound scary, these are normally very safe and stable objects.
What's the problem with Takata's airbag inflators?
The problem is that Takata's aren't quite as safe and stable as they should be. The inflators can explode without warning, and in ways that rupture their metal casings. When this happens, pieces of the casings can turn into deadly shrapnel that flies around the car's passenger compartment.
An independent investigation sponsored by 10 major automakers recently concluded that the propellent Takata uses, ammonium nitrate, can absorb moisture over time and become unstable. Manufacturing errors at Takata's factories may have also allowed moisture to seep into the inflators, exacerbating the problem.
Has anyone been hurt by these defective inflators?
Yes. To date, 11 deaths and over 100 injuries have been attributed to rupturing Takata airbag inflators.
How many vehicles have been recalled?
Over 30 million so far. Millions more will be recalled in the next few months, though the total isn't yet known. Early in May, the U.S. National Highway Traffic Safety Administration (NHTSA) ordered the recall of about 40 million additional inflators. Automakers are currently figuring out which vehicles contain those inflators. Once they do, we'll have a better idea of how many vehicles are affected.
Which automakers are most affected?
Most major automakers have had some exposure to the problem. But by far the hardest-hit is Honda . Honda has had to spend billions of dollars to recall and repair a huge portion of the vehicles it has manufactured in the last 15 years or so. Ten of the 11 deaths attributed to the Takata inflators have happened in Hondas. (The other one happened in an older Ford Ranger pickup last year.)
But while Honda has been hardest-hit, most of the major global automakers have included the defective Takata inflators in at least a few of their models over the years. In the U.S., the National Highway Traffic Safety Administration (NHTSA) maintains a list of vehicles recalled because of Takata inflators.
Ford, General Motors , and Fiat Chrysler Automobiles all have some exposure, as does German auto giant Volkswagen but it's relatively minor compared to that of Honda and (to a lesser extent) the other Japanese automakers.
Are the replacement inflators coming from Takata?
Some are. But many aren't.
Giant Sweden-based auto supplier Autoliv announced a major expansion of its airbag-inflator production capacity early last year in order to help its automaker clients complete the recalls. Japan's Daicel is also producing inflators for Toyota and others. The Autoliv and Daicel inflators don't use the ammonium nitrate propellant that is susceptible to moisture damage.
How long will the recalls take to complete?
That's not clear. The latest round of U.S. recalls, ordered by NHTSA earlier this month, will be conducted in phases between now and the end of 2019. But it will depend how quickly suppliers like Autoliv and Daicel (and Takata) can make the huge number of inflators needed to repair all of the affected cars.
How should investors respond?
There's no response needed right now. Most of the remaining recalls will be known soon, and then we'll know which automakers (if any) are likely to see significant costs in coming quarters. While Honda has been the hardest-hit so far, it said on May 13 that it has probably already accounted for most of the recall costs, meaning there isn't likely to be a major impact on its earnings in the upcoming year.
For investors in Takata, the best that can be said is that as of this writing, it looks like the company will survive, which hasn't always been a given.
The article The Takata Airbag Scandal: What Auto Investors Should Know originally appeared on Fool.com.
John Rosevear owns shares of Ford and General Motors. The Motley Fool owns shares of and recommends Ford. The Motley Fool recommends Autoliv and General Motors. Try any of our Foolish newsletter services free for 30 days. We Fools may not all hold the same opinions, but we all believe that considering a diverse range of insights makes us better investors. The Motley Fool has a disclosure policy.
Copyright 1995 - 2016 The Motley Fool, LLC. All rights reserved. The Motley Fool has a disclosure policy.