The Surprising Way Obamacare Could Save the Healthcare System a Lot of Money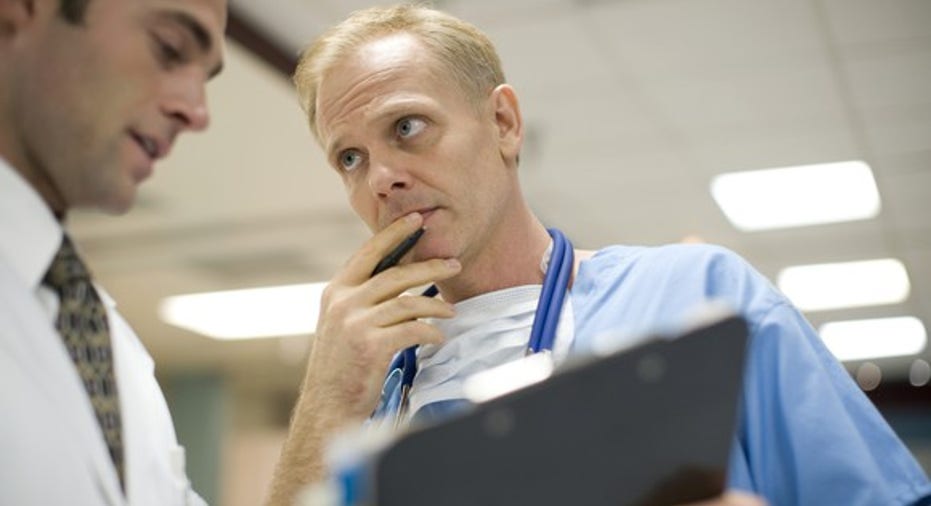 Image source: White House on Flickr.
It's been more than six years since the Affordable Care Act was signed into law and well over two years since it officially became the health law of the land. Yet Obamacare (as the ACA is more commonly known) is still considered just as unfavorable and controversial as when it was first introduced, according to data from the Kaiser Family Foundation's (KFF) Health Tracking Poll.
On one hand, Obamacare has pushed the rate of uninsured individuals to all-time lows. Gallup's first-quarter 2016 uninsured rate stood at 11%, down more than 6 percentage points from the quarter before Obamacare's implementation, while the Centers for Disease Control and Prevention listed the uninsured rate at just 9.1%, which includes Medicare enrollees. Through March 31, 2016, 11.1 million marketplace enrollees were current on their monthly premium payments.
On the other side of the coin we have millions of Americans who were displaced by Obamacare's beefed-up minimum benefit requirements, the rapid failure of low-cost healthcare cooperatives (16 of 23 have now failed), and what may be the highest premium inflation consumers have witnessed in more than decade. Based on early analysis of insurers' premium rate requests, premiums could rise by a double-digit percentage across the United States in 2017.
So which side is right? That's largely a matter of opinion. However, it's quite possible that if Obamacare survives this election cycle and remains intact over the long term, it could wind up saving the healthcare system a lot of money.
Image source: Getty Images.
Obamacare focuses on reaching the uninsured
The primary goal of Obamacare is to lower the rate of uninsured people in the United States. It achieves this in two ways. First, the individual mandate requires that everyone purchase health insurance or face a penalty known as the Shared Responsibility Payment (SRP) if they remain uninsured. The SRP in 2016 is the greater of $695 or 2.5% of your modified adjusted gross income. KFF forecasts that the average uninsured person who doesn't qualify for an exemption will owe $969.
The second way Obamacare works to lower the uninsured rate is by offering financial incentives to lower-income (and, to some extent, middle-class) Americans. The Advanced Premium Tax Credit partially subsidizes the premiums of Americans earning between 100% and 400% of the federal poverty level.
However, Obamacare also offered federal funds to all 50 states to expand their Medicaid program in order to cover individuals and families earning up to 138% of the federal poverty level. Typically Medicaid covers people earning up to 100% of the federal poverty level. Out of 50 states, 31 chose to take federal funds and expand, adding millions of additional low-income individuals and families into the healthcare network and enticing insurance giants like Anthemto gobble up government-sponsored health insurer Amerigroup in order to get its piece of the Medicaid pie.
Of course, there's a cost to having the federal government supply the funds needed to insure low-income people. This is one of many expenses that have pushed Obamacare's forecast decade-long total cost to $1.2 trillion.
Image source: Getty Images.
Obamacare could be a long-term money saver
But it's also possible that spending more now could pay off later for the healthcare system.
According to a new three-year study published in JAMA Internal Medicine last week, low-income adults in states where Medicaid expansion took place are in considerably better self-reported health than in states where Medicaid didn't expand.
The study involved 8,676 adults with incomes below 138% of the federal poverty level in Kentucky, Arkansas, and Texas. Kentucky expanded its Medicaid program, and Arkansas used Medicaid funds to purchase private insurance for low-income adults, while Texas chose not to expand. The results showed that Medicaid expansion led to increased access to primary care, fewer skipped medications, reduced out-of-pocket spending, reduced likelihood of emergency unit visits, and increased outpatient visits for low-income adults. Ultimately, low-income adults in expansion states were 4.8% more likely to self-report as being in excellent health than low-income adults in Texas.
Think about the implications of this study for a moment. Yes, it's costing the federal government money right now to cover preventive care visits and possible medications for low-income adults. But over time, thatpreventive care could catch many chronic or even lethal medical conditions before they become a costly burden on the healthcare system. About 5% of the population is responsible for about half of all healthcare expenditures each year, so if physicians can catch some chronic or deadly diseases early enough, then we could see a meaningful impact on long-term healthcare expenditures.
Image source: Getty Images.
Plenty of unknowns still to come
In order for this to happen, though, a lot of things would need to go right for Obamacare -- and there's no guarantee that'll happen.
To begin with, Obamacare would have to survive the current election cycle. Democratic presidential nominee Hillary Clinton has pledged to keep Obamacare in place and build upon its success. However, Republican presidential nominee Donald Trump wants to completely repeal and replace Obamacare. Suffice it to say, if Trump makes it to the Oval Office, Obamacare may not survive 2017.
Second, Obamacare may have to endure a revolt of non-subsidized consumers due to premium inflation. Prescription drug costs are rising, and insurers are fleeing healthcare exchanges, reducing competition and allowing insurers to raise their premiums even more. Although 85% of marketplace-enrolled people are receiving some form of subsidy, and are thus mostly shielded from premium inflation, the remaining 15% are getting hit head-on by big price increases that some may not be able to endure.
Finally, assuming Obamacare survives the upcoming election, regulators will have to find a way to reach young adults. Currently, far too few young adults are enrolled for insurers' liking. Young adults tend to be healthier, meaning their premiums offset the higher costs of treating older and/or sicker patients. Paying the penalty for not having insurance is often farcheaper than purchasing the cheapest bronze-level health plan for a full year, which is a problem that Obamacare has yet to solve.
Obamacare's future remains up in the air, but it's possible that when the smoke clears, it will wind up being a major financial positive for the U.S. healthcare system.
A secret billion-dollar stock opportunity The world's biggest tech company forgot to show you something, but a few Wall Street analysts and the Fool didn't miss a beat: There's a small company that's powering their brand-new gadgets and the coming revolution in technology. And we think its stock price has nearly unlimited room to run for early in-the-know investors! To be one of them, just click here.
Sean Williamshas no material interest in any companies mentioned in this article. You can follow him on CAPS under the screen nameTMFUltraLong, and check him out on Twitter, where he goes by the handle@TMFUltraLong.
The Motley Fool recommends Anthem. Try any of our Foolish newsletter services free for 30 days. We Fools may not all hold the same opinions, but we all believe that considering a diverse range of insights makes us better investors. The Motley Fool has a disclosure policy.