The Suprising Internet of Things Winner That's Soaring on Amazon's Grocery Plans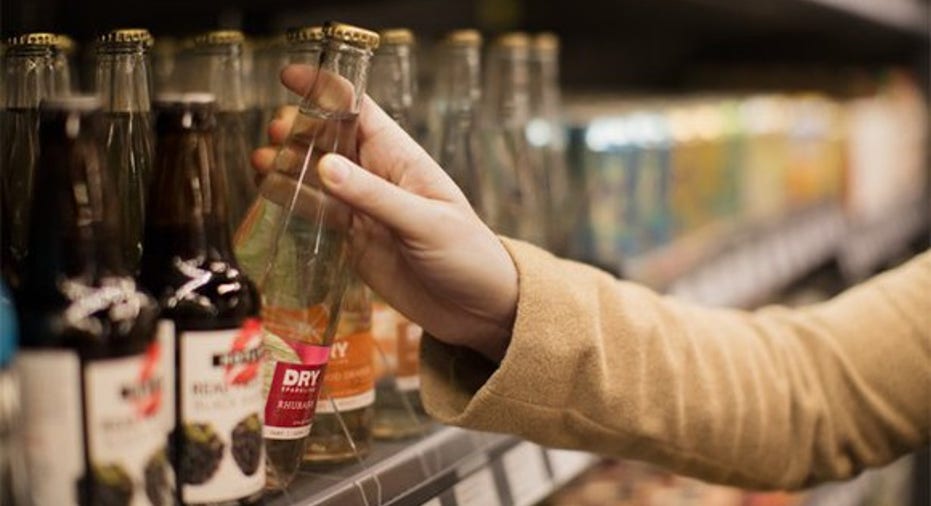 Amazon.com(NASDAQ: AMZN) made waves through the business world once again last week when it unveiled its new Amazon Go convenience store, which has no checkout counters or lines. Using technology similar to what you'd find in a self-driving car, cameras and microphones detect what items customers pull off the shelves and then charge them after they walk out of the 1,800 square-foot store. Customers only have to scan the Amazon Go app upon entering.
It's potentially groundbreaking technology, but it's unclear what Amazon's goal with it is. The Wall Street Journal earlier reported that Amazon planned to open up 2,000 grocery stores across the country over the next 10 years, but an Amazon spokesperson put the kibosh on that story, saying the company had no such plans and that it was only in "learning" mode.
The new Amazon Go store. Source: Amazon.com.
For investors looking to make a play on the new high-tech way to shop, Amazon stock, worth nearly $400 billion, is unlikely to reflect its value anytime soon. However, there is one small company that has soared on a rumored connection to the so-called "Just Walk Out" technology.
Shares ofImpinj(NASDAQ: PI) rose as much as 41% as the maker of RFID tags and similar Internet-of-Things devices is thought to be involved in Amazon Go. The stock has since given back about half of those gains as it made a secondary offering and Amazon cooled off expansion hopes, but it's still been an impressive week for the recent IPO.
Neither company has confirmed the relationship, but there is ample suspicion that they could be connected. RBC Capital's Mitch Steves said:
It's unclear what small set of stores Steves is referring to, but Amazon and Impinj do have a prior relationship.
Where Amazon Go is going
It's not surprising that Amazon would want to quell any rumors about its grocery plans, which included testing several formats such as a drive-through and a full-service store. The company has notoriously played its plans close-to-the-vest, even refusing to release data on the number of Prime members it has or the number of device sales it makes -- which are standard pieces of information at peer companies. It's understandable that Amazon wouldn't want to let competitors like Wal-Mart and Kroger, which are probably anxious after last week's demonstration, know its strategic direction, but it would also be foolish to think Amazon doesn't have big plans for the Just Walk Out technology.
After all, this is a company that's been extraordinarily ambitious across a range of industries throughout its history, and often found success. It also spent four years developing the technology, so it has bigger aspirations for it than just a handful of stores.
Last Friday, a number of sources reported that the company had registered a trademark for Amazon Go in the UK, indicating the technology is likely to cross the pond in the near future as it clearly has global potential.Given the company's history, it's likely to move quickly.
What that means for Impinj is unclear, but the growing importance of its IoT devices bodes well as competitors are likely to follow Amazon into a checkout-less future. Expect Impinj to continue to move with Amazon Go news, at least until company sources confirm what, if any, relationship exists between the two companies.
10 stocks we like better than Amazon.com When investing geniuses David and Tom Gardner have a stock tip, it can pay to listen. After all, the newsletter they have run for over a decade, Motley Fool Stock Advisor, has tripled the market.*
David and Tom just revealed what they believe are the 10 best stocks for investors to buy right now... and Amazon.com wasn't one of them! That's right -- they think these 10 stocks are even better buys.
Click here to learn about these picks!
*Stock Advisor returns as of Nov. 7, 2016
Jeremy Bowman has no position in any stocks mentioned. The Motley Fool owns shares of and recommends Amazon.com. Try any of our Foolish newsletter services free for 30 days. We Fools may not all hold the same opinions, but we all believe that considering a diverse range of insights makes us better investors. The Motley Fool has a disclosure policy.