The Stocks David Einhorn, Ray Dalio, and Bill Ackman Bought Last Quarter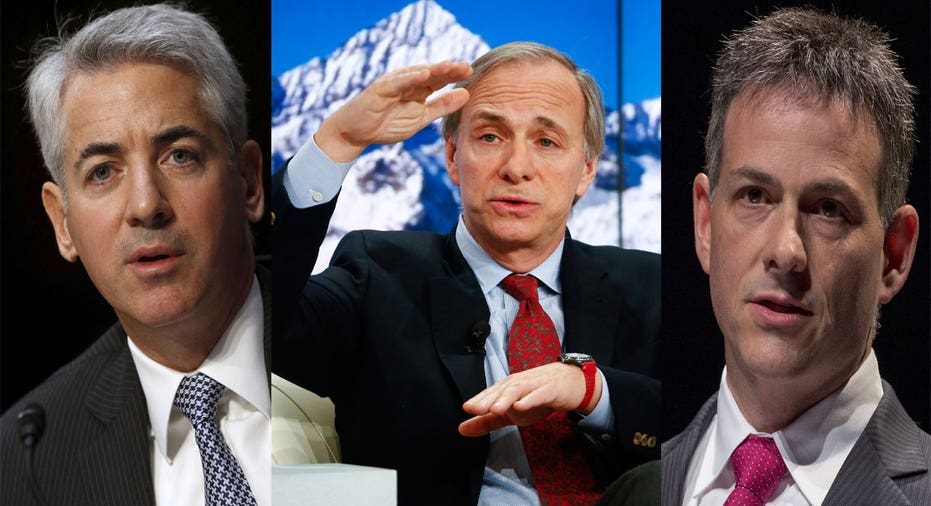 David Einhorn, Ray Dalio, and Bill Ackman may not be household names, but ask any hedge fund manager who the most influential portfolio managers are of our time, and they're likely to be on the list.
These billionaires can move markets when they buy a stock, so it pays to keep tabs on what they're doing with their money. Fortunately, all three of these money managers are required to file a 13-F report with the Securities and Exchange Commission that details their activity. Let's take a look at their first quarter filings and see what they've been spending their money on.
Mortgage-backed bets
David Einhorn's Greenlight Capital became one of the most widely watched hedge funds since Einhorn accurately predicted Lehman Brothers failure prior to the Great Recession and Greenlight Capital's investments include $5.6 billion in stocks.
In addition to bumping up stakes in technology companies Yelp Inc.(NASADQ:YELP), Apple (NASDAQ:AAPL) David Einhorn also added six new positions to Greenlight Capital's portfolio last quarter.
Of these six new picks, the biggest bet made by Einhorn is on Hatteras Financial (NYSE:HTS), a $1.6 billion market cap real estate investment trust, or REIT, that invests primarily in single-family residential mortgage assets, such as mortgage-backed securities.
Einhorn had previously owned shares in Hatteras Financial in 2014, but he sold his position on worries over rising interest rates. His decision to buy back Hatteras Financial reflects his belief that interest rate risk has now been fully priced into the REIT's share price. That could be true. According to his recent letter to investors, Einhorn paid just 0.64 times Hatteras Financials' December 2015 book value.
There's no telling how long Einhorn will stick around with Hatteras Financial this time (shares are already up substantially this year), but if he decides to stick it out long-term, he'll collect a handsome dividend yield of 10.9% on his $104 million position.
Image source: Bridgewater Associates
Investing for income
Ray Dalio's $7.8 billion Bridgewater Associates is one of the biggest and most diversified stock investors out there, but Dalio still invests his money aggressivelydespite Bridgewater Associates' size.Last quarter, Dalio and his team made changes to 321 of Bridgewater Associates' 325 holdings. Bridgewater Associates also started new positions in 62 different stocks last quarter, according to its 13-F report.
One of the most intriguing of Dalio's new buys is his $28.5 million position in the iShares MSCI Frontier 100 ETF (NYSE:FM). The iShares MSCI Frontier 100 ETF invests in the top 100 stocks in roughly 20 frontier-markets. Although it owns stakes in a lot of companies, it's heavily weighted toward financials. Its two biggest holdings are Kuwaiti banks.
I also find Dalio's new stakes in Walt Disney (NYSE:DIS) , McDonalds (NYSE:MCD), and fertilizer stocks, such as Potash (NYSE:POT)interesting. Disney recently reported that strong results tied to Star Wars were offset by lackluster results in its cable TV business, causing shares to slip by more than 4%. McDonalds, however, has seen its shares jump 10.5% this year on optimism stemming in part from changes to its menu, including the launch of all-day breakfast items and new value deal combinations. For its part, the fertilizer-maker Potash, which pays a dividend yield of 6.37%, has lost about 2.2% of its value this year.
Dalio seems to think that headwinds from Disney's network business will ease and that McDonalds may benefit from increased foot-traffic tied to stumbles at other fast-food competitors, namely Chipotle (NYSE:CMG). Also, Dalio's bet on fertilizer would seem to suggest he thinks that global demand for food will eventually stabilize prices. But the thread that seemingly connects each of these investments is dividends. All of his top new buys generate dividend income, including the MSCI Frontier 100 ETF, which yields 2.7%.
Shopping for bargain
Activist investor Bill Ackman is best know for his high profile investment in Valeant Pharmaceuticals (NYSE:VTX) his big short in Herbalife (NYSE:HLF).
Image Source: Flickr user insidermonkeys.com
Unlike Dalio, Bill Ackman concentrates Pershing Square's $12.3 billion equity portfolio in nine positions. That kind of concentration is profit-friendly when times are good, but it can be disastrous when company's owned stumble.
Unfortunately, Ackman's struggling mightily with the latter right now. His position in the much-maligned Valeant Pharmaceuticals, which is among his top holdings, drew ire following revelations of extraordinarily high price increases of the drugs it had been acquiring. Pushback resulting from the notoriety had led to the exit of Valeant's longtime CEO, a drubbing of its shares, and Ackman joining Valeant's board of directors in March.
Despite Valeant Pharmaceuticals challenges, a lesser known name appeared for the first time in the 13F: Nomad Foods Limited (NYSE:NOMD).
Nomad Foods is a European $1.5 billion market cap frozen food company that markets well-known brands, including Birdseye, in the U.K., Italy, and Germany. The company sales totaled $538 million at current exchange rates in the fourth quarter, and management expects to report first quarter results on May 25.
In Ackman's Q1 letter to investors, he said Nomad Food's like-to-like sales have dipped because of investments in new food categories that have come at the expense of investments in its core categories. Ackman says that Nomad Foods management is shifting its focus back to its core products, a move he thinks will pay off down the road. If it does, then Nomad Foods' shares could end up being a big winner for Ackman. Currently, they're trading for 0.96 of the company's book value and 1.1 times sales.
Investors interested in following Bill Ackman into Nomad Foods, however, should remember that Nomad Foods is far from a risk free investment. The company's got $2.2 billion in debt on its books, and its current ratio, a measure of a company's ability to make good on its debts if short-term creditors come knocking, is just 1.1.
Updated on 5/18/16: The original article incorrectly stated Pershing Square AUM and the size of its Valeant position. Those figures have been updated. The position in Nomad Foods has been clarified. 
The article The Stocks David Einhorn, Ray Dalio, and Bill Ackman Bought Last Quarter originally appeared on Fool.com.
Todd Campbell owns shares of Apple. Todd owns E.B. Capital Markets, LLC. E.B. Capital's clients may have positions in the companies mentioned. Like this article? Follow him on Twitter where he goes by the handle @ebcapital to see more articles like this.The Motley Fool owns shares of and recommends Apple, Chipotle Mexican Grill, Valeant Pharmaceuticals, and Walt Disney. The Motley Fool has the following options: long January 2018 $90 calls on Apple and short January 2018 $95 calls on Apple. The Motley Fool recommends Yelp. Try any of our Foolish newsletter services free for 30 days. We Fools may not all hold the same opinions, but we all believe that considering a diverse range of insights makes us better investors. The Motley Fool has a disclosure policy.
Copyright 1995 - 2016 The Motley Fool, LLC. All rights reserved. The Motley Fool has a disclosure policy.