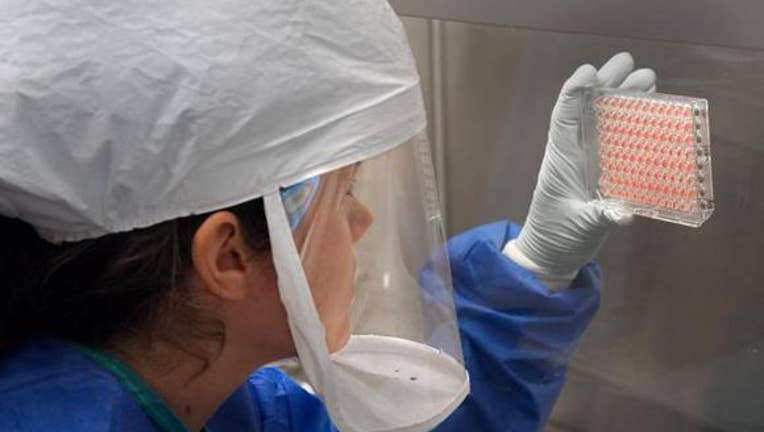 Image source: Centers for Disease Control and Prevention.
What: Shares of Galena Biopharma , a clinical-stage biopharmaceutical company focused on the development of therapeutics to treat cancer, exploded higher by 67% in March, based on data from S&P Global Market Intelligence. The reason for the huge gains can be traced down to a single press release.
So what: In the early morning hours of Tuesday, March 29, Galena Biopharma announced that its phase 3 PRESENT trial, which is testing cancer immunotherapy vaccine NeuVax as an adjuvant treatment designed to prevent the recurrence of breast cancer in women with low-to-moderate HER2-expression, had reached its 70th qualifying disease-free survival event. This event allows Galena to turn its data over to the independent data monitoring committee (IDMC) and for Galena to report its interim findings on NeuVax relatively soon. The company has stated that it would report its findings toward the end of the second quarter.
Image source: Galena Biopharma.
What investors will be looking for in the IDMC's analysis is whether or not NeuVax appears safe (otherwise the IDMC would recommend the study be stopped) and for NeuVax to not be considered inferior to existing therapies or unlikely to meet its primary endpoint. The best outcome would be a recommendation to continue the PRESENT study.
Now what: Since clinical data is the true catalyst that drives biopharmaceutical companies, it's easy to see on one hand why investors are clearly excited. Plus, if NeuVax is eventually approved as an adjuvant therapy to prevent the recurrence of certain types of breast cancer, it could single-handedly make Galena profitable, depending on the success of a drug launch and whether or not Galena goes the route of securing a partner for its vaccine.
However, there are clear causes for concern, too. This run-up in share price is occurring without any knowledge of whether or not NeuVax is working in the PRESENT study. It was quite successful in phase 2 studies when compared to a placebo, but we've also seen plenty of midstage successes fall flat on their faces in larger phase 3 trials.
Galena is also working with substantial long-term cash concerns. The company's commercial business experiment wound up being a major flop, with neither Abstral nor Zuplenz contributing much to Galena's top-line, and both drugs being sold at a loss from where they were purchased. Galena had just $29.7 million in cash and cash equivalent remaining as of Dec. 31, 2015, and it's on pace to burn through $9 million to $11 million per quarter. Without commercial assets, dilutive stock offerings are the company's only true recourse to generate capital. Plus, the PRESENT study isn't slated for completion until 2018, meaning Galena shareholders still have at least two more years of cash concerns to contend with. Galena did price $21.75 million worth of common stock and warrants in January (which isn't included in the aforementioned $29.7 million), and it basically cut the company's share price in half.
My suggestion? Stick to the sidelines for now and let the cards play out. If NeuVax fails, Galena may struggle to survive, and you'll be glad you're on the sidelines. If NeuVax succeeds, you'll have plenty of opportunity to take advantage of gains via sales and licensing partnerships down the line.
The article The Single Reason Why Galena Biopharma, Inc. Rallied 67% in March originally appeared on Fool.com.
Sean Williamshas no material interest in any companies mentioned in this article. You can follow him on CAPS under the screen nameTMFUltraLong, track every pick he makes under the screen name TrackUltraLong, and check him out on Twitter, where he goes by the handle@TMFUltraLong.The Motley Fool has no position in any of the stocks mentioned. Try any of our Foolish newsletter servicesfree for 30 days. We Fools may not all hold the same opinions, but we all believe thatconsidering a diverse range of insightsmakes us better investors. The Motley Fool has adisclosure policy.
Copyright 1995 - 2016 The Motley Fool, LLC. All rights reserved. The Motley Fool has a disclosure policy.