The Simple Reason Why I Won't Buy Netflix Stock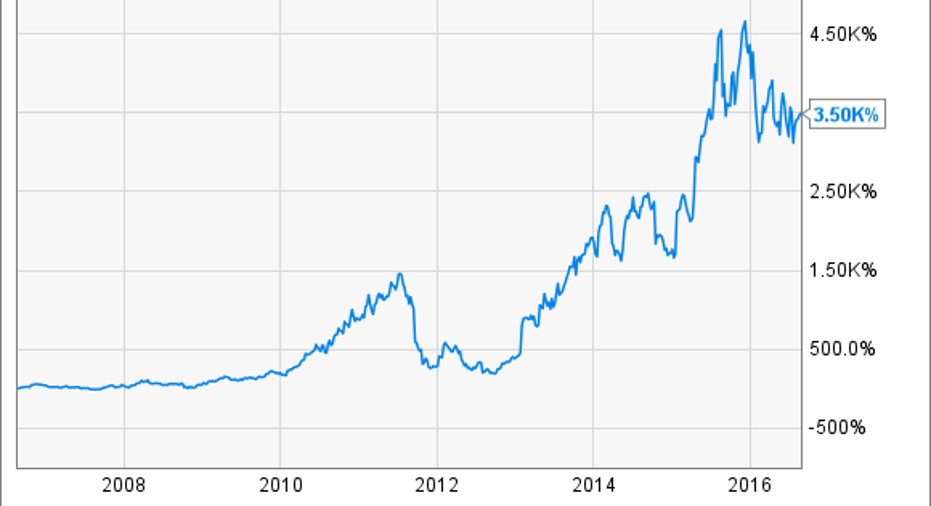 Image source: Netflix.
I've been a Netflix (NASDAQ: NFLX) subscriber for nearly a decade. When I first joined, streaming was little more than an afterthought, with the DVD service being the main draw. Since then, Netflix has upended the television industry, pioneering the business of internet TV. The company now has 83 million streaming subscribers spread across nearly every major country on earth, with 47 million subscribers in the U.S. alone.
Not surprisingly, the stock has gone bonkers over the past decade, delivering once-in-a-lifetime returns to investors who got in early. If you bought shares of Netflix exactly 10 years ago, your investment would have increased by nearly 3,500%, or about 43% annually. The company is now valued at roughly $41 billion.
With $7.6 billion of revenue and just $141 million of net income over the past year, the market is assuming that Netflix will be able to grow rapidly for years to come. I don't doubt that Netflix can continue to add subscribers, particularly overseas, far into the future. But I won't buy the stock for one simple reason.
The key word is "durable"
There's no question that Netflix has accelerated the demise of traditional TV.The company has aggressively expanded its streaming business, first in the U.S. and then abroad, and it enjoys the benefits of being a first mover. Netflix has massive scale, a brand that's well known, at least among the younger generations, and a library of exclusive content that has racked up dozens of major awards.
But a first-mover advantage doesn't last forever. Being a pioneer in a particular industry doesn't entail dominating that industry indefinitely. Netflix has plenty of competitive advantages at the moment, but I'm not convinced any of them are durable. That, along with a very optimistic valuation, are the reasons I won't be buying the stock.
Netflix's business model is simple. The company pays for content and then charges a monthly subscription fee to access it. Some content, like movies and existing TV shows, is licensed from third parties. Some is produced by outside studios but exclusive to Netflix, like its hit shows House of Cards and Orange Is the New Black. And some is produced by Netflix itself.
Securing all of this content is expensive. Netflix plans to spend about $6 billion in cash on content this year, an astronomical figure. Given this spending, it should be no surprise that Netflix is currently burning cash. Through the first six months of this year, the company's operating cash flow was negative $455 million. Netflix's expansion into international markets, where content must be in place before subscribers will be willing to join, is responsible for some of this heavy spending. But competition is a factor as well.
Netflix competes with every other streaming company for content, both third-party and original. The company spent $100 million on the first two seasons of House of Cards, and it signed a major deal with Disney back in 2012 in order to secure movies starting this year. The price tag of that deal hasn't been disclosed, but one analyst estimated it at $300 million per year. Meanwhile, Hulu spent $160 million to secure rights to Seinfeld last year, and Amazon reportedly paid $250 million for 36 new episodes of The Grand Tour, starring the hosts ofTop Gear.
With Amazon, Hulu, HBO, Starz, and a slew of other competitors battling Netflix for content, content costs are going to be tough to rein in. I suspect that any company that owns a significant amount of content will eventually launch a streaming service of their own, a task made easier by the proliferation of cloud computing. Ten years from now, my guess is that Netflix will be one of many.
None of Netflix's competitive advantages seem durable to me. It has scale, but it runs its entire infrastructure on Amazon's cloud computing platform. Scaling up a streaming company is far easier today than it was prior to cloud computing. It has a strong brand, but brands are easy to tarnish. You only have to look at Chipotle to see a once-loved brand losing its luster.
Netflix has unique content, but so do all of its competitors. All it takes is money to secure original, exclusive shows and movies. One argument is that Netflix has a mountain of data on its users, allowing the company to pinpoint viewing habits and optimize its content portfolio. But every streaming company has data. Data is table stakes in this industry, not a durable competitive advantage.
In order to justify its valuation, Netflix needs to both continue to grow quickly and generate an exceptional return on invested capital. Without a durable competitive advantage, that second part will be tough. I don't doubt that Netflix will be continue to grow, but I don't see what differentiates it from the rest of the crowd. That's why I won't be buying the stock.
A secret billion-dollar stock opportunity The world's biggest tech company forgot to show you something, but a few Wall Street analysts and the Fool didn't miss a beat: There's a small company that's powering their brand-new gadgets and the coming revolution in technology. And we think its stock price has nearly unlimited room to run for early in-the-know investors! To be one of them, just click here.
Timothy Green has no position in any stocks mentioned. The Motley Fool owns shares of and recommends Amazon.com, Chipotle Mexican Grill, Netflix, Time Warner, and Walt Disney. The Motley Fool recommends Starz. Try any of our Foolish newsletter services free for 30 days. We Fools may not all hold the same opinions, but we all believe that considering a diverse range of insights makes us better investors. The Motley Fool has a disclosure policy.