The Simple Reason Facebook Is a Better Growth Stock than Snap Inc.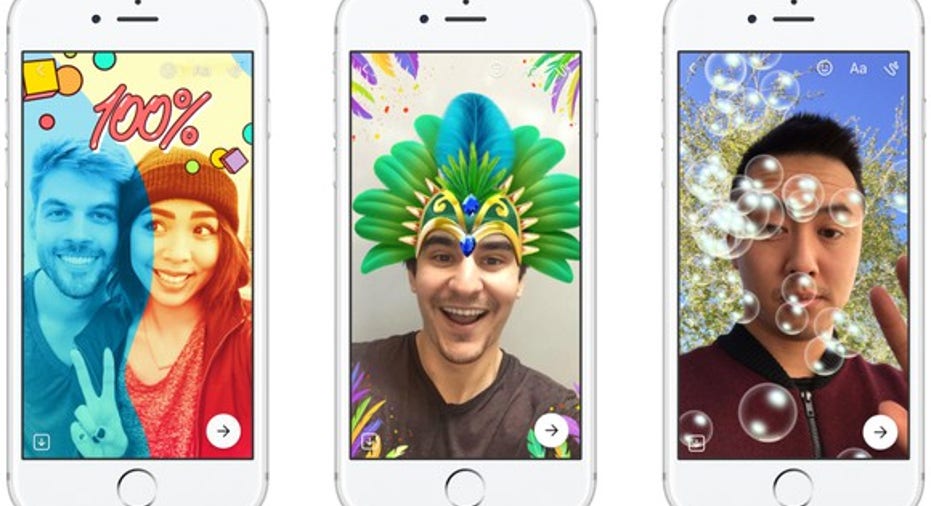 As you probably know by now,Snap Inc. (NYSE: SNAP) officially graduated to the big kids table with its recent IPO, joining the likes of Facebook (NASDAQ: FB) and Twitter (NYSE: TWTR) in the hierarchy of publicly traded social media giants.
Ashistory has shownthough, pulling off a high profile IPO is just the first step in what many hope will be a long arc of corporate greatness. So if Snap is to realize its immense potential, it has much more to achieve. Especially with many investors and readers doubting Snap's near-term prospects, let's review why Facebook remains the better stock to own than its vanishing video rival now.
All about the audience
Though it was priced like the next Facebook during its IPO, Snap's underlying fundamentals are closer to those of a much smaller company.
As we saw in its S-1 filing, Snap's growth rates -- while still robust -- are starting to slow into the mid-double digits, which implies it will need to launch at least one (probably more) hit products in order to expand its audience, increase its revenues, and ultimately justify its Facebook-esque valuation.
Let's look at some rough numbers to get a clearer sense of this dynamic. Take a look at the following chart.
Sources: Facebook Investor Relations and Snap S-1 Filing
Clearly, Facebook easily outperforms Snap in terms of its business footprint, its addressable audience, and the amount of business it yields from each member of its community. And for those that might argue Facebook is an older company, Facebook generated $7.68 in revenue-per-DAU at the time of its IPO . Facebook, simply, has a better business than Snap.
I'll certainly concede that Snap is in the earlier stages of building out its own advertising business, which it only really began in earnest in last year. Current analyst estimates predict Snap's sales will grow to $1 billion this year and climb past $2 billion next year; even if its user base remains static this will still fall well short of Facebook in terms or Rev/DAU.
Moreover, there's certainly a case to be made that Snap's engaging, full-screen ads can serve as an important channel to reach younger consumers.Unfortunately, Snap will have to overcome an increasingly important obstacle in its attempts to make good on its sky-high valuation: Facebook.
Image Source: Facebook
Attack of the clones
As you might have noticed, Facebook has chosen to pursue a "if you can't beat 'em, join 'em" strategy in response to Snap's popularity. Facebook has rolled out a set of virtual carbon copies of Snap's popular Stories feature, which forms a rolling 24-hour montage of a user's videos and images across its vast social media empire.
The assault began at Facebook's Instagram subsidiary, which launched its own Stories-equivalent last November. Next, the WhatsApp platform released a Snap clone in late February. Facebook Messenger followed suit on March 9. Finally, on March 28, Facebook incorporated Snap's stories feature into its own flagship app, effectively completing its co-opting of Snap's defining feature across its own social media universe.
Only time will tell to what extent Facebook's copycat behavior actually impacts Snap's user growth. However, a growing number of media outlets are reporting, based off information from a host of sources, that Facebook's copycat products are indeed having their intended effect on Snap.
Among the analyst community, the jury's out as to whether Facebook's efforts to steal Snap's thunder will actually work. In response to Facebook's adding Stories to its core app, Brian White of research firm Drexel Hamilton noted, "we are not surprised to see another platform copy Snap; however, we believe Snap has a cachet with the millennial crowd that will be difficult for other platforms to garner. Like Apple in its younger days, we view Snap as a disruptive innovator with a laser like focus."
Perhaps more problematic is that Snap will need to increasingly attract users outside of its traditional base of millennials, and many of those it hopes to court are already ensnared in Facebook's app ecosystem, many across multiple apps. Since Facebook has already incorporated Snap-like features into its own apps, the value proposition of adding Snap to their social media constellations, or switching to it as a primary tool, might not be as robust as it has been historically.
Regardless of your opinions on the company of its stock, Snap's initial innovations were indeed major advances within social media. However, given Snap's valuation and competition concerns, I see Facebook as the more appealing growth stock today.
10 stocks we like better than Snap Inc.When investing geniuses David and Tom Gardner have a stock tip, it can pay to listen. After all, the newsletter they have run for over a decade, Motley Fool Stock Advisor, has tripled the market.*
David and Tom just revealed what they believe are the 10 best stocks for investors to buy right now... and Snap Inc. wasn't one of them! That's right -- they think these 10 stocks are even better buys.
Click here to learn about these picks!
*Stock Advisor returns as of February 6, 2017
Andrew Tonner owns shares of Apple. The Motley Fool owns shares of and recommends Apple, Facebook, and Twitter. The Motley Fool has the following options: long January 2018 $90 calls on Apple and short January 2018 $95 calls on Apple. The Motley Fool has a disclosure policy.