The Ship You Never Expected General Dynamics to Build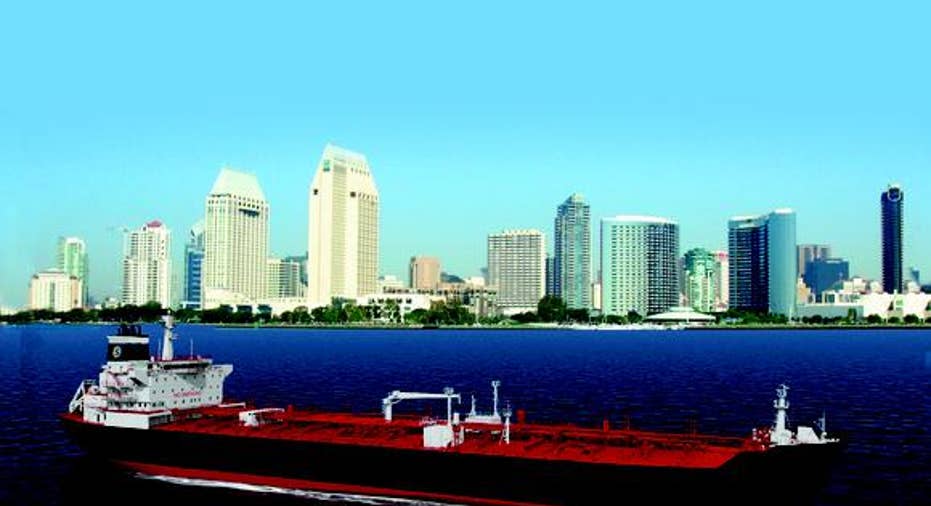 Everyone knows that General Dynamics -- America's premier armored vehicle manufacturer -- builds tanks.
Most people know that General Dynamics also builds warships -- cruisers and destroyers at Bath Iron Works, and nuclear fast-attack submarines, guided-missile boats, and "boomers" at Electric Boat.
What few people may realize, though, is that General Dynamics -- again, this is the "tanks company" -- possesses an entire naval division that specializes exclusively in transport vessels. And that's the aspect of General Dynamics that we'll be looking at today.
Artist's rendering of the new ECO-class ships built by NASSCO. Image source: General Dynamics.
A new boat is bornEarlier this month, in a development that got almost precisely zero press, General Dynamics' NASSCO shipbuilding division announced that it has delivered its first ECO Class civilian tanker to American Petroleum Tankers, a sub-subsidiary of energy giant Kinder Morgan .
The 610-foot, 50,000-ton vessel dubbed the Lone Star State is capable of carrying 330,000 barrels of petroleum product, or an equivalent volume of liquefied natural gas. We don't know how much Kinder Morgan is paying for the vessel, but we do know that it's the first of five such vessels that NASSCO will be building for Kinder Morgan -- so the money's going to add up quickly. Powered by a German-built G-series MAN Diesel & Turbo ME slow-speed main engine, the LST is said to be 33% more fuel efficient than previous "State Class" tankers built for Kinder Morgan.
Designed by South Korean shipbuilding magnate Daewoo Shipbuilding & Marine Engineering, LST and its sister ships must be built in the U.S. to comply with provisions of the protectionist Jones Act, which requires that ships carrying cargo between U.S. ports be built in U.S. shipyards. The effect of this legislation is to guarantee General Dynamics significant civilian shipbuilding work, if it wants it.
Customers, ahoy! And with defense spending in a downturn lately, General Dynamics clearly does want the work. In fact, just a week after delivery of LST, the Times of San Diego reported the floating of yet another NASSCO-built boat for yet another civilian buyer.
Like LST, the new Independence is a 610-foot, 50,000-ton vessel designed for hauling oil and gas across the oceans. Its new owner, however, will be not Kinder Morgan, but SEA-Vista, a joint venture owned partly by Seacor Holdings . Seacor subsidiary Seabulk Tankers will be operating the Independence as part of its commercial fleet.
(Non-) military secretsThe Times of San Diego reports that, in addition to one navy ship, General Dynamics' NASSCO division actually has a total of eight commercial shipseither under construction or on order. From our past examination of this sector, it seems the bulk of these vessels are under contract to commercial operators Seacor and Kinder Morgan. That probably comes as a surprise to investors who ordinarily think of General Dynamics as a "defense contractor."
Perhaps perversely, though, it's not surprising that they'd be surprised. The size of NASSCO's civilian operations notwithstanding, the division receives scant mention in General Dynamics' SEC filings, where it's lumped together with the rest of the company's "Marine" business.
Here's what we know about the business, however, from data gleaned from those filings by S&P Capital IQ: Marine Systems account for $7.3 billion of General Dynamics' annual revenue, and generate roughly 9.6% operating profit margins for the company -- $703 million last year. As such, "Marine" as a whole is responsible for about 24% of company revenues and 18% of profits.
What it means to investorsSo "Marine" -- and by extension NASSCO -- is clearly not General Dynamics' most profitable division. It still generates significant revenue, cash flow, and profit for the company, however. And if things keep going as they've been going with U.S. defense spending, this is a division that could swell in importance as time goes on.
Trust that we'll be keeping a periscope on it.
The article The Ship You Never Expected General Dynamics to Build originally appeared on Fool.com.
Fool contributorRich Smithdoes not own shares of, nor is he short, any company named above. You can find him onMotley Fool CAPS, publicly pontificating under the handleTMFDitty, where he's currently ranked No. 300 out of more than 75,000 rated members.The Motley Fool owns shares of and recommends Kinder Morgan. Try any of our Foolish newsletter services free for 30 days. We Fools may not all hold the same opinions, but we all believe that considering a diverse range of insights makes us better investors. The Motley Fool has a disclosure policy.
Copyright 1995 - 2015 The Motley Fool, LLC. All rights reserved. The Motley Fool has a disclosure policy.