The Path Is Clear for a New Immunotherapy Entrant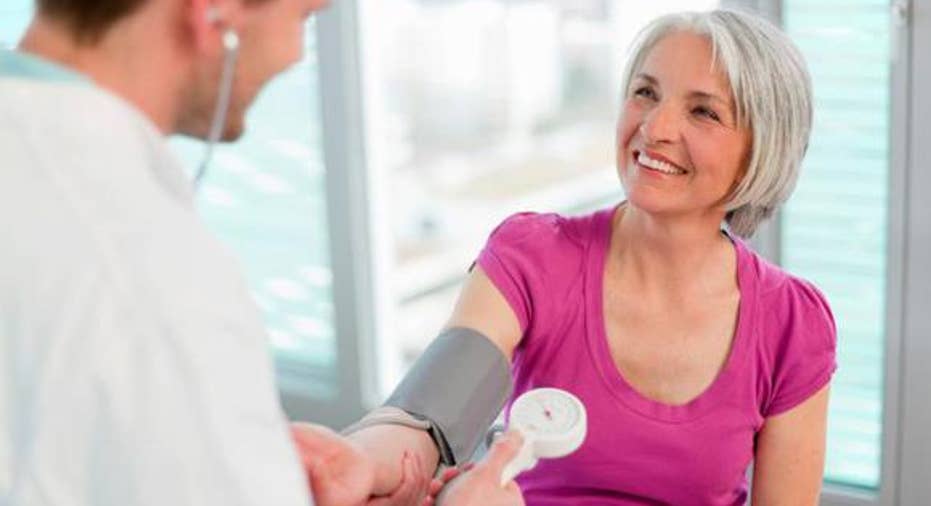 Image source: Merck KGaA.
Personalized medicine is likely to be all the rage in the healthcare sector throughout the remainder of the decade, and we're seeing that embodied by the emergence of cancer immunotherapies.
An opportunity too large for drug developers to ignore Cancer immunotherapies are vaccines designed to give your immune system a boost to more effectively identify cancer cells and destroy them.
One of cancer's greatest tricks is that it often avoids detection by the immune system. This is what allows it to proliferate in a single location or metastasize to other parts of the body. By utilizing immunotherapy vaccines, drug developers aim to reduce or turn off the immunosuppressant quality of cancer cells, making them easier to detect and potentially destroy.
Two high-profile immunotherapies are already on the market: Bristol-Myers Squibb's Opdivo and Merck's Keytruda. Both were initially approved to treat BRAF V600 mutation-positive metastatic melanoma, but have since had their labels expanded to treat select advanced non-small cell lung cancer. If focused on high PD-L1-expressing patients, Opdivo and Keytruda produced response rates of around 60% in advanced NSCLC. With response rates in advanced NSCLC often closer to 25%-30%, this efficacy is remarkable.
Get ready for a new immunotherapy entrant But with the immunotherapy market expected to reach $35 billion in annual sales by 2023 according to analysts at Citigroup, there's plenty of room for additional entrants. That's where Pfizer and Merck KGaA come in.
Image source: Pfizer.
Sensing it was falling behind in a rapidly advancing market, Pfizer entered into a licensing agreement with Merck KGaA late last year to jointly develop avelumab, an anti-PDL1 immunotherapy, in a variety of indications. Understanding that the payoff could be huge for the first couple of entrants, Pfizer didn't mince its numbers when partnering with Merck KGaA: the deal included $850 million in upfront cash for Merck KGaA, up to $2 billion in development, regulatory, and sales milestones, and a co-promotion agreement for NSCLC treatment Xalkori in certain markets.
Its investment appears to be paying off in the early stages. On Wednesday, Nov. 25, Pfizer and Merck KGaA announced that the European Medicines Agency's Committee for Orphan Medicinal Products issued a positive opinion for avelumab regarding its orphan drug designation for merkel cell carcinoma (MCC), a rare and aggressive type of skin cancer. There is no EMA-approved therapy in Europe for the treatment of MCC, and it affects somewhere in the neighborhood of 2,500 people in the region annually. Both companies are waiting on phase 2 data on avelumab in the EU prior to filing for marketing approval.
Pfizer gets aggressive What's different with Pfizer's approach relative to Bristol-Myers and Merck's is that it's bypassing the metastatic melanoma indication, which is becoming crowded, and attempting to beat its peers to other lucrative indications. The reason Bristol-Myers and Merck went after metastatic melanoma to start with was to get an FDA-approved indication under their belts -- once it's approved, and a safety profile is established, it's a lot easier to expand a drug's label.
Image source: Pfizer.
Pfizer and Merck KGaA are diving headfirst into treating advanced NSCLC -- an indication with a low approval success rate for drug developers -- with a phase 3 study (known as JAVELLIN LUNG 200) across more than 30 countries that was initiated back in April. The study involves roughly 650 stage 3b/4 NSCLC patients, and pits avelumab against docetaxel. Successfully meeting the primary endpoint would mean a statistically significant improvement in overall survival of high-expression PD-L1 patients compared to the docetaxel arm, with overall response rate and progression-free survival also being assessed. Considering that Opdivo and Keytruda also entered the NSCLC market recently, there's plenty of room for avelumab to flourish from a sales perspective.
Looking at the early stage pipeline there are a number of additional solid tumor indications under investigation. Phase 1 studies are under way for bladder cancer, gastric cancer, head and neck cancer, mesothelioma, ovarian cancer, and renal cancer.
Like many of the immunotherapy newcomers, Wall Street is pegging peak annual sales of avelumab in the neighborhood of $4 billion to $6 billion.
Does Pfizer's immunotherapy program make the stock a buy?With avelumab progressing along you might be wondering what you should be doing with Pfizer's stock. My suggestion is for you not to dramatically alter your current investment thesis until Pfizer has a handful of approvals for avelumab under its belt and both companies demonstrate a successful launch.
One point you'll want to consider here is that Pfizer's patent woes aren't entirely in the rearview mirror, even if the company has grown (slightly) on an operational basis in each quarter this year. Pfizer's second best-selling drug, Lyrica, which is used to treat nerve pain, will be subjected to generic competition beginning in 2018. This is a $5 billion drug that could quickly lose a sizable portion of its revenue stream. Thus, Pfizer's growth throughout the remainder of the decade could be somewhat tempered even with a successful launch of avelumab and growing sales of breast cancer drug Ibrance.
The good news for the long-term shareholder is that there aren't any red flags in Pfizer's quarterly reports, and its recently announced deal with Allergan should help reduce its expenses, add product diversity, and raise its operating margins over time. However, the days of Pfizer barreling higher with unstoppable growth prospects may be long gone. For investors with a long-term horizon (10+ years), patience should pay off in the form of substantial dividends and modest share price appreciation.
The article The Path Is Clear for a New Immunotherapy Entrant originally appeared on Fool.com.
Sean Williamshas no material interest in any companies mentioned in this article. You can follow him on CAPS under the screen nameTMFUltraLong, track every pick he makes under the screen nameTrackUltraLong, and check him out on Twitter, where he goes by the handle@TMFUltraLong.The Motley Fool has no position in any of the stocks mentioned. Try any of our Foolish newsletter servicesfree for 30 days. We Fools may not all hold the same opinions, but we all believe thatconsidering a diverse range of insightsmakes us better investors. The Motley Fool has adisclosure policy.
Copyright 1995 - 2015 The Motley Fool, LLC. All rights reserved. The Motley Fool has a disclosure policy.