The Nexperia Deal: 3 Things That NXP Semiconductors NV Management Wants You to Know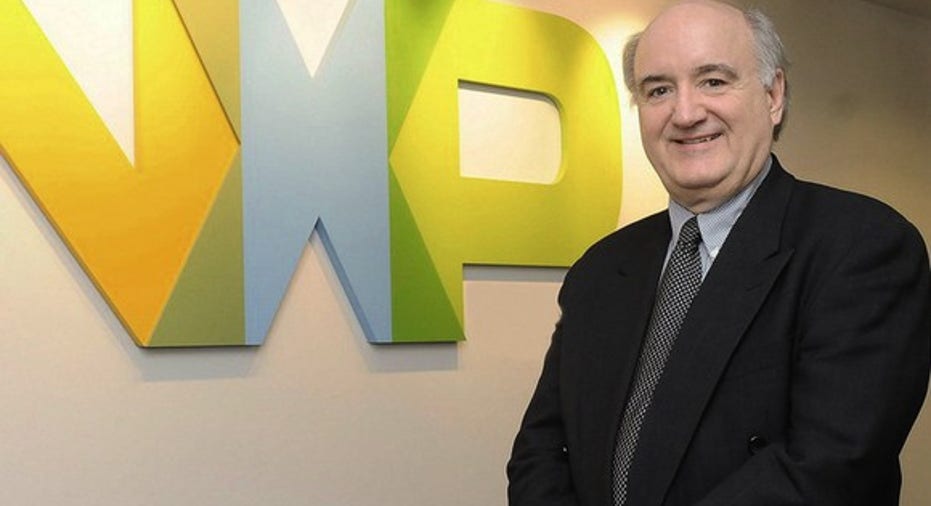 NXP Semiconductors CEO Rick Clemmer. Image source: NXP.
NXP Semiconductors is selling its standard products division to Chinese investors for a cool $2.75 billion. When that deal was announced last Tuesday, NXP's management held a conference call with financial analysts to explain things in deeper detail.
Here are three of the most important things NXP shared in that call.
Where the cash is going
Credit rating experts recently set a positive watch on NXP's credit profile, based on the idea that the company will use most of the cash from this deal to pay down debt. Analysts built that assumption on a statement from NXP CFO Dan Durn:
In other words, most of the divestiture cash will go toward retiring debt papers in order to fulfill the covenants on NXP's debt papers. The current ratio of debt to EBITDA profits is a little high, but this deal should drop that ratio to a sustainable level. Meanwhile, any other cash needs will be funded by NXP's solid operating cash flows.
For the record, Durn expects a tax bill of roughly $450 million on the total proceeds, leaving $2.3 billion for NXP's own use.
Regulatory roadblocks?
American investors are used to seeing company mergers and spinoffs go through a very familiar set of regulatory clearance steps. But NXP is a Dutch company, and most of the standard products division has nothing to do with America. Therefore, the regulatory hurdles will look a bit different this time: "The regulatory approval process is something that we will have to work through," said CEO Rick Clemmer. "We don't consider there to be any material risk associated with it. The fact is this business is focused primarily in Europe with very nominal resources, actually, in the U.S. And we think that China will be supportive of it, given that the ownership associated with it will be a Chinese buyer."
So Chinese regulators should appreciate this business falling under local management, U.S. bodies shouldn't have much input into this process, and nothing really changes from a European point of view. Clemmer sees smooth sailing ahead, as the deal moves toward closing in the first quarter of 2017.
Image source: Getty Images.
How clean is this split?
Finally, NXP is bending over backward to create a clean split between the departing standard products division and the rest of the company. All 11,000 of the segment's employees are moving into the new Nexperia operation, led by the same executives and management structure. That being said, NXP will continue to do a lot of work with its former division: "There will definitely be significant shared services," Clemmer said. "We have some manufacturing, for example. The wafer production for the general-purpose logic business will continue to be done for the foreseeable future in existing NXP facilities. There are also shared services in the back-end manufacturing. So there's a significant amount of shared services."
Over time, Nexperia may move out of NXP's manufacturing facilities to depend more heavily on third-party chipmakers. But that will be a slow process, and some of the Nexperia assets will also continue to perform services for NXP. Clemmer estimates that "several tens of millions of dollars a year" will flow between the two businesses. So it's a bit early for Nexperia's management to burn their internal NXP Rolodexes -- and vice versa.
The article The Nexperia Deal: 3 Things That NXP Semiconductors NV Management Wants You to Know originally appeared on Fool.com.
Anders Bylund has no position in any stocks mentioned. The Motley Fool owns shares of and recommends NXP Semiconductors. Try any of our Foolish newsletter services free for 30 days. We Fools may not all hold the same opinions, but we all believe that considering a diverse range of insights makes us better investors. The Motley Fool has a disclosure policy.
Copyright 1995 - 2016 The Motley Fool, LLC. All rights reserved. The Motley Fool has a disclosure policy.