The new fast food? Convenience stores add hot, cheap options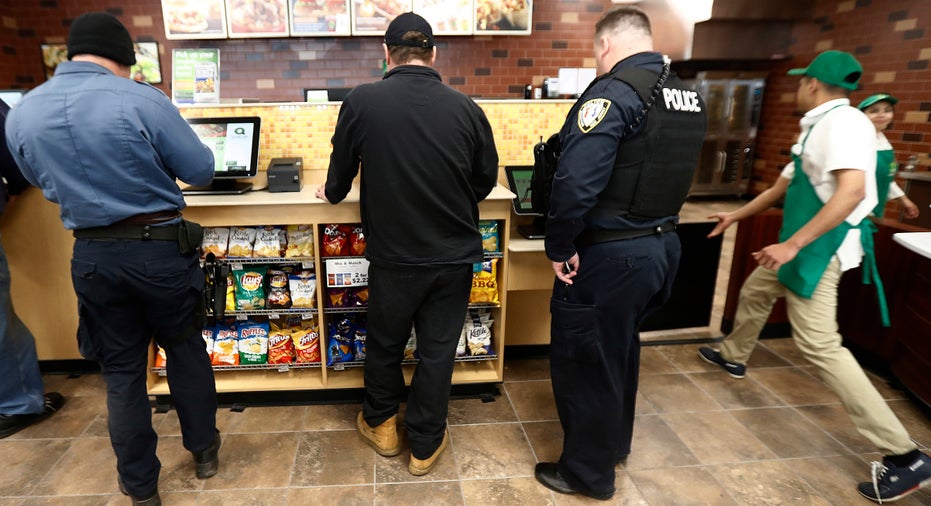 Saying "convenience store food" may make people think of spinning hot dogs by the counter, but places like 7-Eleven are expanding their hot food offerings in hopes of stealing customers away from fast-food chains.
The push by convenience stores into hot, fast, affordable foods is just one of the pressures facing chains like Burger King, Wendy's and Taco Bell. The traditional fast-food chains are also fighting for customers with smaller restaurant chains, and with supermarkets that offer prepared foods for busy shoppers.
Low prices and speed for ready-to-eat foods at convenience stores are big factors. McDonald's partly blames its declining number of customer visits in the U.S. on its failure to hold onto the deal-seekers at the cheaper end of its menu after eliminating the Dollar Menu.
"If you go to convenience store conventions, all they talk about is the decline of gas and tobacco, so they have to become more like (fast food)," Dunkin' Donuts CEO Nigel Travis said in March, noting the effect of convenience stores on his business.
In the past year, 7-Eleven has added $1.99 chicken sandwiches and cheeseburgers kept in warming cases. That's in addition to sandwich melts the chain introduced in 2015. The chain — which still sells hot dogs by the counter — has expanded to about 8,900 U.S. locations and says food is a top priority.
"We can drop in a product (in stores) overnight, and all of a sudden we're in a brand-new business," says Nancy Smith, the company's senior vice president of the chain's food and drinks.
Convenience store prices points can also be a draw for people who may have less money to spend. About 60 percent of convenience store food customers have household incomes of less than $40,000, the National Association of Convenience Stores said in a recent report.
Prepared foods and drinks like pizzas, burgers and coffee accounted for 22 percent of convenience store sales last year, an industry report said last month, a figure that has risen from 13 percent in 2010. The industry says many people in rural areas who may not be near supermarkets often get their groceries from convenience stores, but the push into hot and prepared foods in recent years is driven by another factor. Cigarettes remain the No. 1 seller at convenience stores, but are generally on the decline. So convenience stores are expected to keep trying to sell more food as smoking rates fall.
The Sheetz chain, which is based in Pennsylvania and has more than 540 locations in six states, says half of its new locations are built with a drive-thru, an accommodation the fast-food industry relies on for the majority of its sales. While Sheetz customers use the drive-thru mainly to order from the chain's made-to-order foods like burgers, the company says they can also request items like a gallon of milk from elsewhere in the store if they want.
Travis Sheetz, the chain's vice president of operations, says he has also seen growth more recently in the cold cases where yogurts, cut fruit and other pre-packaged foods are sold. Those options cater to the growing number of people looking for "convenient health," he said.
Because the convenience store industry has so many smaller chains and independents, those stores might not have the resources to develop competitive prepared food offerings, says Chris Mandeville, a Jefferies analyst who tracks the industry. That may lead some convenience stores to team up with fast-food chains like Subway rather than compete with them, and open up outposts within their locations.
And for stores cooking up their own food offerings, the image of convenience store food is a challenge. "Older folks tend to think of the roller dogs that have been sitting on the grill for hours," Mandeville said.
Wawa, which has about 750 stores along the U.S. East Coast, says the quality of food at convenience stores has improved. It also says convenience stores have an advantage over fast-food chains because people increasingly value speed and variety. Along with its prepared foods such as hoagies and sandwiches, the chain offers packaged drinks and snacks that people can grab with their meals.
"That's something that McDonald's and the franchisees can't match," says Mike Sherlock, who heads Wawa's food and drinks program.
And while those spinning hot dogs may be a punchline for some, they're an easy way for smaller convenience store owners to get into the hot food business, says Jeff Lenard, a spokesman for the association. He says Burger King's decision to add hot dogs to its menu last year reflects their popularity.
For now, Lenard notes a bigger potential problem: the convenience-store industry's reputation for unpleasant restrooms.
"If you have a bad experience in the bathroom," he said, "you are not going to buy the food."
___
Follow Candice Choi at www.twitter.com/candicechoi