The Most Revealing Comment in Whole Foods' Q2 Earnings Call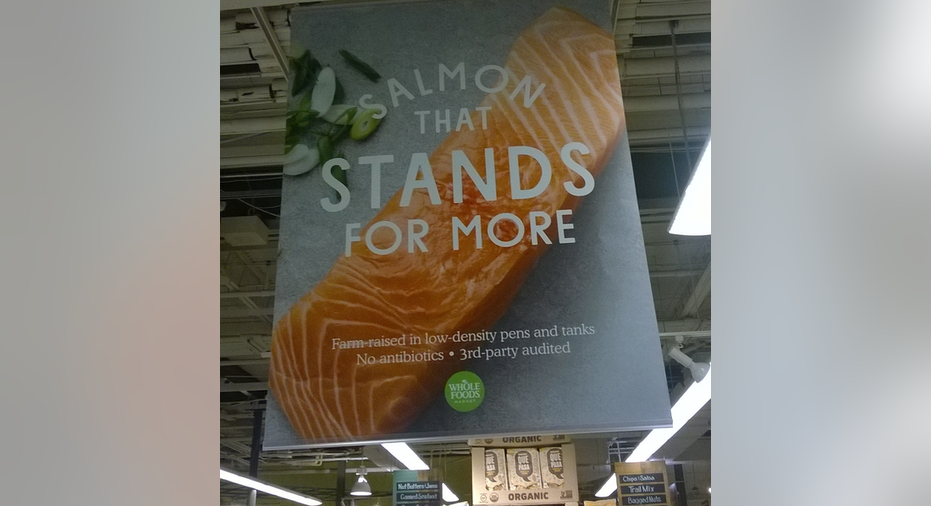 Recent store-specific Whole Foods sales flyer offers. Image source: www.wholefoodsmarket.com.
Inprepared remarks to analysts during Whole Foods Market,'s (NASDAQ: WFM) earnings conference call last week,Co-CEO John Mackey provided some detail on comparable store sales, or "comps," the metric shareholders seem most interested in at the moment:
This was arguably the most illuminating comment of the entire call, but it's also a bit confusing, so let's dig in to understand more clearly what the quote conveys.
First, Mackey refers to the event which was the catalyst, but not the entire cause, of Whole Foods' comparable-sales decline from mid-2015 to date. You may remember that a weights and measures audit by New York City's Department of Consumer Affairs, publicized in June of last year, found systemic problems in the company's weighing and labeling of packaged foods, resulting in the overcharging of some customers.
While Whole Foods moved to put this mini-scandal behind them with a quick apology and a generous refund offer to customers encountering any pricing errors, comparable sales never really recovered. This has more to do with a long-term trend of comps compression, however, than the harsh publicity Whole Foods endured from its labeling stumble:
Data source: Whole Foods Market SEC 8-K quarterly earnings filings, 2013-2016.
As Whole Foods' executives readily admit, competitors have consistently tried to copy the most successful aspects of the grocer's business model in recent years, and the resulting customer shift is the preeminent reason behind steadily shrinking comps in the bar chart above.
It's true that beginning in Q3 2016, Whole Foods will lap last year's curbed sales which tanked after national fallout from the NYC audit. But the trend line suggests additional pressure on comparable sales. If the weighing setback was the only force at play, one could logically expect some moderation in prior-year comparisons as the quarters rolled on. That's clearly not the case yet.
So, while the Q3 2015 anniversary may lower the comparison bar going forward, this doesn't automatically guarantee a resilient comps rebound.
The challenge of pricing
The second part of the quote above isolates at least one reason why those comps might still be under pressure. Mackey stated the company's belief that its value strategy will offset some of the Q3 lapping benefit, as it continues to make price investments this year.
To translate, Whole Foods' investment in gross margin (i.e., selectively lowering prices to keep customers from departing for competitors) will produce a drag on comparable sales.
But wait just an organic moment: Aren't price investments, the backbone of Whole Foods' value strategy, supposed to increase comparable sales?
In the best of scenarios, this is indeed the objective. Price markdowns and promotions draw customers in, and from there, the company's task is to make up for lower margins by improving average basket size (the dollar amount of product we throw into our shopping carts before checking out).
The company can do this by enticing you to purchase its lucrative prepared foods, or perhaps through in-store signage which extols the virtues of its sustainably sourced products, a tremendous competitive advantage:
Image source: Author's photograph, Ridgewood Shopping Center Whole Foods Market, Raleigh, NC.
Profiting from traffic bolstered by promotions is seems within reach. Increasingly, Whole Foods is using its produce department as a pricing lure, as it's taken to running regular national perishables promotions on popular fruits and vegetables.
Again, such is the desired outcome. Consider what happens if a company invests in pricing, but basket composition (what people put in their shopping carts) doesn't change much, and the size of that basket remains the same, or declines.
In this case, even with a traffic boost, the pricing changes have the effect of decreasing, not increasing comps, as customers buy the same amounts of food as before, but at lower prices, resulting in lower revenue per comparable store.
This is the reality Whole Foods is wading through presently. As the chart presented above suggests, Whole Foods' first task isn't actually to jump-start comps. If that were possible, management would have done so at any time over the last 14 quarters.
Rather, the first item of business is to stabilize comps, which would indicate that the customer base is secured. Lapping the third quarter of 2015 will improve comparability. And the recent launch of digital coupons, an integral part of the company's growing loyalty platform, may prove an effective tool to build basket size in the long run.
Mackey's comment on comps reveals that the necessary tactical price reductions are as much a contributing factor to near-term comp declines as they are to long-term comps rehabilitation. In stabilization mode, this isn't too out of the ordinary, and perhaps should even be expected. But it also signals that while a comps lift may be reported next quarter, a significant upside surprise isn't likely.
The article The Most Revealing Comment in Whole Foods' Q2 Earnings Call originally appeared on Fool.com.
John Mackey, co-CEO of Whole Foods Market, is a member of The Motley Fool's board of directors. Asit Sharma has no position in any stocks mentioned. The Motley Fool owns shares of and recommends Whole Foods Market. Try any of our Foolish newsletter services free for 30 days. We Fools may not all hold the same opinions, but we all believe that considering a diverse range of insights makes us better investors. The Motley Fool has a disclosure policy.
Copyright 1995 - 2016 The Motley Fool, LLC. All rights reserved. The Motley Fool has a disclosure policy.