The Most Important Number for NVIDIA Corporation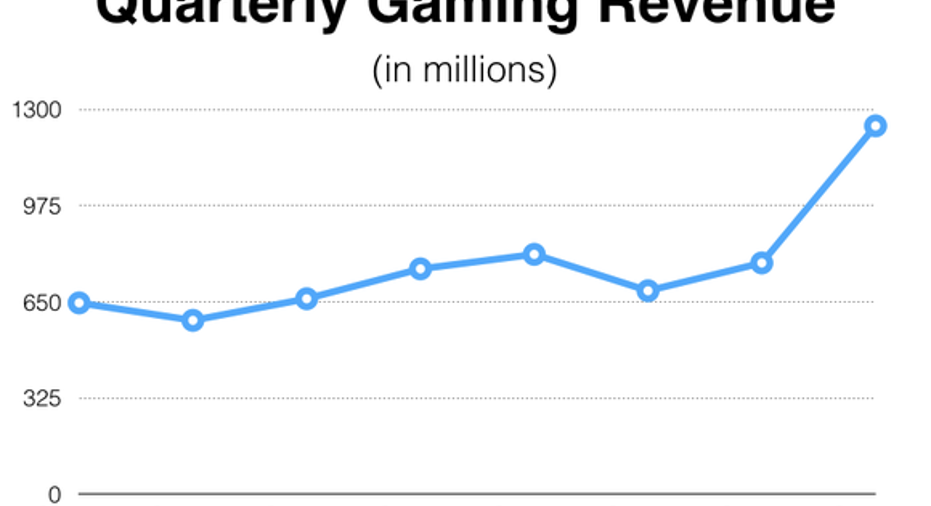 Image source: Getty Images.
NVIDIA Corporation's (NASDAQ: NVDA) phenomenal 229%stock price gain in 2016 has left many investors wondering if the company can keep the momentum going this year, too.
To answer that question, we have to look at one of the graphic chipmaker's most important numbers: the percentage it makes from its lucrative gaming segment.
62%
NVIDIA made 62% of its top-line revenue from its gaming segment in the fiscal third quarter of 2016. The $1.24 billion it brought in from selling graphics processing units (GPUs) for gaming represented a 35% year-over-year increase, and it was a breakout quarter in the segment. Here's what the company's gaming revenue growth has looked like over the past eight quarters.
Data source: NVIDIA.
NVIDIA's gaming revenue is clearly moving in the right direction. The spike in the most recent quarter came primarily from its expanded line of Pascal-based GPUs, and the company's new graphics cards for the notebook market.
Of course, the question is whether or not NVIDIA can keep up this trajectory. Crystal balls aside, NVIDIA's current GPU market share hints that the company's gaming revenues are pretty secure.
NVIDIA holds 70.9% of the discrete desktop GPU market share right now, while rival Advanced Micro Devices (NASDAQ: AMD) takes the remaining amount. NVIDIA has managed to keep a fairly consistent lead over AMD for a while now, and the introduction of several new graphics cardslast year has helped the company make additional gains as well.
This could help things, too
Virtual reality (VR) is still in its very early stages, but it could become a major part of NVIDIA's gaming revenue in the near future. TheVR is expected to reach $70 billion by 2020 and have 171 million active users worldwide by 2018.
NVIDIA's GPUs are already used in VR-ready notebooks, and the company has developed some of its own games to show off its chips' virtual reality prowess. Some of its cards are already recommended for use with high-end VR headsets like the Oculus Rift and HTC Vive. If NVIDIA can dominate the VR market as well as it has the traditional gaming GPU segment, then investors could be looking at many more years of seeing NVIDIA at the top of the graphics processing market.
Keep this in mind
NVIDIA's skyrocketing stock price in 2016 means the company's current price-to-earnings ratio has been pushed up to nearly 67 times its trailing-12-month earnings. The company's massive gains last year mean NVIDIA would have to grow earnings extremely fast, and consistently, to justify its current valuation.As such, I'll be watching this stock from the sidelines, hoping for the best for other investors, but holding off from picking up any shares myself for now.
That's not say NVIDIA can't, or won't, continue to grow quickly. The company dominates the gaming segment, and the burgeoning virtual reality market should certainly help make its lead even stronger. NVIDIA investors looking for more growth from the company should watch how well it transitions to the VR market and if it can maintain its dominant GPU market share. At this point, I have no doubt that it'll excel at both.
10 stocks we like better than Nvidia When investing geniuses David and Tom Gardner have a stock tip, it can pay to listen. After all, the newsletter they have run for over a decade, Motley Fool Stock Advisor, has tripled the market.*
David and Tom just revealed what they believe are the 10 best stocks for investors to buy right now...and Nvidia wasn't one of them! That's right -- they think these 10 stocks are even better buys.
Click here to learn about these picks!
*Stock Advisor returns as of January 4, 2017.
Chris Neiger has no position in any stocks mentioned. The Motley Fool owns shares of and recommends Nvidia. The Motley Fool has a disclosure policy.