The Most Important Lessons From Clean Energy Fuels Corp. Earnings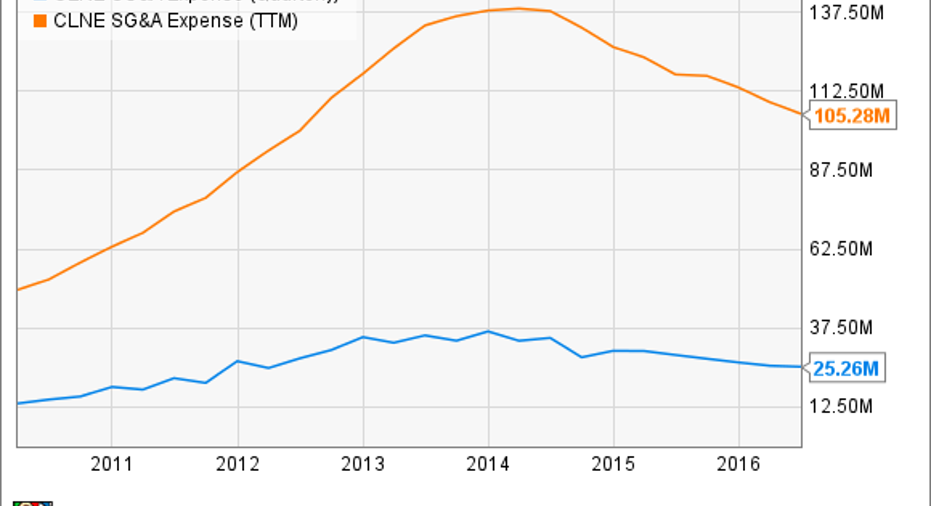 Heavy-duty trucking remains the big opportunity, but other segments are driving growth right now. Image source: Clean Energy Fuels.
SinceClean Energy Fuels Corp.(NASDAQ: CLNE) reported second-quarter financial results (go here for the details)after market close on Aug. 9, its shares are up 25% after the company beat Wall Street analyst expectations pretty soundly and across the board. Not only was revenue up 24%, but the company also reported a profit when every analyst that covers the company was expecting a loss.
By almost any measure, this has been a very successful year for Clean Energy Fuels. But that doesn't mean there aren't things that bear watching or that the company won't continue to face challenges in its efforts to grow natural gas as a transportation fuel.
Let's take a closer look at Clean Energy Fuels' second-quarter earnings. There are some important lessons for investors.
Key numbers from the second quarter
| Metric | Q2 2016 | Q2 2015 | Change |
| --- | --- | --- | --- |
| Revenue | $108.0 | $86.9 | 24% |
| Earnings per share | $0.01 | ($0.33) | 3400% |
| Net income | $1.5 | ($29.9) | 2093% |
| Gallon-equivalents delivered | 82.9 | 74.4 | 11% |
Revenue, net income, and gallon-equivalents delivered in millions. Data source: Clean Energy Fuels.
A few other key numbers Clean Energy announced:
Interest expense of $7.8 million, down 22%.
Total convertible debt has been reduced 39% year to date.
Sales, general, and administrative expense of $25.3 million, down 13%.
Margin per gallon of $0.35, up 21%.
The company announced it has more than 60 new station and station expansion projects lined up.
Planned capital expenditures of $25 million for the full year, down 25% from 2015 and the third year of reduced spending.
Transitioning from expensive expansion to profitable growth
Over the past several years, Clean Energy Fuels has spent a significant amount of money on capital growth, which it funded with debt:
CLNE Capital Expenditures (TTM) data by YCharts.
But as you can see, capex spending has been on a steady decline more recently, and this drop will continue in 2016, when the company will spend $25 million on capex. Yet even at these reduced levels, the majority of that spending is still for station expansion, not maintenance. And according to co-founder and CEO Andrew Littlefair, the existing station base could support nearly twice the current fuel volume sales with little additional investment.
Reducing capital spending isn't the only cash-saving initiative the company has done. Clean Energy Fuels' management has prioritized its expenses as well:
CLNE SG&A Expense (Quarterly) data by YCharts.
This has been a key driver behind the recent shift from reporting GAAP losses to profitability. Another boost to profits that's just now taking root? Paying down long-term debt:
CLNE Total Interest Expense (Quarterly) data by YCharts.
While the sharp spike in interest expense in Q4 of 2015 was driven by non-cash interest expense accounting tied to the cancellation of a debt agreement to fund LNG facilities, the company's quarterly interest expense is generally a "real" cash expense. It's also one that's weighed heavily on earnings for several years. But as you can see, the recent debt payoffs have already reduced it significantly. Management expects interest expense to be 25% lower at current debt levels. That's another profit-boosting step forward.
GAAP profits matter, but cash flows are the key
Profits matter a lot. But investors must understand the limitations of GAAP, and how it can make it easy to miss the bigger picture. This is especially true for a company like Clean Energy, which has been investing huge amounts of money in long-lived assets like its refueling stations, and how that past spending can reduce its taxable profits with two magic words: depreciation and amortization. Here's Clean Energy's quarterly depreciation and amortization expense over the past several years:
CLNE Total Depreciation and Amortization (Quarterly) data by YCharts.
Each quarter, the company is able to depreciate a certain value of its assets, or amortize a certain amount of its capital investment spending. On the books, this is shown as an expense, but it's non-cash accounting of the company's prior capital expenditures.
The benefit? The company's GAAP profits will be reduced by using depreciation and amortization, and that reduces taxes. But since these are non-cash accounting for prior capital spending, the company's current cash flows aren't impacted. Actually, theybenefit since the company will retain more of its cash flows by reducing its taxes while depreciating and amortizing all those capital investments.
At some point, those assets will be fully depreciated or amortized and the benefit will end, but for now, this is freeing up additional cash flows when the company can really use it.One more chart, showing how the cost-cutting efforts mentioned above, as well as the tax-reducing benefit of depreciation/amortization have played some role in cash flows:
CLNE Cash from Operations (TTM) data by YCharts.
Yes, free cash flow is still negative on a trailing-12-month basis, but this is partly due to the company having spent at least $45 million so far in 2016 to pay down its debt.
Key takeaway
Two quarters into 2016, Clean Energy Fuels' management has steadily delivered on goals that were first laid out in 2015:
Reducing expenses
Cutting back on capital spending
Paying down debt
Continuing to invest in growth
At the same time, the company is selling more fuel and demand continues to grow. Put those things together, add in the ability to as much as double fuel sales with minimal initial investment, and little to no increase to operating expenses and those incremental sales could result in a huge boost to profits and, more importantly, cash flows going forward. It's looking more and more like Clean Energy Fuels has turned a major corner so far in 2016.
A secret billion-dollar stock opportunity The world's biggest tech company forgot to show you something, but a few Wall Street analysts and the Fool didn't miss a beat: There's a small company that's powering their brand-new gadgets and the coming revolution in technology. And we think its stock price has nearly unlimited room to run for early in-the-know investors! To be one of them, just click here.
Jason Hall owns shares of Clean Energy Fuels andhas the following options: long January 2017 $5 calls on Clean Energy Fuels, short January 2017 $5 puts on Clean Energy Fuels, and long January 2017 $3 calls on Clean Energy Fuels. The Motley Fool owns shares of and recommends Clean Energy Fuels. Try any of our Foolish newsletter services free for 30 days. We Fools may not all hold the same opinions, but we all believe that considering a diverse range of insights makes us better investors. The Motley Fool has a disclosure policy.