The Most Compelling Argument for How Tesla Motors Is a Tech Company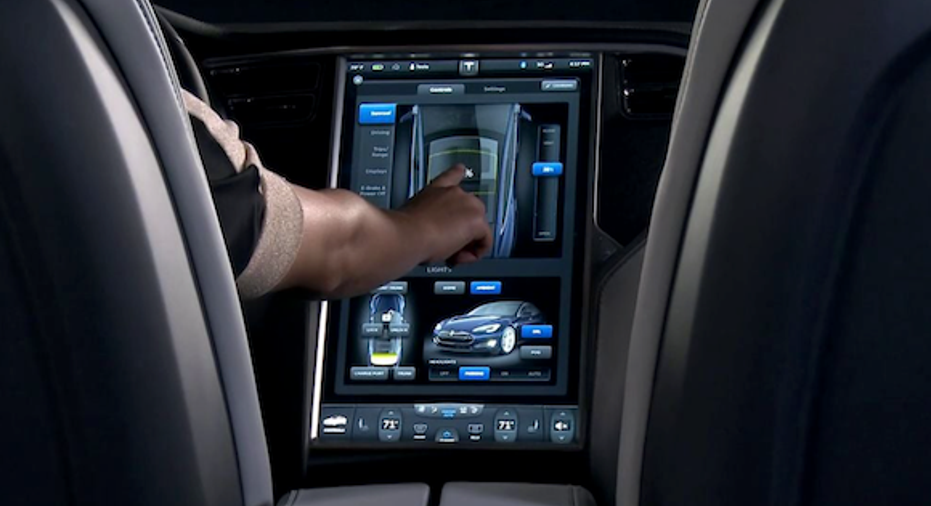 Model S center console. Image source: Tesla.
Whether or not Tesla Motors technically qualifies as a tech company is a topic of active debate. From a valuation perspective, Tesla certainly benefits from the tech associations, since traditional automakers fetch rather poor valuations in the market. At the same time, Tesla can't simply escape the manufacturing realities of the auto business by being characterized as a tech company, either. Tesla's geographical location in Silicon Valley is also inconsequential, particularly as incumbent auto OEMs continue to set up shop in the Bay Area.
Here is the most compelling argument for how Tesla is a tech company.
Integration is keyA common theme in the tech world is that success is often predicated on how well a company can integrate hardware, software, and services. It's no longer good enough to just be incredibly good at one of these areas. Modern consumers demand seamless integration across all three areas, and this strategic imperative is precisely why a certain iPhone maker is so successful.
Specialized expertise can only take you so far, but the most promising enterprises know how to balance all three together, even if they're lacking relative to other companies in one way or another. Tesla is far better at integrating all three areas than its traditional automotive peers.
Hardware and softwareTraditional automakers are incredibly good at manufacturing at scale, while Tesla is not. This is easily the biggest advantage that incumbent OEMs enjoy: vast experience building vehicle platforms and ramping those platforms to produce a diverse portfolio of vehicles at a global scale. To be clear, the challenges of producing vehicles in volume cannot be understated. It's easily one of the most difficult manufacturing endeavors known to man, thanks in part to intense competition at the consumer level that hurts pricing power but still necessitates incredible levels of capital intensity.
But Tesla's strength comes from its emphasis and integration of software. Of course, all modern cars include a lot of software to control a wide range of aspects in the vehicle. However, since traditional automakers tend to outsource software development, including critical aspects like the infotainment display and interface, these systems aren't fully integrated in the way that they are in a Tesla vehicle. As efficient systems integrators, most OEMs essentially put together a variety of solutions made by suppliers, which includes the software.
Consider a story that Tesla co-founder Marc Tarpenning shared at Amplify Mentor in 2013 about the Roadster development in 2007. Car companies will often bring vehicles to Swedish frozen lakes to test cold-weather traction and performance. Most of the time, if a vehicle doesn't perform well, the company goes back to its headquarters in order to redesign the mechanical components to factor in the feedback and new data. It will then produce new prototype components for testing and bring it back to Sweden. This process takes weeks.
Telsas are different. In Tarpenning's words, "Our car replaced as much mechanical complexity as we possibly could with software." This meant that Tesla engineers could code new stability control algorithms on the spot, and they could almost immediately implement changes in the test vehicle. In fact, this new rapid iteration process was so unheard of that then-partner Lotus put a brief pause on the chassis partnership since it suspected that Tesla was somehow cheating or faked the results since Tesla made the changes within an hour.
A recent software update added a new mode to open Model X falcon wing doors. Image source: Tesla.
It's this pervasiveness of software that makes Tesla unique within the auto world. This is the level of hardware and software integration that incumbent OEMs lack, even if they're far better at volume production. Simply put, traditional automakers areverygoodat hardware, but not so great at software and services.
ServicesWhen it comes to after-purchase services on a vehicle, the most obvious is service and maintenance. Most automakers outsource sales and service to dealers, an antiquated model that's been in place for decades. Traditional car companies provide virtually no meaningful services after the time of sale. Sure, there are services like General MotorsOnStar or a handful of connected car apps like Ford Sync orToyota Entune, but those are somewhat limited in either scope or usability.
Tesla performs service and maintenance directly, which provides some important advantages. The company is able to quickly receive feedback about vehicle issues and incorporate that information into product development, while ensuring that the actual customer experience is positive. You can't do that with a dealer network, since you're effectively working with a network of thousands of local businesses, which presents inherent challenges in scaling consistently. It's far more expensive to operate service directly, but there are many benefits as well.
Supercharging is a unique service that Tesla provides. Image source: Tesla.
Additionally, Tesla's supercharging is another incredibly important service that's provided after the purchase. By offering free long-distance travel, Tesla put a quick end to range anxiety for its customers. No other auto OEM has been willing to invest this heavily in charging infrastructure at this scale, instead remaining paralyzed by discussions about standards and interoperability (which can be achieved through small adaptors).
Incumbent auto companies aren't even in the same league when it comes to competing with Tesla on services.
You can be bothWhen it comes down to it, Tesla is both a tech company and an auto company. Tesla is a tech company that makes cars, while most peer OEMs are auto companies that incorporate increasing degrees of technology. Operationally, Tesla must face the intense realities of automobile manufacturing, which is by far the greatest execution risk going forward. But strategically and organizationally, Tesla is a tech company through and through.
The difference lies in where Tesla sits on the spectrum compared to other auto companies; I just believe that Tesla is closer to the tech end of the spectrum.
The article The Most Compelling Argument for How Tesla Motors Is a Tech Company originally appeared on Fool.com.
Evan Niu, CFA owns shares of Tesla Motors, andhas the following options: long January 2018 $180 calls on Tesla Motors. The Motley Fool owns shares of and recommends Ford and Tesla Motors. The Motley Fool recommends General Motors. Try any of our Foolish newsletter services free for 30 days. We Fools may not all hold the same opinions, but we all believe that considering a diverse range of insights makes us better investors. The Motley Fool has a disclosure policy.
Copyright 1995 - 2016 The Motley Fool, LLC. All rights reserved. The Motley Fool has a disclosure policy.