The Most Cash That Apple, Inc. Has Ever Had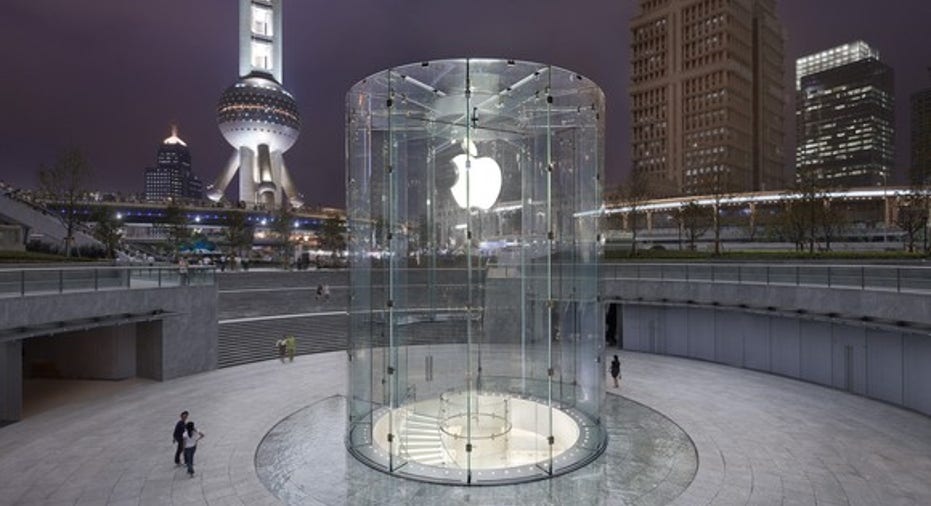 You'd think that after returning over $200 billion in cash to investors through its capital return program over the past five years, that there'd be a sizable dent in Apple's (NASDAQ: AAPL) money mountain. You'd be wrong.
To be clear, Apple's cash position would certainly be about $200 billion more if it weren't for the program, but the fact still stands that Apple generates so much cash that it simply can't give that money back fast enough. Operating cash flow was $65.8 billion in fiscal 2016, which ended in September. Even after deducting $12.8 billion in capital expenditures, the Mac maker enjoyed $53 billion in free cash flow -- leaving plenty to cover the $12.2 billion paid out in dividends and dividend equivalents and buying back $30 billion worth of stock. The same is true for the most recent fiscal first quarter.
Apple Store Pudong. Image source: Apple.
Here's the thing: It's also true for almost every year since Apple started returning capital. Capital returns have exceeded 100% of free cash flow in only one fiscal year since the program commenced (2014, and only by about 12%). The net result is that despite the massive amounts of capital being returned, Apple now has the most cash it's ever had on the balance sheet. For a company that loves superlatives as much as Apple does, it's almost surprising that it didn't point this out on last month's earnings call.
Cash is king
As of the end of 2016, Apple was sitting on $246 billion in total cash, which is the highest its cash position has ever been. Even if you were to factor in debt, which is predominantly used to fund the capital return program, and look at Apple's cash position on a net basis, that's also the highest it's ever been. Despite its best efforts to return as much as possible, Apple's cash keeps marching higher. Gross cash and net cash begin to diverge in 2013 when Apple starts taking on debt, but you can see both are at all-time highs.
Data source: SEC filings and author's calculations. Chart by author. Calendar quarters shown.
It's also true that Apple's cash is increasingly concentrated abroad, as the debt is used as a way to avoid repatriation taxes. At this point, 94% of Apple's total cash is held by foreign subsidiaries. This figure was closer to 60% half a decade ago.
Data source: SEC filings and author's calculations. Chart by author. Calendar quarters shown.
What comes next
Given this, combined with the fact that Apple is currently reviewing its capital return plans and will give investors an update in April, there seems to be plenty of room for Apple to get even more aggressive if it wants to. When it launched the capital return program, it finally acknowledged years of criticisms that the company had way more cash than it would ever conceivably need -- and it currently has about $60 billion more (or about 50%) net cash than when it started capital returns.
The curve ball is the practical limit on how much debt Apple should take on. If the company can convince the Trump administration to deliver on that repatriation holiday promise, that could potentially pave the way for some type of massive return or special dividend. Otherwise, that money mountain is only getting bigger.
10 stocks we like better than AppleWhen investing geniuses David and Tom Gardner have a stock tip, it can pay to listen. After all, the newsletter they have run for over a decade, Motley Fool Stock Advisor, has tripled the market.*
David and Tom just revealed what they believe are the 10 best stocks for investors to buy right now... and Apple wasn't one of them! That's right -- they think these 10 stocks are even better buys.
Click here to learn about these picks!
*Stock Advisor returns as of February 6, 2017
Evan Niu, CFA owns shares of Apple. The Motley Fool owns shares of and recommends Apple. The Motley Fool has the following options: long January 2018 $90 calls on Apple and short January 2018 $95 calls on Apple. The Motley Fool has a disclosure policy.