The Latest: WTO says it will try to minimize any Brexit pain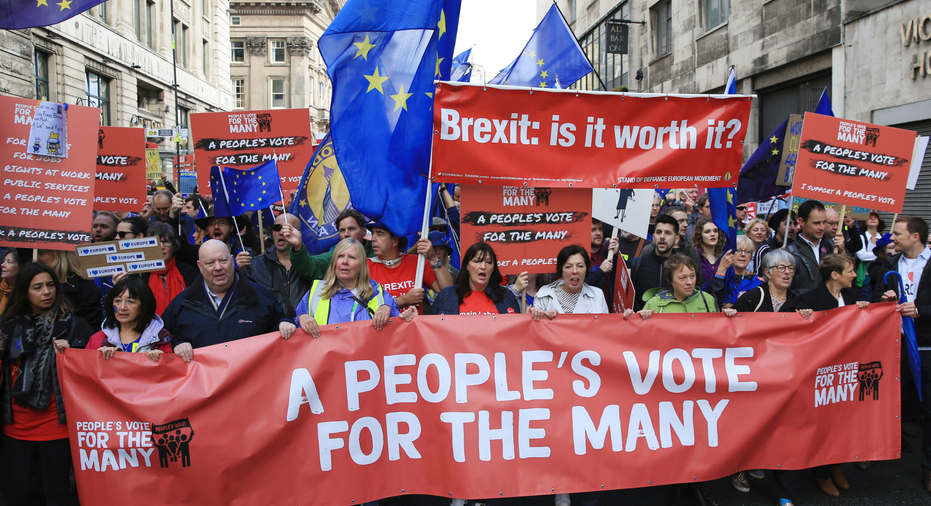 The Latest on Britain's planned exit from the European Union (all times local):
10:45 a.m.
The head of the World Trade Organization says the trade body will try to minimize disruption caused by Britain's exit from the European Union.
Britain is due to leave the 28-nation EU in March. No deal is in place yet on withdrawal terms and the future relationship.
Asked about concerns about a "no-deal" Brexit, Roberto Azevedo said at a German business group's annual conference in Berlin that "clearly there will be an impact, and it's not going to be a good one."
Azevedo said Tuesday that the role of the WTO will be "to try to minimize the negative effects that this is going to have." He added that "if we can minimize the disruption, if we can minimize the pain ... that's what we will try to do."
___
10:30 a.m.
German Chancellor Angela Merkel says an agreement on Britain's future relations with the European Union shouldn't be too vague and is renewing a warning that London can't select benefits of the bloc's single market.
Negotiators aim to break a deadlock and reach a deal in November. Britain is to leave the EU in March.
Merkel said in Berlin on Tuesday that a declaration on future relations must be "as concrete as possible," because if it is too general a planned 21-month transition period could be too short to draw up a full free-trade agreement. She added that "playing for time won't help business either."
She said that "you can't belong to the single market if you only want to belong to the single market in one area but not in three others."
___
10:20 a.m.
Britain's main opposition Labour Party says it will reject Prime Minister Theresa May's proposed Brexit deal with the European Union when it comes to a vote in Parliament.
If Britain and the EU agree on a deal, it must be approved by individual nations before Britain leaves. In the U.K. that means a vote by lawmakers, and the math looks ominous for May's minority government.
Labour Brexit spokesman Keir Starmer says the party will reject a deal along the lines May is proposing because it does not meet "six tests," including protecting workers' rights and retaining access to European markets.
Starmer said Tuesday that May's negotiations with the bloc were "chaotic and failing."
Labour leaders are under pressure from members to back a new referendum on Britain's EU membership.