The Latest: Venezuelan 'truth commission' initiates probe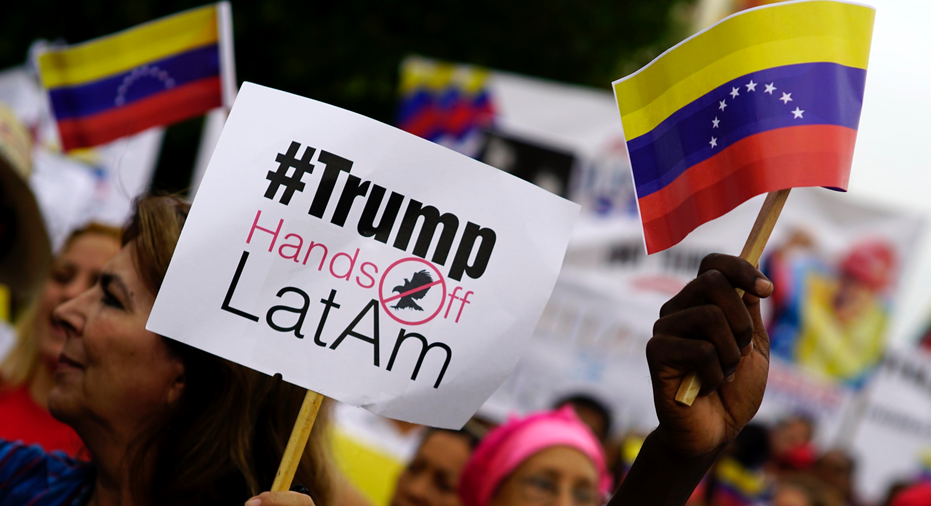 The Latest on Venezuela's political and economic crisis (all times local):
8:30 p.m.
A new "truth commission" created by Venezuela's all-powerful constitutional assembly has initiated an investigation to determine who is responsible for encouraging U.S. economic sanctions.
Constitutional assembly president Delcy Rodriguez said on Twitter that the "unpatriotic right" has pushed for U.S. military intervention and economic sanctions and "will respond before the people."
The remarks come after President Nicolas Maduro vowed to prosecute for treason opponents he believes are behind the sanctions. He singled out the president of Venezuela's opposition-controlled congress.
The constitutional assembly passed a decree installing the "truth commission" shortly after taking office in early August.
The commission wields unusual authority to subpoena and prosecute anyone officials suspect of wrongdoing.
___
6:30 p.m.
President Nicolas Maduro wants his opponents investigated for treason for allegedly plotting with the Trump administration to sanction Venezuela.
Maduro singled out for criticism congress President Julio Borges, calling him the "mastermind" of the sanctions that would cause "great damage" to the Venezuelan economy.
"You've got to be a big traitor to your country to ask for sanctions against Venezuela," Maduro said in a televised appearance.
As Maduro has gone down an increasingly authoritarian path, the opposition led by Borges has stepped up its international campaign to isolate Maduro. In recent months he and other leaders have made frequent trips to Washington and regional capitals to push for more international pressure on Maduro as well as sent letters to several Wall Street banks warning them of the financial and reputational risk of lending money to the socialist government.
___
5:10 p.m.
President Nicolas Maduro is promising to respond with "strength and dignity" to financial sanctions announced by the Trump administration that he said are bound to inflict hardships on the already-struggling economy.
Maduro in a short video shot from a meeting with top aides at the presidential palace said he would announce measures to combat the "blockade" in a televised appearance later Friday.
But he warned that "sacrifices" will be required to free Venezuela from the "blackmail" of the dollar and American financial system that he said are out of step with the U.S.' diminishing role in the world economy.
"We'll have to endure sacrifices but we must safeguard the country and sovereign motherland in order to break the blockade," he said.
___
3:00 p.m.
U.S. Treasury Secretary Steven Mnuchin says sweeping new sanctions against Venezuela are aimed at turning up the heat on embattled President Nicolas Maduro while sparing the Venezuelan people from further harm.
Mnuchin said Friday that President Trump's executive order barring U.S. banks from providing new money to the Venezuelan government or state oil company will ensure Maduro can no longer utilize the U.S. financial system to "facilitate the wholesale looting of the Venezuelan economy."
He said the sanctions were crafted to strike a balance between targeted efforts aimed at cutting Maduro's ability to raise new money while also allowing some exceptions to ensure ordinary Venezuelans are not afflicted.
The sanctions are nonetheless another blow to Venezuela's economy. Venezuelans are struggling with triple-digit inflation, food and medical shortages.
___
2:15 p.m.
Venezuela's foreign minister is calling new U.S. financial sanctions "the worst aggressions to Venezuela in the last 200 years, maybe."
Foreign Minister Jorge Arreaza spoke at the United Nations Friday, hours after the Trump administration announced the new measures.
Arreaza asks whether Americans "want to starve the Venezuelan people." He says his government won't let the U.S. "create a humanitarian crisis."
Venezuela has already been wracked by widespread shortages and triple-digit inflation as its oil-dependent economy has faltered.
The White House said in a statement that the sanctions allow for humanitarian assistance.
The White House says Venezuelan President Nicolas Maduro is leading a dictatorship. Arreaza says it's a democracy that has been misportrayed by Washington and the media.
He says Maduro plans to send Trump a letter in response.
___
11:45 a.m.
The Trump administration has slapped sweeping financial sanctions on Venezuela, barring banks from any new financial deals with the government or state-run oil giant PDVSA.
The sanctions Trump signed by executive order Friday are bound to dramatically escalate tensions between Venezuela and the U.S. and exacerbate the country's economic crisis.
The White House says in a statement that the measures "are carefully calibrated to deny the Maduro dictatorship a critical source of financing to maintain its illegitimate rule, protect the United States financial system from complicity in Venezuela's corruption and in the impoverishment of the Venezuelan people, and allow for humanitarian assistance."
The new actions prohibit dealings in new debt and equity issued by the government of Venezuela and its state oil company. It also prohibits dealings in certain existing bonds owned by the Venezuelan public sector, as well as dividend payments to the government of Venezuela.