The Latest: US to sell $1 billion in arms to Saudi Arabia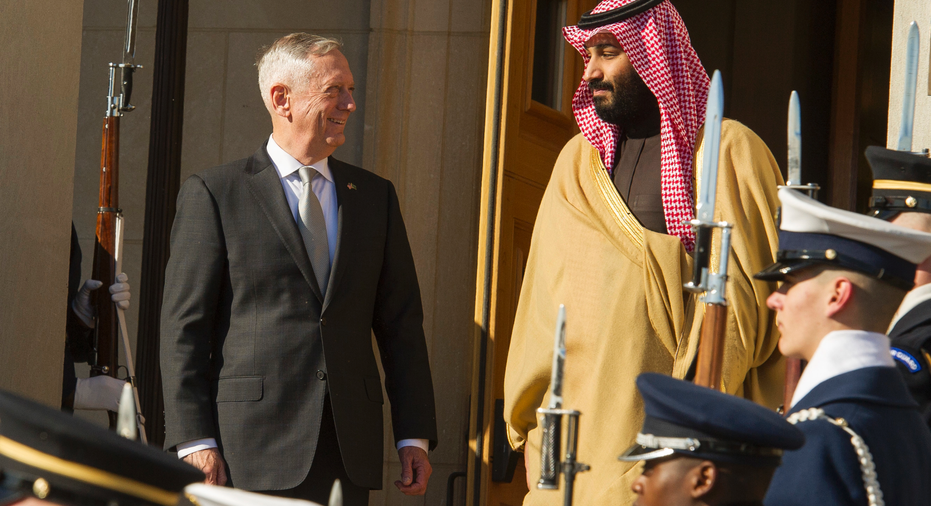 The Latest on the United States and Saudi Arabia (all times local):
4:45 p.m.
The Trump administration is signing off on selling more than $1 billion in arms to Saudi Arabia as Crown Prince Mohammed bin Salman visits the United States.
The State Department says the administration told Congress on Thursday that it plans to approve the sale. Lawmakers will have 30 days to act if they want to try to stop it.
The package includes up to about 6,700 U.S.-built anti-tank missiles. Raytheon Co. makes the missiles.
Other items include support, maintenance and spare parts for American tanks, helicopters and other equipment already in Saudi Arabia's arsenal.
Prince Mohammed met Tuesday with President Donald Trump as he started his three-week U.S. tour.
The U.S. has raised concerns previously about heavy civilian casualties and indiscriminate bombing by the Saudi-led coalition fighting in Yemen.
__
11:30 a.m.
Defense Secretary Jim Mattis says Saudi Arabia is "part of the solution" in Yemen, where the Saudis are leading a U.S.-supported military campaign against Houthi rebels that has been heavily criticized for inflicting civilian casualties.
Mattis spoke at the start of a Pentagon meeting with Saudi Crown Prince Mohammed bin Salman, who is on a three-week U.S. visit. Earlier this week the Senate debated and then shelved a resolution calling for an end to U.S. support for the Saudi-led coalition in Yemen. Mattis opposed the measure.
Mattis says Saudi Arabia has "stood by the United Nations-recognized government, and we are going to end this war. That is the bottom line."