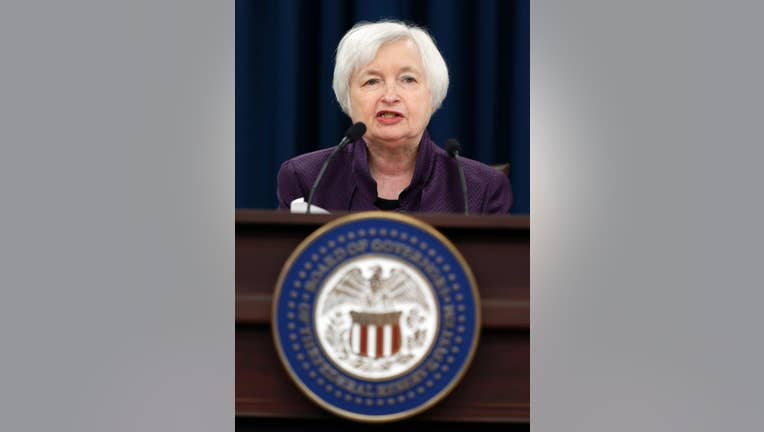 The latest on the U.S. Federal Reserve's monetary policy meeting, which ended at 2 p.m. with the release of a policy statement, followed by a news conference by Chair Janet Yellen (all times are Eastern):
___
3:05 p.m.
Fed watchers see a rate hike in December as increasingly likely. The Fed next meets November 1-2, but few observers expect an increase then. That's just a week before the presidential election.
"The Fed appears to be firmly on track for a December hike," Paul Ashworth, chief US economist at Capital Economics, said in a note to clients.
"We continue to look for the next hike in December," added JP Morgan Chase economist Michael Feroli, a former Fed staffer.
Still, any change may spark significant dissension among Fed policymakers, if Wednesday's meeting is any indication.
"This seems to have been one of the most divisive (Fed) meetings in recent memory," Ashworth said.
___
2:45 p.m.
Fed Chair Janet Yellen had a simple explanation for why the Fed didn't raise rates: the economy can still grow without hurting itself.
Speaking at a news conference after a Wednesday meeting, Yellen noted that the historically low rates haven't caused the economy to overheat. Steady job gains have pulled discouraged workers back into the job market, such that the unemployment rate has held steady at 4.9 percent in recent months despite a relatively robust period of hiring.
"The economy has a little more room to run than previously thought," Yellen said.
___
2:10 p.m.
The Fed expects growth will remain tepid for the next three years, the latest evidence it is pessimistic about the economy's potential to expand more quickly.
The Fed issued its quarterly economic forecasts and for the first time included projections for 2019. Fed policymakers expect growth will be just 1.8 percent that year, after mediocre growth of 2 percent in 2017 and 2018. The economy is likely to expand at a rate below 2 percent this year.
Fed policymakers also forecast that inflation will nearly reach its 2 percent target next year and remain 2 percent in 2018 and 2019. Yet inflation has remained below that level for more than three years.
The Fed aims for 2 percent inflation as a buffer against deflation, a harmful decline in prices and wages.
___
2:05 p.m.
Federal Reserve policymakers still expect to raise their key short-term interest rate once this year, possibly at their meeting in December.
Their overall outlook is more cautious than the last time they issued interest rate projections three months ago. They foresee only two rate hikes next year and three in 2018, down from three each year.
Fed officials also marked down their estimate of the long-run level of short-term rates to 2.875 percent from 3 percent in June. That is down sharply from 3.5 percent in December, a sign the Fed expects that growth will remain sluggish and inflation low for the foreseeable future.
In that environment, fewer rate increases would be needed.
The projections reflect the forecasts of all 17 participants in the Fed's deliberations. Only 10 of those members actually vote on the Fed's decisions.
___
2:00 p.m.
The Federal Reserve held off on a rate hike, but three officials opposed the decision — the most dissents since December 2014.
Fed officials concluded that economic growth is improving after an anemic first half of the year, job gains are approaching an apex and inflation remains low. But in a statement after their Wednesday meeting, the majority of Fed officials chose "to wait for further evidence of continued progress."
Fed Chair Janet Yellen was among the seven who voted to wait. But Kansas City Fed President Esther George, who also dissented after the July meeting, was joined this time by Cleveland Fed President Loretta Mester and Boston Fed President Eric Rosengren in calling for an increase to the short-term federal funds rate. That rate, which determines what banks charge each other for loans, is currently in the range of 0.25 percent to 0.5 percent. Until last December, the rate had been near zero.
Fed committee members meet again in November and December, with the markets expecting at least one rate hike before 2017.
___
1:00 p.m.
U.S. financial markets are modestly higher as investors await the Fed's statement and Chair Janet Yellen's 2:30 p.m. press conference.
Economists expect the Fed will stand pat, keeping the short-term interest rate it controls between 0.25 percent and 0.5 percent. That's just a quarter-point above the record low of nearly zero, where it stood for seven years until the Fed boosted it last December.
At the time, it forecast four additional rate increases this year. But gyrating stock markets, China's slowing economy and the U.K.'s late June vote to exit the European Union has caused it to hit pause.
Still, analysts hope to glean additional insights into Yellen's thinking regarding the economy's sluggish growth and last month's downshift in hiring.
___
10:15 a.m.
Stocks are higher on Wall Street ahead of the Fed's decision on interest rates. Gains are led by energy and information technology.
Most economists expect the Fed to leave rates unchanged. They think policymakers want more time to evaluate the health of the U.S. economy, measure global risks and gauge whether inflation will soon reach the Fed's 2 percent target rate.
The Dow Jones industrial average added 82 points, or 0.5 percent, to 18,211. The Standard & Poor's 500 index picked up 11 points, or 0.5 percent, to 2,150. The Nasdaq composite rose 31 points, or 0.6 percent, to 5,272.
Overnight, the Bank of Japan left its short-term policy rate at negative 0.1 percent but announced a policy tweak. It will adjust its purchases of government bonds, the main asset it is buying, to try to help lift yields on longer-term bonds. That would help life insurers and other financial companies earn more from their huge holdings of those bonds.
___
This story has been corrected to show that the Fed forecasts three rate increases in 2018, rather than two.