The Latest: UK's May 'deeply disappointed' by US tariffs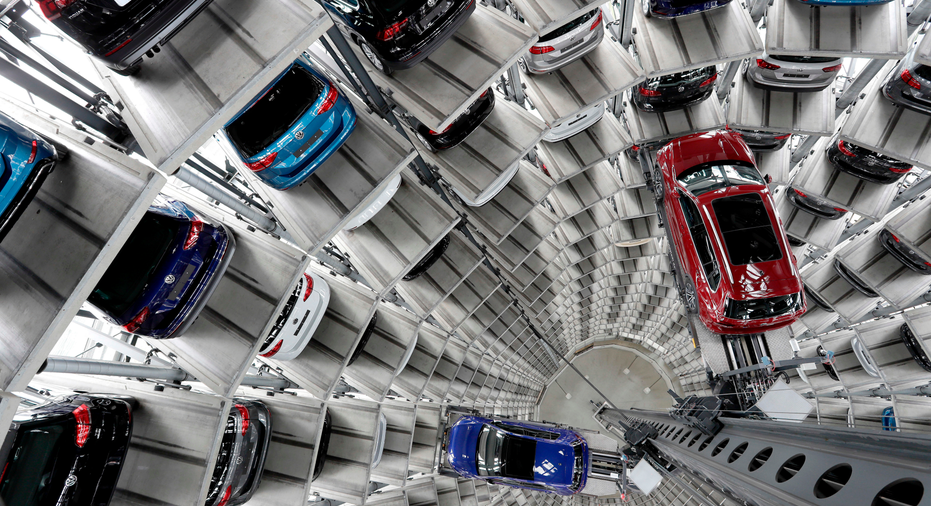 The Latest on the U.S. decision to impose new tariffs on European, Canadian and Mexican goods (all times local):
7:20 p.m.
British Prime Minister Theresa May says the U.S. decision to impose tariffs on European Union steel and aluminum is "unjustified," and European nations should be permanently exempted.
The British leader, who has sought to underscore the trans-Atlantic special relationship, said Friday she was "deeply disappointed" by the Trump administration's decision.
She says "the US, EU and UK are close allies and have always promoted values of open and fair trade across the world."
Britain has stressed the importance of U.K. steel to the American defense industry.
May says Britain and the EU "will continue to work together to protect and safeguard our workers and industries."
Britain voted in 2016 to leave the EU but remains a member until the official exit day of March 29, 2019.
___
5:35 p.m.
The European Union has formally set in motion its trade retaliation against the United States over tariffs, filing on Friday a request for consultations at the World Trade Organization.
An official at the WTO, which oversees disputes in global trade, said the body had received a request from the EU for consultations with the United States concerning tariffs it imposed on steel and aluminum.
The official spoke only on condition of anonymity, in line with the group's rules.
The two sides will discuss the matter and try to reach a deal. If that fails, after 60 days the EU can ask a WTO panel to rule on the case.
The EU is preparing to hit back at the U.S. with tariffs of its own against American products.
In a separate case, the EU also requested consultations with China about the transfer of foreign technologies into China.
___
2:55 p.m.
European Union trade chief Cecilia Malmstrom says that the Trump administration's tariffs on steel and aluminum exports to the United States will hurt global growth.
Malmstrom said Friday in reaction to the sanctions that "the situation is worrying, it could escalate."
She added that "the economic recovery that we have seen lately, notably in the EU, but also globally, risks of course to be diminished by this."
Malmstrom said "The United States is playing a dangerous game."
___
2:30 p.m.
EU trade chief Cecilia Malmstrom says the bloc is taking China to the World Trade Organization over a dispute on intellectual property.
Malmstrom said Friday that "technological innovation is the bedrock of our economy," and insisted the EU would step in when infractions are seen.
In a more general context, she said that "if players in the world do not stick to the rule book, the system might collapse."
___
2:20 p.m.
EU Trade Commissioner Cecilia Malmstrom says that the tariffs imposed on European steel and aluminum exports to the United States by President Donald Trump "is further weakening the Trans-Atlantic relations."
Malmstrom said the Trump measures "will cause a lot of damage to our steel and aluminum industry." She dismissed the argument that the tariffs were needed for U.S. national security reasons.
She said that, "Internal security is not relevant. It is pure protectionism."
___
11:30 a.m.
The European Union and China say they will deepen ties on trade and investment and that they fully support global trade rules, after U.S. President Donald slapped tariffs on steel and aluminum imports.
EU foreign policy chief Federica Mogherini said Friday: "We are living in times of geopolitical turbulence, and uncertainties, so the cooperation between EU and China becomes even more important."
Speaking to reporters in Brussels with Chinese Foreign Minister Wang Yi, Mogherini said the two "confirmed our joint support for the WTO as the center of the rules-based, multilateral trading system."
Wang says he hopes a solution is found to the trade row. He's urging all parties to respect their commitments, saying: "We always honor our words, and in that respect we expect our partners to honor their words as well."
___
10:55 a.m.
Former British trade minister Francis Maude has condemned the United States' decision to impose tariffs on steel and aluminum imports as "stupid" and counterproductive.
Maude urged the European Union to avoid a "tit-for-tat" response and instead stick "robustly to free trade." He was speaking a day after International Trade Secretary Liam Fox refused to rule out a trade war after the U.S. imposed tariffs of 25 percent on steel and 10 percent on aluminum imported from the EU, Canada and Mexico.
Maude on Friday told the BBC "this is stupid. It's counterproductive, that any government that embarks on a protectionist path inflicts the most damage on itself.
"The inevitable result of putting these tariffs on imports will be to increase prices on consumer goods for its own citizens."
___
10:05 a.m.
Germany's Volkswagen, Europe's largest automaker, is warning the Trump administration's decision to impose tariffs on aluminum and steel imports from Canada, Mexico, and the European Union could start a trade war that no side would win.
In a statement to The Associated Press, Volkswagen said Friday it views the tariffs with "regret and concern."
VW says "there are fears that this marks the start of a negative spiral of measures and countermeasures where there will ultimately be no winners."
The Wolfsburg-based company is calling for dialogue between the U.S. and the EU within recognized World Trade Organization principles "in order to prevent any long-term economic damage."
It cautions "any escalation is harmful to both sides."
In addition to Volkswagen vehicles, the company produces Audi, Porsche, and multiple other brands.
___
10:00 a.m.
French President Emmanuel Macron has told U.S. President Donald Trump that the new U.S. tariffs on European, Mexican and Canadian goods are illegal and a "mistake."
Macron's office said in a statement Friday that the two presidents spoke by phone after Trump's administration announced the decision Thursday to impose 25 percent tariffs on steel and 10 percent tariffs on aluminum.
The European Union is planning retaliatory tariffs on U.S. steel and food goods in the coming weeks, once it calculates the exact cost to European Union companies of the U.S. tariffs. Macron pledged the riposte would be "firm" and "proportionate" and in line with World Trade Organization rules.
The U.S. decision came despite last-minute talks in Paris this week to try to reach a deal.