The Latest: Trump pushes Sen. Rand Paul to support tax plan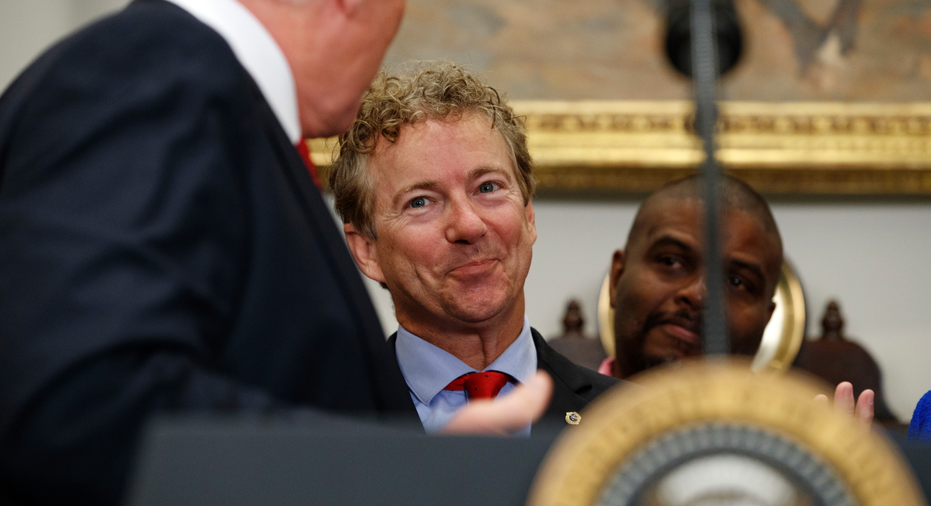 The Latest on President Donald Trump's tax overhaul plan (all times local):
12:05 p.m.
President Donald Trump is pushing Republican Sen. Rand Paul to support his tax overhaul.
Trump says Thursday he expects to pass "massive tax cuts" and that he believes "even Sen. Rand Paul" will be with him.
Paul is a Kentucky senator who's expressed concerns about the tax overhaul. The GOP can't afford to lose more than two votes from their 52-member majority.
Trump spoke as he signed an executive order on health care. He's seeking a tax overhaul that would dramatically cut corporate tax rates, reduce the number of personal income tax brackets and boost the standard deduction.
___
10:35 a.m.
House Speaker Paul Ryan is lashing out at states like California, New York and New Jersey, saying the federal deduction for state and local taxes has forced the rest of the country to prop up their high taxes and reckless spending.
Ryan was defending the new Republican tax proposal to eliminate the popular state-local tax deduction, a move that's angered GOP lawmakers from those states and made them balk at supporting the tax plan. The deduction is claimed by around 44 million people and costs the government an estimated $1.3 trillion in lost revenue over 10 years.
Ryan says, "States that got their act together are paying for states that didn't." The Wisconsin lawmaker was speaking to the conservative Heritage Foundation. He says the rest of the country is "propping up profligate, big-government states."
___
4:24 a.m.
President Donald Trump's tax overhaul package is getting resistance from an unusual alliance of interests opposed to his plans to scrap the federal deduction for state and local taxes.
Republican lawmakers from high-tax states such as New York, California and New Jersey, labor unions and business groups like Realtors are pressing the Trump administration to reconsider plans to eliminate the deduction. They're wary of the financial pinch that their constituents could feel.
The future of the $6 trillion plan is threatened by Republican defections even though the GOP is looking for a big legislative win ahead of next year's elections.
One Trump ally in Congress, Rep. Chris Collins, says states like New York, New Jersey, California and Illinois will need some "accommodations" to go along with the plan.