The Latest: Trump holds hope for progress on health care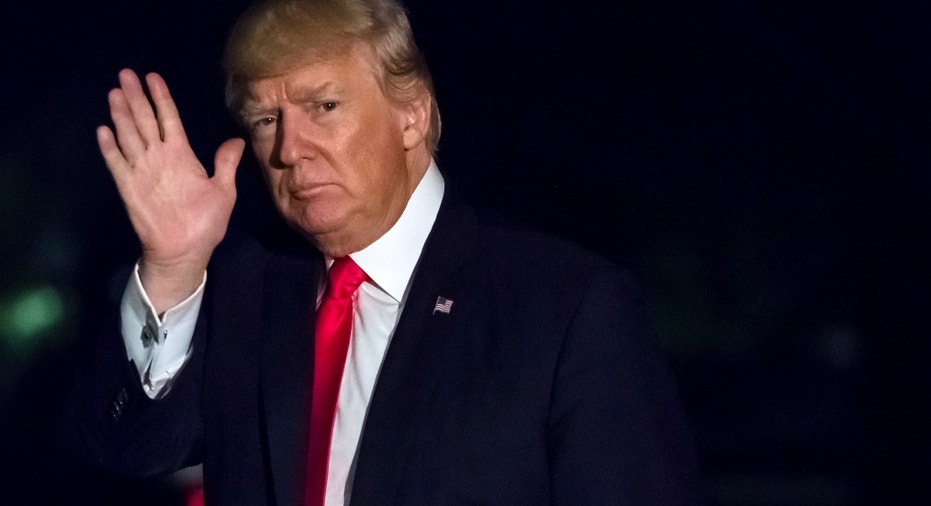 The Latest on President Donald Trump (all times local):
4:15 p.m.
President Donald Trump approaches the week with the threat of a government shutdown still looming as he holds hope for progress on health care.
Trump spent his first 100 days without passing any major legislation.
His challenges remain. Last week lawmakers averted a shutdown by sending the president a one-week spending bill. Congress will have to negotiate final details on a $1 trillion package by Friday to finance the government through Sept. 30.
The White House also continues its push for a revised bill to repeal and replace the Affordable Health Care Act.
The latest GOP bill would let states escape a requirement under Barack Obama's 2010 law that insurers charge healthy and seriously ill customers the same rates.
During a CBS interview aired Sunday, Trump insisted the measure has a "clause that guarantees" that people with pre-existing conditions will be covered.
___
11:05 a.m.
President Donald Trump says he's had tougher jobs, but acknowledges the presidency is "always a challenge, like life itself is a challenge."
Trump tells CBS' "Face the Nation," ''I've had things that were tougher, although I'll let you know that better at the end of eight years. Perhaps eight years. Hopefully, eight years."
Trump says being president is "something that I really love, and I think I've done a very good job at it."
This past week, Trump also reflected on his new gig in an interview with Reuters, saying the presidency is "more work than in my previous life. I thought it would be easier."
The president also lamented his loss of privacy, describing life in the White House as being in "your own little cocoon."
___
11 a.m.
President Donald Trump says if he's unable to renegotiate a long-standing free trade agreement with Mexico and Canada, then he'll terminate the pact.
That's what he tells CBS' "Face the Nation." And it's in keeping with what the president says he's told the leaders of those two countries. He says he's told them he won't pull the United States from the North American Free Trade Agreement now, but could do so if he decides a renegotiated agreement isn't "a fair deal for all."
Trump signed an executive order Saturday directing the Commerce Department and the U.S. trade representative to conduct a study of U.S. trade agreements. The goal is to determine whether America is being treated fairly by its trading partners and the 164-nation World Trade Organization.
___
10:50 a.m.
President Donald Trump says people with pre-existing medical conditions will be protected under the proposed Republican health care bill.
Trump says the measure has a "clause that guarantees" that people with pre-existing conditions will be covered.
The latest version of House Republicans' American Health Care Act would allow states to opt out of the requirement for standard premiums, under certain circumstances. Critics have said there is no requirement that a state must provide an affordable coverage option for those consumers.
Trump said the bill has "evolved over a period of three or four weeks." He also said the plan would bring down premiums. He made his comments on CBS' "Face the Nation."
___
10:35 a.m.
Vice President Mike Pence is acknowledging the Trump administration's proposal to cut taxes could increase the deficit initially. But he contends it will pay for itself eventually after spurring more economic growth.
When asked about the likelihood of a higher deficit, Pence told NBC's "Meet the Press": "Maybe in the short term."
Pence touted the Trump plan as "one of the largest tax cuts in American history." He says it's needed to get the economy growing at 3 percent and to pay for rising costs of programs such as Social Security and Medicare.
The one-page plan calls for massive tax cuts for businesses and a bigger standard tax deduction for middle-income families. Budget estimates have cast doubt that it would bring enough growth to be self-paying.
___
10:10 a.m.
Vice President Mike Pence says he believes a successful House effort to repeal and replace the nation's health care law is "just around the corner."
Touting achievements of the Trump administration's first 100 days, Pence says he believes "we're close" to gaining enough votes in the House to dismantle the Affordable Care Act.
He says the legislative process "is often slow," and so it has taken time to repeal what he called "one of the worst pieces of legislation in modern American history."
Last week, the conservative House Freedom Caucus announced support for a revised GOP health care bill that would let states get federal waivers to some coverage requirements Obama's law imposed on insurers. GOP leaders say they will schedule a vote "as soon as we have the votes."
Pence spoke on NBC's "Meet the Press."