The Latest: Treasury predicts US will raise debt ceiling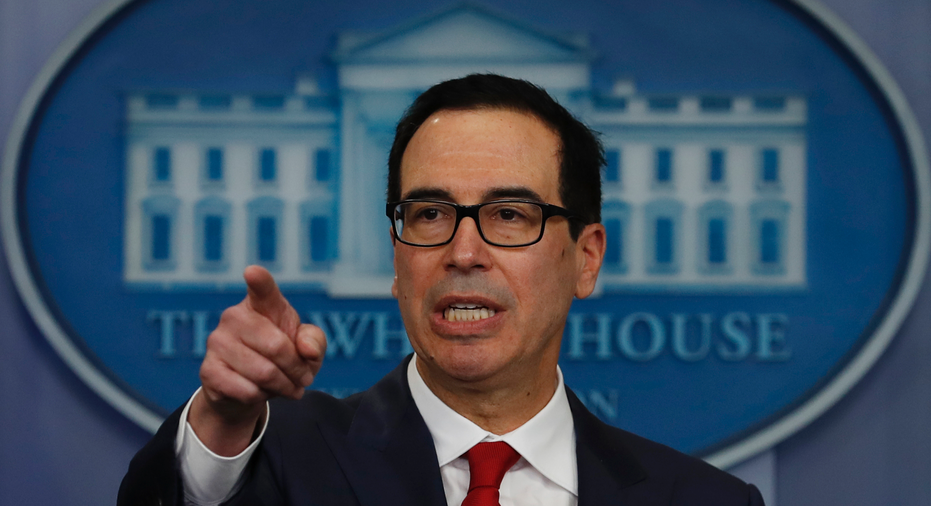 The Latest on President Donald Trump, Republican Party (all times local):
3 p.m.
Treasury Secretary Steven Mnuchin (mih-NOO'-shin) is predicting that Congress will raise the government's borrowing limit in September, before a deadline for default.
Mnuchin made his prediction Friday, a day after President Donald Trump accused Republican congressional leaders of botching efforts to avoid an unprecedented default on the national debt. Trump accused lawmakers of ignoring his advice and said what could have been an easy fix is "now a mess!"
The Treasury Department has said the debt ceiling must be lifted by Sept. 29 to avoid a government default. The government does not collect enough money from taxes to pay its bills, and must borrow to cover the difference.
Says Mnuchin: "The government intends to pay its debt and the debt ceiling will be raised."
___
8:30 a.m.
President Donald Trump is criticizing a Tennessee Republican who questioned his "competence" and "stability."
Trump says on Twitter: "Strange statement by Bob Corker considering that he is constantly asking me whether or not he should run again in '18." Trump adds, "Tennessee not happy!"
Corker said last week that Trump hadn't "been able to demonstrate the stability nor some of the competence that he needs to" in dealing with crises like the violent protests in Charlottesville, Virginia.
Corker hasn't said yet whether he'll seek re-election in 2018. He's the chairman of the Senate Foreign Relations Committee and was once considered to be Trump's secretary of state.
The White House on Thursday called Corker's statement about the president "a ridiculous and outrageous claim."
___
6:45 a.m.
President Donald Trump says his new White House chief of staff John Kelly "is doing a fantastic job."
The president paid Kelly the compliment in an early morning tweet Friday.
"General John Kelly is doing a fantastic job as Chief of Staff," Trump said. "There is tremendous spirit and talent in the W.H. Don't believe the Fake News."
Kelly, a retired general, took over for former Republican Party chairman Reince Priebus (ryns PREE'-bus), who was ousted in a shakeup at the Executive Mansion earlier this summer.
Last week, chief strategist Steve Bannon was dismissed, and two others — Press Secretary Sean Spicer and White House communications director Anthony Scaramucc — were ousted earlier.
___
3:39 a.m.
Fanning the flames of GOP discord, President Donald Trump is accusing Republican congressional leaders botching efforts to avoid an unprecedented default on the national debt. "Could have been so easy-now a mess!" Trump tweeted.
The president's sharp words underscored the perilous state of play as Congress heads into the fall without a clear plan to take care of its most important piece of business: If it does not increase the nation's $19.9 trillion borrowing limit, the government could be unable to pay its bills, jarring financial markets and leading to other harsh consequences.
Trump unleashed his latest criticism of the GOP's congressional leadership in a series of morning tweets Thursday that also included a rebuke of Majority Leader Mitch McConnell for his inability to get the Senate to repeal the Obama health care law. The harsh posts were fresh evidence of the president's fraying relations with fellow Republicans just when the White House and Capitol Hill most need to be working in sync.
Associated Press writer Adam Beam in Louisville, Kentucky, contributed to this report.