The Latest: Spain: Catalan leader needs to say 'yes' or 'no'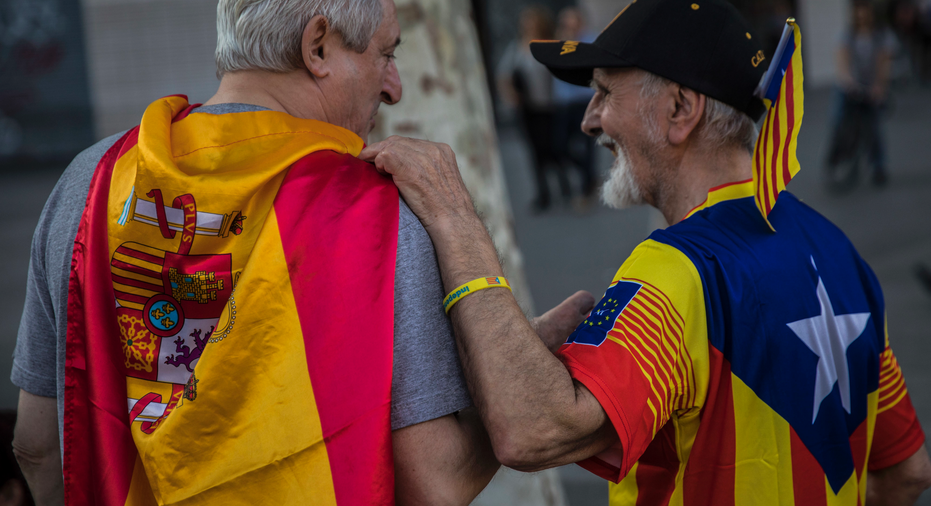 The Latest on Catalonia's bid to declare independence from Spain (all times local):
2:20 p.m.
Spain's deputy prime minister says that Catalonia's leader needs to answer "yes" or "no" to a demand for clarification from central authorities on whether he has declared independence in the northeastern region.
The central government has given Carles Puigdemont a Monday deadline to make his stance clear and to fall in line with Spain's constitutional laws before Oct. 19 if he wants to avoid losing autonomous powers in the region.
Spanish deputy premier Soraya Saenz de Santamaria said "it's just a yes or a no," during a routine briefing following a weekly Cabinet meeting. She added that "it's in Puigdemont's hands" to avoid extraordinary measures by the central government and repair social division.
She also called for him to act fast to shield the economy in Catalonia from further damage, accusing the regional government of "creating the conditions to plunge Catalonia into a deceleration and even an economic recession."
___
2:15 p.m.
European Commission President Jean-Claude Juncker is appealing to Spain's separatist Catalonia region not to declare independence as it will only encourage other regions to break away.
Juncker said Friday that it's a Spanish issue rather than an EU one but that if "Catalonia splits off, then others will do that too. I wouldn't like that."
He said in Luxembourg that he "wouldn't like a European Union that in 15 years consists of 98 states. It's already pretty difficult with 28."
Catalonia's separate administration wants the EU to mediate with the government in Madrid, but Spanish Prime Minister Mariano Rajoy refuses to seek outside help.
Juncker sees no EU role, and says that "if only one side asks for mediation then this will lead to considerable arguments in the European Union and that's why one can't do that."
___
2:10 p.m.
Spain's deputy prime minister says Catalonia faces an "economic recession" if the secession standoff continues in the northeastern region.
Soraya Saenz de Santamaria says that if there is no immediate solution and Catalan separatists drop the independence bid, the government will consider lowering the growth forecast for the overall Spanish economy for 2018.
Around 40 Catalan banks, multinationals and mid-size businesses have moved their registered addresses out of the troubled region. The move is so far mainly symbolic and has limited economic impact because it doesn't involve relocating offices, jobs or assets.
But the deputy prime minister says that investment in Catalonia is falling and, citing industry sources, she said the tourism sector in the region has seen business drop between 20 and 30 percent in the past month.
___
10:15 a.m.
An influential grassroots separatist group has joined voices in Catalonia urging the regional president to ignore warnings from Spain's central government and definitively declare independence.
The Assemblea Nacional Catalana, or ANC, has issued a brief statement calling for regional leader Carles Puigdemont to lift a temporary suspension of an ambiguous independence proclamation he made this week.
Puigdemont said that Catalonia was proceeding with independence but proposed freezing its implementation for a few weeks to see if negotiations could be held with Spanish authorities.
The central government responded by threatening to activate constitutional powers to take over Catalonia's self-government.
Adding pressure on Puigdemont, ANC says that "it doesn't make sense to keep the suspension of the independence declaration" given Madrid's rejection of any dialogue.
The ANC is a civil society group that organized massive protests in support of secession.
___
10 a.m.
A key political ally of the ruling pro-independence coalition in Catalonia has urged regional president Carles Puigdemont to push ahead with a declaration of independence from Spain.
Spain's government has threatened to activate unprecedented measures to take over Catalonia's self-government if secession plans go forward.
Central authorities have given Puigdemont a Monday deadline to clarify whether he declared independence during an ambiguous parliamentary speech this week. He had said that Catalonia was proceeding with a declaration of independence, but proposed freezing its implementation for a few weeks to allow for dialogue and mediation with Spain's government.
The far-left separatist Catalan party CUP said in a letter dated Friday that Puigdemont should ignore the Spanish government's warning, lift the suspension and definitively proclaim independence.