The Latest: Singapore leader urges dialogue on North Korea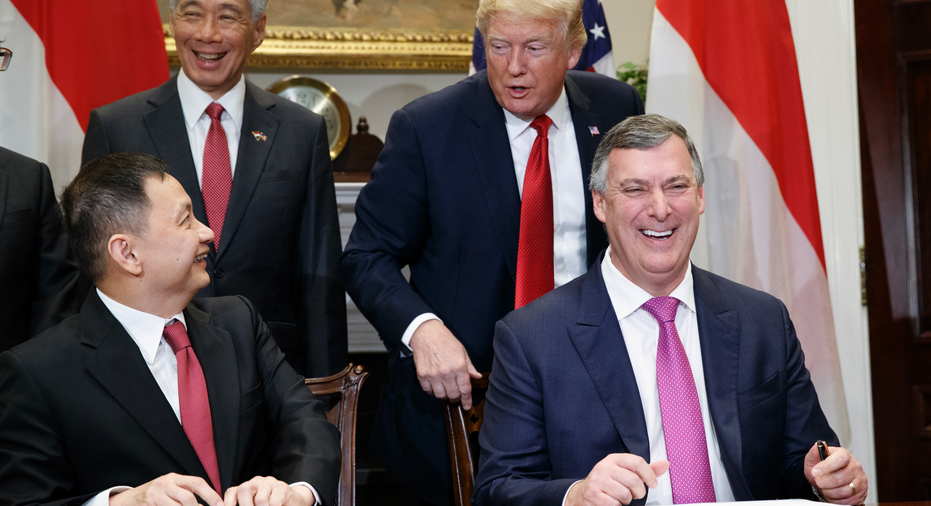 The Latest on President Donald Trump's planned visit to Asia in November (all times local):
2:11 p.m.
Singapore Prime Minister Lee Hsien Loong (lee haz-ee-en lahng) is urging dialogue between the United States and North Korea to resolve the growing nuclear crisis in Asia.
The prime minister visited the White House Monday and delivered a statement alongside President Donald Trump in the Rose Garden.
Lee said "we strongly oppose" the nuclearization of the Korean peninsula since it adversely affects the safety and security of the region.
He added that "there is no quick and easy solution" but stressed that "pressure is necessary but so is dialogue."
Trump may hear similar sentiments throughout his upcoming trip to Asia, where most leaders are urging a peaceful solution to the threat posed by North Korea. Trump has downplayed the usefulness of diplomacy and has instead focused on American military power.
___
1:55 p.m.
President Donald Trump is praising the U.S. relationship with Singapore and calling Prime Minister Lee Hsien Loong of Singapore a "wonderful and loyal partner."
Trump and Lee are addressing reporters in the Rose Garden. The president is noting U.S. economic ties to Singapore and says the two leaders observed the signing of a contract between Singapore Airlines and Boeing worth more than $13.8 billion.
The U.S. president says the two countries are committed to countering the threat from North Korea. And Trump is thanking Singapore for being the first Asian nation to join a coalition of countries fighting the Islamic State group.
___
1:10 p.m.
President Donald Trump says Singapore's purchase of nearly $14 billion worth of Boeing aircraft will create 70,000 jobs in the U.S.
Boeing's chief executive officer and the CEO of Singapore Airlines signed paperwork at the White House on Monday as the country's prime minister, Lee Hsien Loong, and Trump looked on. Lee is at the White House for talks with Trump.
Trump says the relationship between the U.S. and Singapore is at its "highest point and it will continue."
But he joked that Singapore's purchase of nearly 40 airplanes had better create jobs in the United States, "otherwise we'll cancel the order."
Trump and Lee both referred to Boeing as an "airline." Boeing makes commercial jetliners.
___
12:35 p.m.
President Donald Trump is welcoming the leader of Singapore to the White House.
Trump greeted Prime Minister Lee Hsien Loong Monday morning. The two leaders met in the Oval Office before a private working luncheon.
Speaking in the Oval Office, Trump called the prime minister a "highly respected" man who had done a "fantastic" job. He also said that Singapore would be signing a "large contract" to buy airplanes from Boeing.
Trump is taking a 12-day trip to Asia in early November. He says it will be a "busy" time.
__
12:10 p.m.
President Donald Trump is congratulating Japanese Prime Minister Shinzo Abe on his election win.
The White House said Trump called Abe Sunday to salute his victory. Abe had called a snap election and his ruling coalition won a clear majority with more than two-thirds of the Japanese parliament's 465 seats.
The two men also highlighted their shared commitment to a strong relationship between Japan and the United States and to free trade in the region.
Trump also told Abe that he is looking forward to visiting Japan early next month. Japan will be the first stop on the president's five-nation, 12-day Asia trip.
___
10:26 a.m.
President Donald Trump is not planning to visit the border between North and South Korea known as the Demilitarized Zone when he visits Asia next month.
The White House says Trump instead plans to visit Camp Humphreys, a military base about 40 miles south of Seoul. The White House says time constraints would likely not permit Trump to do both, although plans could still change.
Most U.S. presidents have visited the border as a signal to South Korea and other allies that the U.S. will not stand for any aggression from the rogue North Korean regime. Vice President Mike Pence visited the DMZ earlier this year.
South Korea is one of five nations Trump will visit during 12-day Asia trip in early November.