The Latest: Sarkozy to vote for Macron in French runoff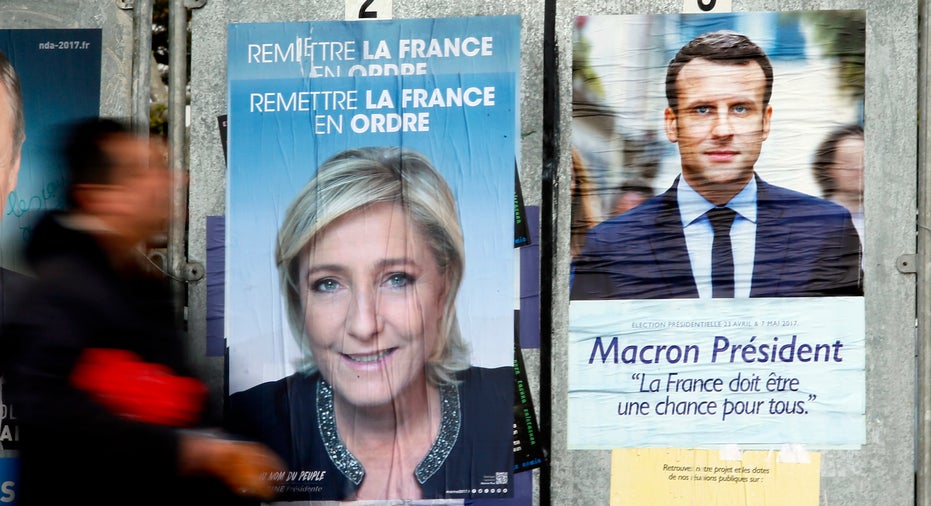 The Latest on the French presidential runoff on May 7 (all times local):
8:30 p.m.
Former French President Nicolas Sarkozy says he will vote for centrist candidate Emmanuel Macron in France's May 7 presidential runoff because the platform of far-right leader Marine Le Pen would bring about "very serious consequences" for the country.
Sarkozy retired from active political life after failing to win the conservative presidential candidacy in a November primary, but is still seen as a key player.
Sarkozy insisted in a Facebook post that his stance for Macron is a "choice of responsibility" and "not in any way support" for his project.
He said he decided to take a stand "in view of the extraordinary situation we're facing."
___
7:30 p.m.
Far-right presidential contender Marine Le Pen has rebranded herself with a new slogan — "Choose France" — before the May 7 runoff balloting to embrace a wider swath of voters and boost her chances for victory.
A new poster showing the populist Le Pen in a presidential pose aptly describes the image dual with her rival, independent centrist Emmanuel Macron. Le Pen made a surprise visit to a Whirlpool factory in northern France as Macron met in town with union leaders. The factory is doomed to closure in favor of cheaper labor in Poland.
Campaign director David Rachline said the "protective France" of the anti-globalization candidate represented by the slogan stands in contrast to the "fratricidal and inhuman project" of Macron, a former economy minister and banker.
"Choose France" replaces "Put France back in Order" and "In the Name of the People."
___
4:10 p.m.
French presidential candidate Emmanuel Macron is defending his campaign platform in a heated impromptu meeting outside a factory with workers who face losing their jobs to a plant in Poland.
In chaotic scenes broadcast live on French TV, the centrist, pro-European Union former finance minister is telling workers outside the Whirlpool factory in northern France that he wouldn't ban job losses if he is elected president on May 7. Macron says "I won't lie to you."
Macron is defending his plans for more retraining of workers struggling with France's chronic unemployment. He also shot down the plans of this far-right opponent — Marine Le Pen — to re-establish French borders.
Macron and Le Pen face off May 7 in the French presidential runoff.
__
1:30 p.m.
Far-right French presidential candidate Marine Le Pen has upstaged her centrist opponent Emmanuel Macron. She has made a surprise campaign stop to a home appliance factory that's the latest hot-button symbol of French job losses to plants overseas.
As Macron was meeting with union leaders from the Whirlpool plant in northern France, Le Pen popped up outside the factory itself. Standing amid its workers in yellow hazard vests, she declared herself the candidate of France's workers.
The wily campaign maneuver, which French television news channel BFM broadcast live, had the immediate effect of stealing Macron's thunder.
The two face off in France's presidential runoff on May 7.
___
10 a.m.
French presidential front-runner Emmanuel Macron is going hunting for blue-collar votes, planning to meet with workers from a home appliance factory that is the latest hot-button symbol of the loss of French jobs to plants overseas.
Macron's discussions with union leaders from the Whirlpool plant in northern France, a region where his anti-European Union opponent Marine Le Pen got the most votes, is not without risk. The pro-EU centrist must walk a fine line between defending his program to tackle France's chronic unemployment without falling into the trap that befell winners in previous elections of struggling to keep campaign promises.
Le Pen, needing millions more votes to beat Macron on May 7, has vowed to keep the Amiens plant open if elected, come what may.