The Latest: Putin not yet considering Ukraine prisoner swap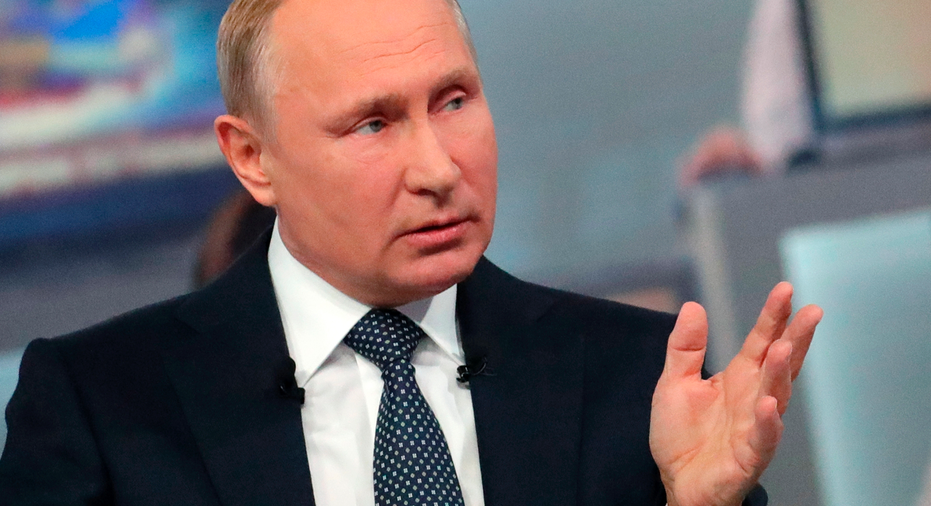 The Latest on President Vladimir Putin's annual call-in television show (all times local):
4:20 p.m.
Russian President Putin says he hasn't yet considered a prisoner swap that would free a Ukrainian filmmaker serving a long sentence in Russia.
Oleg Sentsov, a vocal opponent of Russia's annexation of his native Crimea, was convicted of conspiracy to commit terror attacks in 2015 and sentenced to 20 years in prison. The case against him was largely seen as retribution for his views.
Sentsov has been on a hunger strike for 25 days to demand the release of all Ukrainian political prisoners in Russia.
Asked during his annual call-in show about a possible prisoner swap with Ukraine for a Russian journalist in custody there, Putin insisted that Sentsov was not jailed for his activities but for plotting a terrorist attack. Putin said that "common sense must prevail in Ukraine" and expressed hoped that the Russian journalist would be released.
___
3:35 p.m.
President Vladimir Putin says Russia is currently not planning to withdraw all of its troops from Syria.
Russia launched its operation in Syria in 2015, tipping the war in favor of Syrian President Bashar Assad. Putin last December announced a scale-down of the Russian military presence there.
Speaking during his annual call-in show on Thursday, Putin said Russia "is not planning to withdraw all of its troops at this point" and that they will stay in Syria "as long as it benefits Russia."
Moscow has sent an undisclosed number of military advisers, pilots, technical staff and military police to Syria.
Putin stressed that Russia's air base at Hemeimeem and the naval base in Tartous, which he said are important for helping the Syrian government, do not host any permanent facilities, which means the Russian military can be withdrawn quickly if necessary.
__
3 p.m.
Russian President Vladimir Putin says it is a "joke" to suggest that the Kremlin may have interfered in the 2016 U.S. presidential election to favor Donald Trump.
Putin was speaking on Thursday during his annual call-in show on state television.
Asked about the best joke he heard recently, Putin said it was something he read in German media about Trump "pushing Europe into Putin's hands." Putin also recalled reports of Russia's interference in the U.S. elections, saying that if the two statements were combined, it would be "funny."
Putin said both allegations are "complete nonsense and can only be called a joke."
___
2:50 p.m.
Russian President Vladimir Putin has pledged to respect the freedom of the internet.
Putin's statement on Thursday came nearly two months after Russian authorities began blocking Telegram, a Russia-developed messaging app, over its refusal to share encryption data with intelligence agencies.
Asked during his call-in show whether Russia was considering blocking other popular apps or websites, Putin said authorities "are not going to shut down anything."
Putin explained Telegram's blocking, saying that intelligence agencies approached him to complain they could not trace the messages of the suspected perpetrators of a subway bombing because they were encrypted.
Putin admitted that the intelligence community always leans toward banning or blocking things but added that he will encourage them to find "a civilized solution" without "restricting freedoms."
___
2:35 p.m.
Russian President Vladimir Putin is calling for building a new system of European security, saying that the United States is trying to undermine strategic parity.
Putin on Thursday accused the United States of "trying to upset strategic parity" and said that this should prompt other countries to get together and work out a new system of European security.
Responding to a question about a possible third World War, Putin said during his annual call-in show that the idea of a nuclear war should ward off such a conflict.
___
2:15 p.m.
Russian President Vladimir Putin says Russia's 12 World Cup stadiums must be financially self-sustaining, following calls from some officials for government subsidies.
Putin said Thursday during an annual phone-in that "all the facilities need to be able to cover their costs." He suggested the stadiums could add cafes and shopping malls to boost their profitability.
Putin said: "We spent a lot of money and I agree it needs to work for the benefit of sport."
Regional officials have estimated annual maintenance costs of the various World Cup stadiums at 200 million to 400 million rubles ($3.2 million to $6.4 million) each.
The Russian government says total World Cup costs are around $11 billion, not including some infrastructure spending.
___
2:00 p.m.
Russian President Vladimir Putin has characterized new U.S. steel tariffs against its long-term allies as unjustified sanctions.
U.S. President Donald Trump enraged Canada and other American allies last week by imposing tariffs on steel and aluminum imports and threatening to do the same with imported cars and trucks.
Speaking Thursday about the move, Putin described the tariffs as "sanctions," saying that countries which have imposed restrictions on Russia for the annexation of the Crimean Peninsula are now going to see what they feel like on their own skin.
"Did they annex Crimea?" Putin asked during his annual phone-in show, referring to Canada and Mexico.
___
1:40 p.m.
Russian President Vladimir Putin does not think that an ex-Russian spy and his daughter were poisoned with a military-grade nerve agent, because they survived the attack.
British authorities blamed Russia for the March poisoning in the English city of Salisbury of Sergei Skripal and his daughter Yulia with a Soviet-designed nerve agent dubbed Novichok. The Skripals were in critical condition for weeks before recovering.
Asked about the poisoning during his annual call-in show on Thursday, Putin said he does not want to comment on the cause of their illness and said Russia is still seeking consular access to both of them and to their case files.
___
12:45 p.m.
Russian President Vladimir Putin says the government will be looking to streamline the tax system in order to fight poverty.
Putin said on his annual call-in show on Thursday that one of the goals of his presidency is to halve the number of Russians living below the poverty line, which currently stands at over 20 million people. The government will need 8 trillion rubles ($129 billion) on measures to lift people out of poverty, Putin said.
Responding to speculation that authorities might be looking to scrap the flat income tax, Putin said his government has decided that this is "not expedient" at this point. Putin said the funds will have to come from streamlining the tax system but stopped short of saying whether that means actual tax hikes.
___
12:20 p.m.
President Vladimir Putin says he's confident of Russia's long-term economic growth.
Speaking at the opening of his annual call-in television show, Putin said on Thursday that Russia's gross domestic product is currently 1.5 percent higher than a year ago. He described it as modest but said he is confident that future "growth is guaranteed."
Putin hosts call-in shows every year, which typically provide a platform for ordinary Russians to appeal to the president on issues ranging from foreign policy to housing and utilities.
This is Putin's first live televised show since he was re-elected in March for a term of office that runs until 2024.