The Latest: Powell's press briefing shorter than Yellen's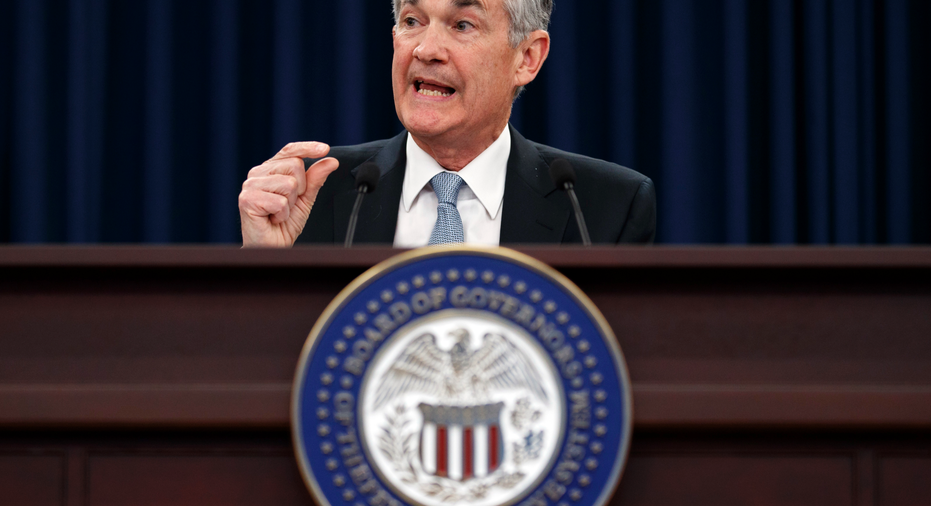 The Latest on the Federal Reserve's monetary policy meeting (all times local):
___
3:55 p.m.
New Fed chairman Jerome Powell's first press conference clocked in at about 45 minutes, shorter than his predecessor Janet Yellen, who typically went for about an hour.
Powell took plenty of questions, but his answers were shorter than Yellen's, who frequently gave careful, economically complex responses that sometimes seemed intended to run out the clock.
Powell, however, is not an economist. He replaced Yellen, who had a Ph.D. in the subject, last month.
___
3:30 p.m.
Like many economists, Powell says that the slow pace of wage growth is a bit of a puzzle. With the unemployment rate at a 17-year low of 4.1 percent and businesses loudly complaining that they can't find enough workers, economic theory suggests that employers should be raising pay more quickly than their current pace of about 2.5 percent a year.
"I've been surprised by that, and I think others have as well," Powell says during his first press conference as Fed chairman.
Still, he suggested some explanations: Paychecks largely reflect the pace of inflation and the growth of productivity, a measure of how efficient workers are. Both inflation and productivity growth are sluggish, which suggests wages should be as well.
___
3:05 p.m.
Powell says Fed officials haven't lowered their economic growth forecasts because of the Trump administration's moves to impose tariffs on steel and aluminum imports. But he says Federal Reserve Bank presidents around the country have heard concerns from businesses in their districts about the impact of the tariffs.
"Trade policy has become a concern going forward for that group," he says, referring to business leaders.
But among Fed officials meeting in Washington Tuesday and Wednesday, Powell says, "There's no thought that changes in trade policy should have any effect on the current outlook."
___
2:45 p.m.
Powell says in his first press conference that he is thinking about holding more press briefings than his predecessor, Janet Yellen.
"That is something I am carefully considering, have not made a decision yet," he said.
Currently the Fed holds four press conferences a year, following meetings when they issue their quarterly economic projections. It's a practice instituted by Former Fed chairman Ben Bernanke. Yet the Fed actually meets eight times a year. Many analysts expect rate increases will only be announced during those four meetings, so adding press conferences could give the Fed more flexibility in the timing of future rate hikes.
___
2:05 p.m.
Fed policymakers expect to raise their benchmark interest rate three times in 2019. That's up from an earlier forecast of two, amid expectations of faster economic growth that they forecast will push the unemployment rate to its lowest level in a half-century. Contrary to many analysts' expectations, they did not change their forecast of three rate hikes this year.
Fed policymakers now expect the unemployment rate to drop to 3.6 percent by the end of next year, down from their previous estimate in December of 3.9 percent and far below the current rate of 4.1 percent. They project the rate will fall to 3.8 percent at the end of this year, down one-tenth of a point from its previous estimate.
The Fed now sees the economy growing more quickly, expanding 2.7 percent this year, up from a previous estimate of 2.5 percent. Growth will be 2.4 percent next year, the Fed expects, up from 2.1 percent. With growth picking up and unemployment low, policymakers expect core inflation — which excludes the food and energy categories — to rise 2.1 percent in 2019 and 2020. That's slightly above their 2 percent target.
___
2:00 p.m.
The Fed has lifted its benchmark interest rate by a quarter-point to a range of 1.5 percent to 1.75 percent. It is the sixth increase since December 2015, when it began raising rates from rock-bottom levels. The rate hike is the first under new Fed Chairman Jerome Powell, who replaced Janet Yellen last month.
The economy is growing moderately and "job gains have been strong in recent months," Fed policymakers say in a statement following the conclusion of its two-day meeting.
Fed policymakers expect to hike just three times this year, consistent with its last forecast in December. Some economists expected the Fed would signal a fourth hike this year.
___
12:50 p.m.
U.S. stocks are trading higher Wednesday afternoon as investors await news on whether the Fed will raise short-term interest rates at the completion of its two-day meeting. The decision will be released at 2:00 p.m.
Investors will also look for signs that Fed policymakers are leaning toward four rate hikes this year, rather than the three that financial markets currently expect.
Fed policymakers will also release their quarterly economic projections after the meeting. Analysts expect that they will slightly raise their forecasts for economic growth and lower their projections for the unemployment rate.
___
11:00 a.m.
U.S. stocks are mixed Wednesday morning as investors wait for news on interest rates from the Fed. The Fed is widely expected to raise rates, and investors will be watching closely for clues about how many more increases the central bank may make this year and also for the Fed's assessment of how the economy is doing.
It's also the first Fed meeting since Jerome Powell took over as chairman, although so far Powell hasn't made any major breaks with the policies of predecessor Janet Yellen. Bond yields are little changed after they jumped on Tuesday.
___
6:15 a.m.
Investors are cautious as they await the outcome of the U.S. Federal Reserve's first meeting under its new chairman, Jerome Powell, and his subsequent news conference.
The Fed is set to announce its first interest rate increase of the year, a testament to the continued strength of the economy and of the job market in particular. The central bank raised rates modestly three times in 2017 under Powell's predecessor, Janet Yellen, whom he succeeded last month.
Once its meeting ends at 2 p.m. Eastern time Wednesday, the Fed will issue a policy statement and update its economic projections before Powell begins taking questions from reporters.
Dow and S&P 500 futures were down 0.1 percent ahead of the Fed announcement, while the dollar was down 0.2 percent at 106.30 yen.