The Latest: Mexico says again it will never pay for wall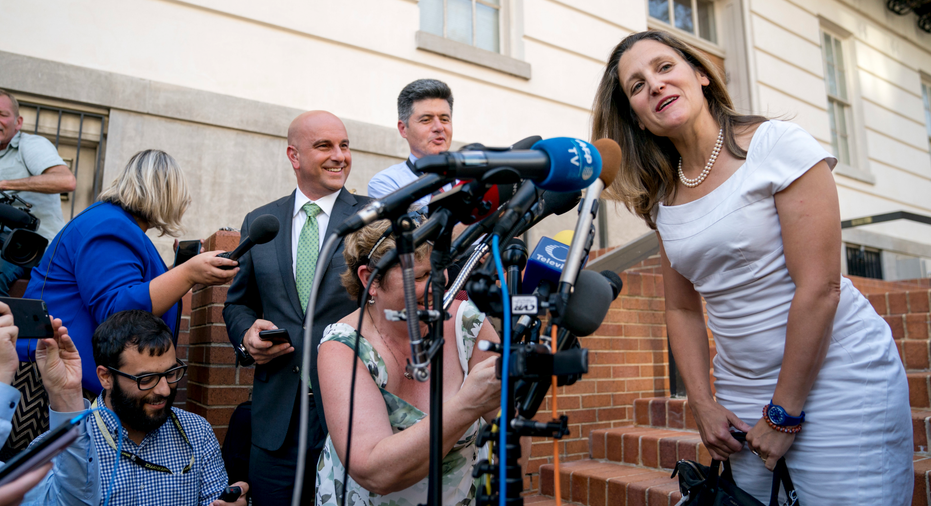 The Latest on U.S.-Mexico-Canada trade (all times local):
6:25 p.m.
Mexico's foreign minister is again insisting his country will never pay for President Donald Trump's long-promised border wall.
Trump was meeting with the president of FIFA Tuesday when he said his stalled wall "will be paid for, very easily, by Mexico. It will ultimately be paid for by Mexico."
The comment came a day after Trump and Mexican President Enrique Peña Nieto held a celebratory call to announce the new deal.
Mexican Foreign Minister Luis Videgaray Caso tweets that Mexico "just reached a trade understanding with the US, and the outlook for the relationship between our two countries is very positive."
But he says his country has been "absolutely clear" that Mexico "will NEVER pay for a wall."
__
5:25 p.m.
Canadian Foreign Affairs Minister Chrystia Freeland is discussing how to revamp the North American Free Trade Agreement with United States Trade Representative Robert Lighthizer.
Before entering the USTR building, Freeland told reporters she is "encouraged by the progress the U.S. and Mexico have made, particularly on cars and labor."
Freeland hurried to Washington a day after the Trump administration reached a preliminary deal Monday with Mexico to replace the North American Free Trade Agreement.
It is the first time Freeland has met with her U.S. counterparts in Washington since May.