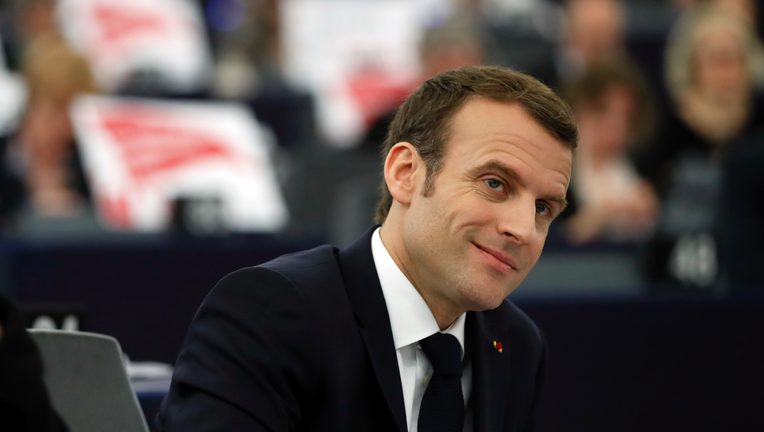 The Latest on French President Emmanuel Macron's speech to the European Parliament (all times local):
2:50 p.m.
German Chancellor Angela Merkel is setting her sights on a meeting with French President Emmanuel Macron later this week as "another building block" toward finding common solutions regarding reforms needed within the European Union.
Merkel told reporters Tuesday that "more speed is needed" regarding EU reforms on the economy and the eurozone, and also on talks regarding a common asylum policy, cooperation in foreign and defense politics as well as scientific cooperation.
Merkel says, "we will find joint solutions with France by (an EU summit in) June ... I'm not worried that we won't be able to put together a solid package."
Macron is planning to meet with Merkel on Thursday. The chancellor said there will also be a meeting of French and German ministers soon.
___
1:50 p.m.
Denmark's Prime Minister Lars Loekke Rasmussen has welcomed the speech by French President Emmanuel Macron to the European Parliament, saying it was "good to hear" him "calling for consulting citizens on EU's future."
Loekke Rasmussen wrote on Twitter on Tuesday that "we need Europe to work for the citizens - not the other way around."
He added "I always believed the #EU should be as close as possible to the citizens," and the European Union "needs to be big on big things and small on small things."
Loekke Rasmussen said "rather than a bigger budget, the EU can do more by focusing resources on areas with high EU added value."
___
12:35 p.m.
French President Emmanuel Macron says the European Union shouldn't accept any new member countries until the 28-nation bloc is more deeply integrated and has undergone thorough reform.
Macron has told EU lawmakers that he wants to anchor countries of the Western Balkans to the European project, but that now isn't the time to allow any to join.
He said: "I will only support an enlargement when there is first a deepening and a reform of our Europe."
Macron added: "I don't want a Balkans that turns toward Turkey or Russia, but I don't want a Europe that, functioning with difficulty at 28 and tomorrow as 27, would decide that we can continue to gallop off, to be tomorrow 30 or 32, with the same rules."
EU and Balkans leaders meet next month to discuss the volatile region's future, but the 28-nation bloc is unlikely to invite any country in the region to join.
___
11:40 a.m.
French President Emmanuel Macron is proposing creating a new tax on the digital economy to help finance the European Union budget.
In a speech in Strasbourg-based EU parliament, Macron called for a reform of the budget of the European Union to take into account Britain's departure. He didn't offer details of his digital proposal, but has called previously for taxing internet giants.
He said Tuesday France is ready to increase its own contribution to the EU budget and insisted European countries should work on more closely harmonizing fiscal systems and tax levels.
He said he will push for an EU carbon tax in a move to fight against climate change and protect companies taking action to reduce their climate impact.
___
11.10 a.m.
European Commission President Jean-Claude Juncker says the European Union is not just a club led by France and Germany, addressing amid concerns that the EU's traditional driving countries dominate the bloc.
Juncker told French President Emmanuel Macron and EU lawmakers Tuesday that "Europe is not only Franco-German. We are 28" member nations.
Juncker said Macron's arrival in power in France has "given new hope" to the world's biggest trading bloc. But he recalled that "Europe is an ensemble," even with Britain set to leave the EU next year.
___
11:00 a.m.
French President Emmanuel Macron is calling for an energetic campaign for European Union elections next year as the bloc deals with the challenges of Britain's departure and rising nationalism.
Macron told EU lawmakers Tuesday that it's important "to have a democratic, critical debate on what Europe is about" ahead of the election for the European Parliament in May 2019.
Macron said citizens "want a new project" for the EU which addresses their concerns and fears in a world where allies such as the U.S. are turning their back on multilateral trade and climate change pacts.
___
10:50 a.m.
French President Emmanuel Macron says democracy is the "best chance" for the European Union to fight against rising nationalism on the continent.
Speaking to the EU Parliament in Strasbourg, France, Macron said Tuesday that Europe's democratic model is "unique in the world" and must be preserved amid divisions among EU countries.
He said: "Faced with authoritarianism, the answer is not democratic authoritarianism but the authority of democracy."
He called on EU countries to defend values of liberty, equality and diversity.
____
10:00 a.m.
French President Emmanuel Macron is expected to outline his vision for the future of Europe as he addresses the European Parliament.
In his speech to European lawmakers Tuesday in Strasbourg, France, Macron will launch a drive to seek European citizens' opinions on the European Union's future.
Macron said in a television interview Sunday: "It's now that Europe's fate is being decided."
Macron wants the EU to "move forward with those who want to move forward, and those who will not follow will have to accept to stay on the margins of Europe."
He is also expected to push for deep reforms of the 19-nation eurozone.
France and Germany aim to agree on proposals for EU reforms by June. Macron will meet with German Chancellor Angela Merkel in Berlin on Thursday.