The Latest: McConnell tells home state group trade is good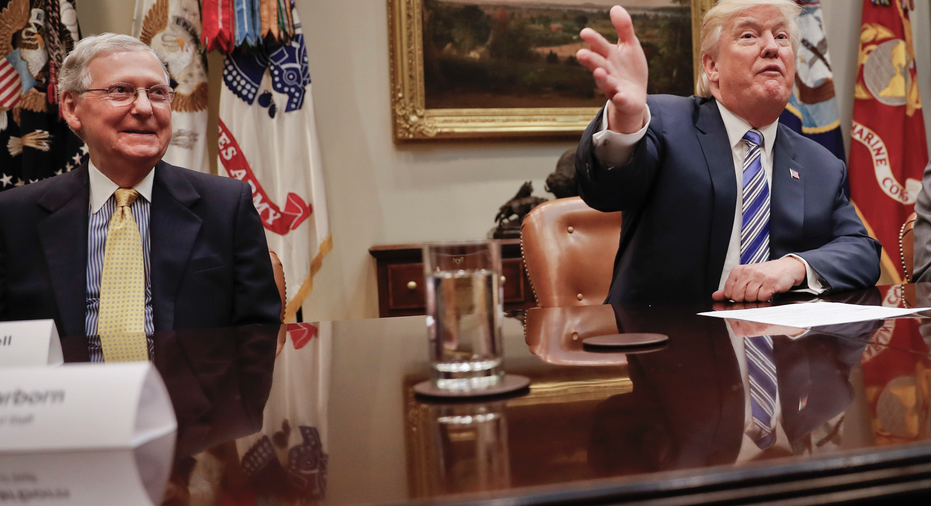 The Latest on the division between President Donald Trump and Senate Majority Leader Mitch McConnell (all times local):
10:20 a.m.
Senate Majority Leader Mitch McConnell says he is concerned with some of President Donald Trump's talk on trade, saying congressional leaders have a "selling job" to convince people that "trade is a winner for America."
It was the latest evidence of growing tensions between the president and the Senate Republican leader. McConnell's comments came during a speech to a breakfast sponsored by the Kentucky Farm Bureau in his home state.
McConnell said the assumption that every free trade agreement is a losing proposition for America is "largely untrue." He said that accounting for all the nation's free trade agreements, the U.S. sells far more than it buys.
McConnell also praised the Trump administration for repealing some Obama-era regulations and nominating Neal Gorsuch to the U.S. Supreme Court.
___
9:55 a.m.
President Donald Trump is attacking Republican Congressional leaders over debt ceiling negotiations.
On Twitter on Thursday, Trump says he asked Senate Majority Leader Mitch McConnell and House Speaker Paul Ryan to attach legislation to increase the country's borrowing limit to a bill related to veterans. Trump said they didn't do it and "now we have a big deal with Dems holding them up."
The government has enough money to pay its bills until Sept. 29. After that, Congress would have to give permission for the government to borrow more money to meet its obligations.
McConnell did not respond to questions about Trump's comments Thursday.
McConnell and Treasury Secretary Steven Mnuchin appeared together in Kentucky this week. Both said they expected the debt ceiling would be raised.