The Latest: Kushner to meet with Mexican president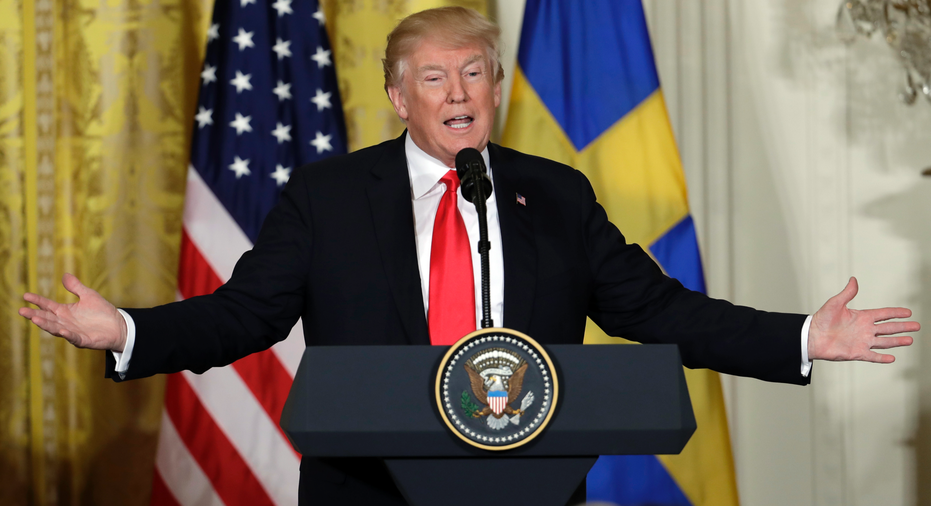 The Latest on President Donald Trump's new tariffs on imports of steel and aluminum (all times local):
11 p.m.
Jared Kushner will be meeting with Mexico's president Wednesday amid heightened tensions over the border wall and trade.
The senior White House adviser and presidential son-in-law will be traveling to Mexico City with a delegation that includes staff from the State Department and National Security Council. They'll also meet with Mexico's foreign minister. The officials are expected to discuss security, immigration, trade and other issues.
Tentative plans for President Enrique Pena Nieto to visit the White House were scrapped last month after a testy telephone call with President Donald Trump over the wall Trump has pledged to build on the U.S.-Mexico border, The Washington Post reported.
Pena Nieto also scrapped a planned trip to Washington shortly after Trump took office in January 2017.
__
4 p.m.
President Donald Trump is reaffirming his plans to place tariffs on steel and aluminum imports. He says at a White House news conference, "Trade wars aren't so bad."
The president was asked during a joint news conference if he would go through with his previous plans to impose a 25 percent tariff on steel imports and a 10 percent tariff on aluminum imports.
Trump says the U.S. has long been "mistreated" by trade deals and has been dealing with a massive trade deficit.
He is reiterating that if he's able to make a deal with Canada and Mexico to improve the terms of the North American Free Trade Agreement, "there will be no reason to do tariffs" on steel and aluminum from the two neighbors.
___
2:30 p.m.
The Republican chairman of the Senate Finance Committee is telling President Donald Trump he's concerned that proposed tariffs on steel and aluminum imports would "undermine" the tax cuts Congress recently passed.
Sen. Orrin Hatch, R-Utah, says history has demonstrated repeatedly that consumers ultimately bear the burden of tariffs.
Hatch says in a letter to Trump he supports the president's goal of targeting foreign countries that don't compete fairly in trade. However, he believes the proposed tariffs would miss those countries and "would hit American businesses and families instead."
The Senate Finance Committee has jurisdiction over international trade issues.
Hatch tells the president he looks forward to working with him on trade. He urges Trump to refocus efforts on opening overseas markets without imposing "harmful and unnecessary tax increases" on Americans.
___
12:30 p.m.
A major aluminum trade group is telling President Donald Trump that it's "deeply concerned" about the effects of global tariffs on aluminum production.
The Aluminum Association says it represents 114 member companies and more than 700,000 U.S. jobs. The group says in a letter to Trump that the administration should address a glut of Chinese aluminum and target China and other countries that have a history of circumventing trade rules. The trade group also wants the Trump administration to exempt vital trading partners such as Canada and the European Union.
The administration is planning to impose tariffs on imported steel and aluminum. But Trump is facing pressure from Congress and manufacturers who say it would hurt the overall economy and lead to retaliation from foreign countries.
___
12:21 p.m.
Mexico's economy secretary says his country might impose retaliatory tariffs on "politically sensitive" U.S. products if the United States doesn't exempt Mexico from worldwide duties on steel and aluminum announced by President Donald Trump.
Alfonso Guajardo told the Televisa network on Tuesday that "what we would have to do is set up a response on those export goods that are the most politically sensitive, and target those goods in particular." He did not give examples.
In the past, Mexico has sometimes slapped retaliatory tariffs on U.S. products from states that could influence the U.S. president in turn.
__
10:48 a.m.
House Speaker Paul Ryan says he's encouraged the White House may reconsider blanket tariffs on steel and aluminum as he urges President Donald Trump take a more "surgical" approach on China and other countries.
Ryan told reporters Tuesday, "I'm encouraged" as a result of ongoing talks with the White House over the tariffs.
The speaker is among the most outspoken GOP critics of Trump's plan as Republicans rush to convince the president to reconsider before a final decision.
Ryan says Trump's right to call out countries dumping metals and says there's "clearly abuse occurring."
But the speaker says there's a "smarter way to go" and Republicans are trying to convince Trump to "go after the true abusers without creating any kind of unintended consequences or collateral damage."
__
9:01 a.m.
The White House says President Donald Trump and Canadian Prime Minister Justin Trudeau have discussed trade and NAFTA.
The White House says Tuesday that the leaders spoke on Monday, and that Trump emphasized his commitment to a North American Free Trade Agreement that is fair to all three countries. The agreement signed in 1994 includes the U.S., Canada and Mexico, and is the subject of talks to renegotiate its terms.
The president noted to Trudeau that NAFTA currently leaves the U.S. with a trade deficit.
Trump said Monday that he wouldn't spare Canada or Mexico from tariffs he plans to slap on steel and aluminum imports. But he held out the possibility of later exempting the countries if they agree to better terms for the U.S. in the NAFTA renegotiation.
__
12:30 a.m.
Republican allies of President Donald Trump are pleading with him to back off his threat of turning to international tariffs, but Trump says he won't.
Trump says Canada and Mexico will not be spared from his plans for special import taxes on steel and aluminum. He's holding out the possibility of later exempting the longstanding friends if they agree to better terms for the U.S. in revising the North American Free Trade Agreement.
House Speaker Paul Ryan and other Republicans worry that such tariffs would spark a trade war. Ryan is urging the White House not to go forward with the plan.
Republican leaders of the House Ways and Means Committee have circulated a letter opposing Trump's proposed tariffs, and GOP congressional leaders suggest they might attempt to prevent