The Latest: King: Catalonia is "an essential part" of Spain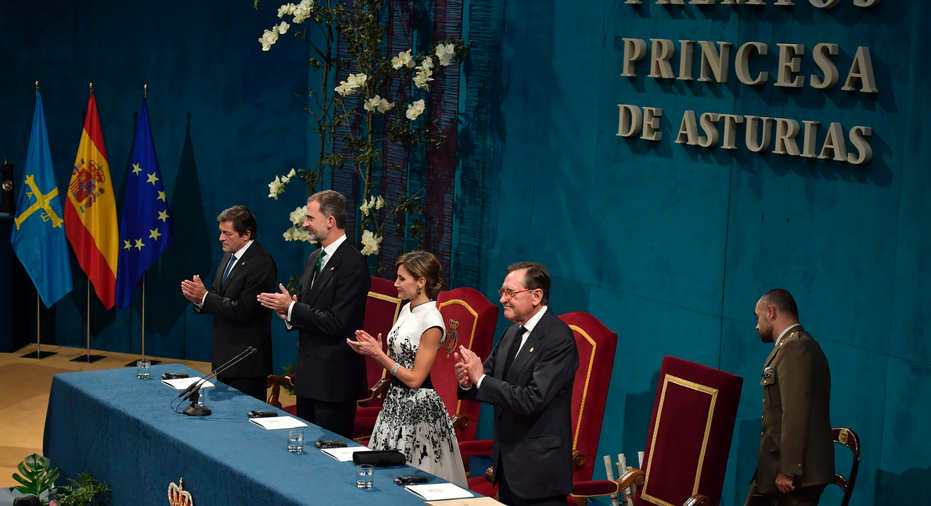 The Latest on the Spain-Catalonia political crisis (all times local):
8:35 p.m.
Spain's King Felipe VI has spoken out forcefully at a public event against Catalonia's independence drive, saying all Spaniards must respect each other and the law.
Felipe says in a speech at a prize-giving ceremony in northern Spain for the prestigious Princess of Asturias awards that everyone must respect the Constitution and the principles of parliamentary democracy.
Spain's Constitutional Court has said Catalonia's recent referendum on secession was illegal, and the Spanish parliament has rejected the Catalan regional government's attempts to break away.
Felipe said Friday that Catalonia "is and will be an essential part" of Spain, receiving a standing ovation in the city of Oviedo.
___
8:20 p.m.
European leaders attending an event in Spain have indirectly reiterated their support for Spanish Prime Minister Mariano Rajoy's efforts to halt Catalonia's independence bid, which the country's Constitutional Court says is illegal.
European Parliament President Antonio Tajani and European Commission President Jean-Claude Juncker are in the northern Spanish city of Oviedo to receive a prestigious Princess of Asturias prize on behalf of the European Union.
In his speech Friday, Tajani said laws and constitutions must be respected, adding there are "populists and nationalists in Europe who are trying to tear us apart."
Juncker said as he passed through the city Friday he "saw Spanish flags everywhere, and it was a beautiful sight." The comment drew loud applause from the audience of more than 1,000 people, including Spain's King Felipe VI and Queen Letizia.
___
1:55 p.m.
Spanish Prime Minister Mariano Rajoy says his government will announce on Saturday the specific measures it plans to take control of the Catalonia region now that an agreement has been reached with the country's main opposition parties.
Rajoy refused to confirm Friday if the agreement with the Socialists included plans to hold regional elections in Catalonia in January, as announced by the party's negotiator earlier in the day.
His government also reached agreement with the center-right, pro-business Ciudadanos (Citizens) party.
Rajoy, commenting on the unprecedented constitutional step he is taking to assume control of Catalonia, said: "The goal is double: the return to legality and the recovery of institutional normalcy."
The prime minister said the Catalan crisis was only discussed on the sidelines of a European leaders' summit because the political deadlock is an internal Spanish affair.
But he says his fellow leaders share his concern that Catalan separatist authorities have acted against the rule of law and democracy.
___
12:50 p.m.
British Prime Minister Theresa May has given her strong support to the Spanish government in its escalating conflict with separatists in Catalonia.
At a European Union summit in Brussels, May avoided directly answering a reporter's question about what advice she had for Catalan leader Carles Puigdemont, indicating that Spanish Prime Minister Mariano Rajoy was the only one she is speaking to on the matter.
May said, "I have spoken to Mariano Rajoy this morning, as I did earlier this week, and made clear that the United Kingdom's position is very clear. We believe that people should be abiding by the rule of law and uphold the Spanish constitution."
Her position is consistent with that of other EU leaders who are wrapping up a two-day summit in Brussels. Several of them say they consider Catalonia's succession bid to be an internal Spanish matter, that regional authorities are breaking the law and that no EU country would ever recognize Catalan independence.
___
10:50 a.m.
A Spanish opposition Socialist politician says that her party and Spain's government have reached an agreement to hold a regional election in Catalonia in January as a way to resolve one of the country's deepest political crises in decades.
Spain's central government is planning to take control of some of Catalonia's powers by activating Article 155 of the Constitution to crush an independence bid by regional leaders. One of the possibilities being floated is to dissolve the regional parliament and call a new election.
Opposition Socialist party official Carmen Calvo made the announcement Friday about a deal with Spain to do just that.
A special Cabinet meeting on Saturday in Madrid is expected to trigger Article 155, which would pave the way for the central government's intervention in Catalonia.
___
9:50 a.m.
Bank customers in Catalonia are withdrawing money from financial institutions that have moved their official headquarters to other locations in Spain amid a political crisis over the region's independence bid.
Pro-independence umbrella group Crida Democracia called on consumers late Thursday to put pressure on banks that made the decision. Dozens of people were lining up Friday at a CaixaBank branch in downtown Barcelona, most of them withdrawing 150 or 160 euros from ATMs.
The amounts were the closest to 155, in reference to the Spanish constitutional article with which the central government plans to revoke some of Catalonia's autonomous powers to prevent regional politicians from pushing ahead with secession.
CaixaBank and Banco Sabadell, the largest Catalan lenders, are among financial institutions that have moved their official registration out of Catalonia.