The Latest: Italy swears in new ministers for populist govt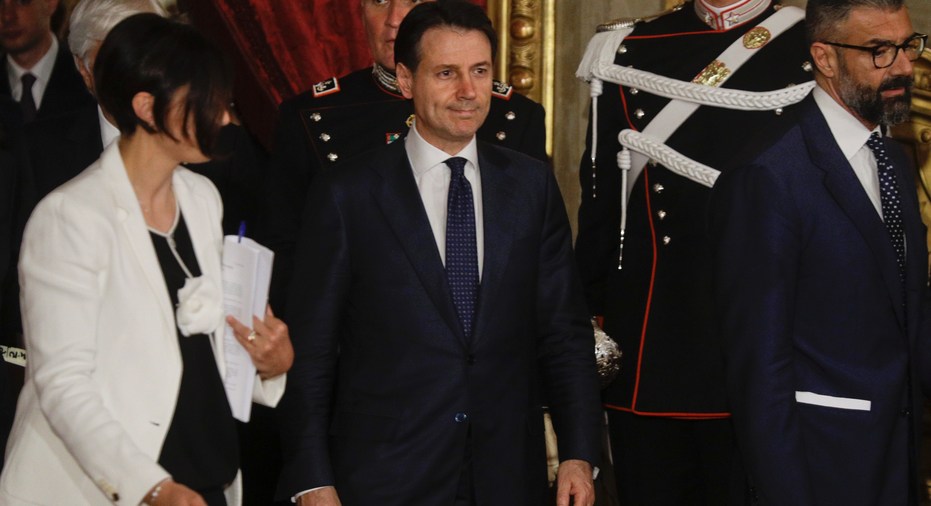 The Latest on Italy's new government (all times local):
4:15 p.m.
Italy's president is swearing in western Europe's first populist government, featuring a mix of anti-establishment and right-wing ministers along with some experienced figures who have served in previous governments.
In the gilded Quirinale Palace, President Sergio Mattarella presided over the ceremony Friday in which 18 ministers — five of them women — were taking the oath of office to officially form a government coalition of the 5-Star Movement and the League party after three months of political deadlock.
The ceremony sets the stage for the formal handing over of the government later Friday. Confidence votes are scheduled on the new government in parliament next week.
Milan's stock market was higher Friday after the deal was reached late Thursday.
___
2:05 p.m.
The European Union's executive says it is "committed to work with the new Italian government to tackle the many common challenges that Italy and Europe are facing."
European Commission spokeswoman Mina Andreeva said Friday that President Jean-Claude Juncker is set to meet with Premier-designate Giuseppe Conte during the G7 summit in Canada next week.
After a series of barbs between the EU headquarters and Rome, Andreeva insisted that the European Commission had the deepest respect for Italy as "a founding member of the European Union, a trusted and indispensable partner."
Andreeva said: "We have full confidence in the capacity and willingness of the new government to engage constructively with its European partners and EU institutions to uphold Italy's central role in the common European project."
___
1: 15 p.m.
European Commission President Jean-Claude Juncker "deeply regrets" that comments he made on Italy were seen as demeaning the nation and its southern region.
EU Commission spokeswoman Mina Andreeva said that his words had been interpreted in "a misleading way, because President Juncker loves Italy."
Juncker said at a conference Thursday that "Italians have to take care of the poor regions of Italy. That means more work, less corruption, seriousness."
Andreeva listed recent initiatives Juncker had taken which were advantageous to Italy, including his support to rebuild the Norcia cathedral in the central region of Umbria, in the wake of a 2016 earthquake.
Andreeva said: "There are words and there are facts and we prefer to focus on the facts, which in this case speak much louder than words."
___
12:50 p.m.
Italy's president has reminded local politicians of the need to welcome and integrate migrants and fight intolerance in an annual message marking the country's Republic Day.
President Sergio Mattarella's appeal Friday comes as the anti-immigrant, right-wing League — which has vowed to expel hundreds of thousands of migrants — prepares to take power as part of Italy's first populist government along with the euroskeptic 5-Star Movement.
As he does every year, Mattarella wrote to local prefects reminding them of the need to fight corruption, organized crime and poverty "in this our Italy and our Europe." He said Italy has already employed effective strategies to protect against terrorism "which are fueled by a culture of hatred and violence."
Italy on Saturday will mark the birth of the Italian republic, the day in 1946 when Italians voted in a referendum to abolish the monarchy.
___
10:20 a.m.
Milan's stock index has opened higher after Italy's populists put an end to three months of political gridlock and formed a government, staving off the threat of new elections that could have become a referendum on the euro.
The anti-establishment 5-Star Movement and right-wing League are to swear in their Cabinet later Friday, after reaching agreement with Italy's president to drop a euroskeptic economy minister and give birth to western Europe first populist government.
Milan's stock index opened up 2.5 percent. Italy's borrowing rates eased further.
Europe's populists cheered, with French far-right leader Marine Le Pen, who shares the League's firm anti-immigrant stance, tweeting: "It's a victory of democracy over intimidation and threats from the European Union. Nothing will stop the return of the people to the stage of history!"