The Latest: Industry in Italy has agenda for new government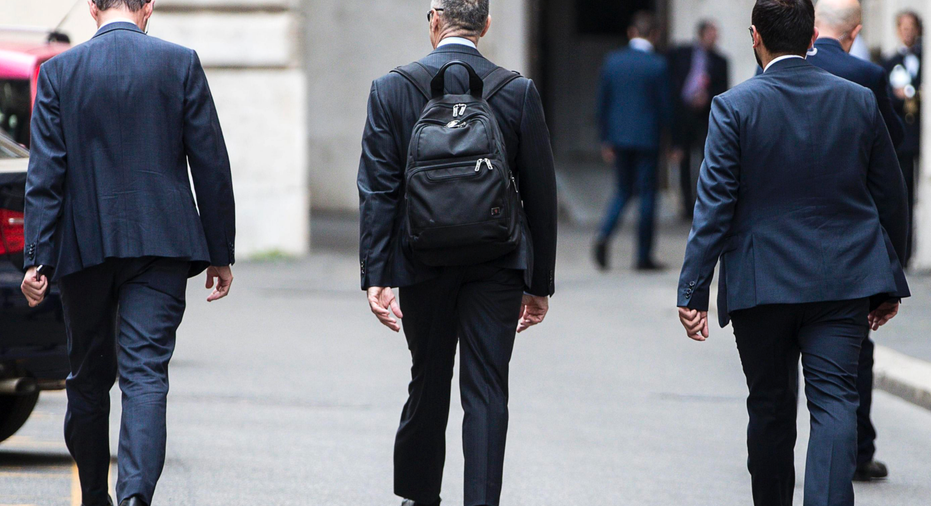 The Latest on Italy's political crisis (all times local):
7:15 p.m.
The Italian association of high-end producers is pushing for a coordinated industrial strategy to help grow the sector worth 100 billion euros ($115 billion) a year, or 5 percent of GDP.
Altagamma President Andrea Illy told The Associated Press on Tuesday that the association is urging any new Italian government to adopt "industrial policies aimed at strengthening the high value-added industry in Italy." That includes the famed fashion industry but also luxury cars, yachts, jewelers, among others.
Illy was presenting a new book about "strategies for excellence" and aimed at policymakers. It calls for a public-private initiative to improve areas of specialty production that flourish in Italy.
He also says Italian taxes are too high and that while Italy's high debt makes it difficult to reduce them, policymakers could "reward virtuous behavior."
___
5:50 p.m.
The formation of an interim government of unelected technocrats in Italy has been delayed.
Carlo Cottarelli, a former IMF official tapped to become premier, went to see President Sergio Mattarella as scheduled on Tuesday, but did not present his list of ministers as expected. He left without comment about an hour later.
A spokesman for the president said that the two would meet Wednesday morning.
The delay suggests difficulty in coming up with a list of ministers, but the spokesman said he could not comment on the reasons. Cottarelli returned to the parliament, where he has been working on assembling a government that will see Italy through to new elections, possibly as soon as September.
Cottarelli was tapped Monday, after an attempt by two populist parties to form a government foundered on their choice of an anti-euro figure as economic minister, rejected by Mattarella. That threw Italy into political and financial turmoil.
___
5:45 p.m.
The European Union's budget commissioner has said in an interview that the strong market reaction to political uncertainty in Italy could "signal to voters not to vote to populists."
The remarks by Guenther Oettinger released by Deutsche Welle on their Twitter feed brought rebukes — as expected from Italian right-wing leader Matteo Salvini but also the European Council President Donald Tusk.
Salvini called for Oettinger's resignation, saying "whoever insults my people saying that markets will teach Italians to vote needs to step down immediately." Tusk appealed to EU institutions in a Tweet to "please respect the voters. We are there to serve them, not to lecture them." The Tweet was hashtagged Italy and addressed to Deutsche Welle.
Oettinger's remarks came as Italy's markets dropped sharply after an attempt to form a populist government failed and Italy's president tapped a former IMF official to head a technical government until next elections.
___
1:50 p.m.
Italy's president will receive a former IMF official tapped to head a technical government in the afternoon amid the ire of populists whose attempt at forming a government failed.
President Sergio Mattarella's office said Tuesday that he will meet with Carlo Cottarelli at 1430 GMT (10:30 a.m. EDT).
Mattarella tapped Cottarelli for prime minister after the anti-establishment 5-Star Movement and right-wing League refused to withdraw an anti-euro candidate as economy minister, foundering their attempt to establish a government after inconclusive elections in March.
Cottarelli will present his Cabinet list to Mattarella, following which he will need to seek a vote of confidence in parliament.
Both the 5-Stars and the League have said they will vote against a Cottarelli government, setting the stage for failure.
In that case, Cottarelli would run a caretaker government until new elections could be organized in the fall.
1:35 p.m.
Greece's foreign minister says his country would like to see a "stable, democratic, pro-European" Italy and is indicating that Greece is concerned about the potential for financial turbulence.
Nikos Kotzias spoke after meeting his German counterpart, Heiko Maas, in Berlin on Tuesday. Germany has the eurozone's biggest economy, while Greece is working to overcome a deep economic crisis that required a rescue program which ends in August.
Kotzias said that "we want a stable, democratic, pro-European Italy. We are concerned if it is unstable and that has effects on the financial situation, and this financial situation could perhaps create additional problems for us."
He said that, in recent years, Italy "unfortunately ... is no longer the country where the great European ideas are produced."
11:15 a.m.
Italy's central bank governor says that "the destiny of Italy is that of Europe," as a political uncertainty threatens to drag the eurozone's No. 3 economy into a new crisis.
Ignazio Visco said that "it is important that the voice of Italy is authoritative in contexts where the future of the European Union is decided," referring to upcoming decisions at the EU regarding the governance of the bloc, multi-year budgets and the revision of financial rules.
Visco's annual address on the state of the Italian economy came as a new premier-designate of what would be a non-political government of technocrats was preparing to present his Cabinet list to Italy's president. Populist parties, meanwhile, are enraged that their attempts at forming a government foundered on their choice of an anti-euro economy minister.
Visco warned that investors would flee the system if they see their savings lose value because of an economic crisis, noting that "foreign investors would be the quickest."
___
10:20 a.m.
An Italian premier-designate tapped to form a non-political government of technocrats is expected to present his Cabinet list to President Sergio Mattarella, but investors appeared dubious, sending markets plunging.
Italy's stock market has opened down 1.8 percent and the spread between the Italian 10-year government bond and the benchmark German bund rose to 230 points, the highest level since October 2013, with interest rates at 2.9 percent.
The premier-designate, former International Monetary Fund official Carlo Cottarelli, meets Mattarella to present his ministerial picks later Tuesday, two days after an attempt by two populist forces to form a government foundered on the president's rejection of their anti-euro economy minister.
Facing firm opposition, Cottarelli's government is likely to fail confidence votes later in the week, pushing Italy back to elections in the fall.