The Latest: Fed chair nominee Powell's confirmation hearing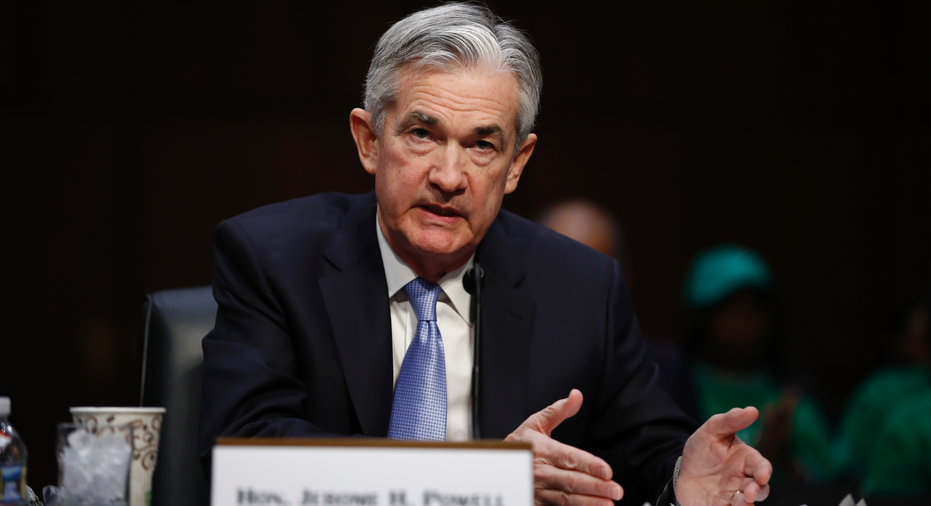 The Latest on the Senate confirmation hearing of Jerome Powell, President Donald Trump's nominee for Federal Reserve chairman (all times local):
___
12:10 p.m.
The Senate Banking Committee has completed its hearing on the nomination of Jerome Powell to be the next chairman of the Federal Reserve after two hours of questioning.
Committee Chairman Mike Crapo, R-Idaho, urged members to quickly submit their follow-up questions for Powell to answer in writing.
Crapo gave no indication of when the committee might vote, but several senators suggested that Powell will have no trouble winning confirmation. His nomination was announced on Nov. 2 by President Donald Trump. He would succeed Chair Janet Yellen, whose four-year term as chairman ends on Feb. 3.
___
12:05 p.m.
Jerome Powell says he believes there is still slack in the labor market and the unemployment rate can drop even lower. He says he thinks overall economic growth will be around 2.5 percent this year, considerably better than last year.
Powell was pressed to give projections about the economy during his confirmation hearing, with some senators wondering why the central bank was continuing to raise interest rates when there was no sign that inflation was becoming a problem. Unemployment is currently at 4.1 percent, the lowest level in nearly 17 years.
Powell said he believes the Fed "can push harder on employment" by allowing the unemployment rate to fall below 4 percent, in light of data that show some pockets of the population not working, especially in the prime ages of 25 to 54.
He projects growth of 2.5 percent next year but said growth would likely slow after that, reflecting a tighter labor market and lagging gains in productivity.
___
11:30 a.m.
Jerome Powell says the 2010 Dodd-Frank financial overhaul law achieved its major goal of making the financial system stronger. But he says there are areas where it can be made more efficient.
Powell says he believes financial system reforms have been successful: no bank is too big to fail now. But he says that in some ways, the law has imposed unnecessary burdens on banks.
He says he does not view what he wants to do as deregulation. Rather, he hopes to review the last eight years and ensure that all of the new regulations put in place to implement the Dodd-Frank law made sense and were cost efficient. Powell has suggested in the past that loosening the restrictions imposed on smaller banks made sense.
___
11:05 a.m.
Jerome Powell strongly signaled at his confirmation hearing that the Federal Reserve will raise interest rates at its meeting next month.
Asked specifically whether he expected a rate hike at the December meeting, Powell says, "I think the case for raising interest rates at our next meeting is coming together."
Pressed to say specifically whether there would be a rate hike, Powell says that he did not want to go further in his comment. He cites a Fed communication rule that states officials are not supposed to say what they will do at upcoming meetings before they hold the meeting and listen to the views of all colleagues.
___
10:45 a.m.
Jerome Powell says he is "strongly committed" to an independent central bank.
He says that he had not had any conversations with anyone in the administration that gives him any concerns on that front.
Testifying at his confirmation hearing, Powell was pressed by Sen. Sherrod Brown, D-Ohio, to give his opinion on what impact the Republican tax cut proposals would have on economic growth and the deficit.
Powell refused, saying while the Fed was monitoring the debate in Congress it was not yet clear what outline the final measure would take. He also says it was not the Fed's job to provide Congress with economic projections on various tax measures it was considering.
___
10:00 a.m.
Jerome Powell will face questions from the Senate Banking Committee Tuesday, which is holding a confirmation hearing on his nomination to become chairman of the Federal Reserve.
President Donald Trump nominated Powell on Nov. 2 after a lengthy search which involved interviews with five finalists including current Fed Chair Janet Yellen.
Trump said he wanted to put his own stamp on the central bank, which was likely one reason he chose Powell, a Republican, over Yellen, a Democrat who had been nominated by President Barack Obama.
In his prepared testimony, Powell is casting himself as a figure of stability and continuity, praising both Yellen and former Fed Chairman Ben Bernanke. He says his goal is to preserve the Fed's "independent and nonpartisan status."