The Latest: Engine parts found on Las Vegas airport runway where commercial jet caught fire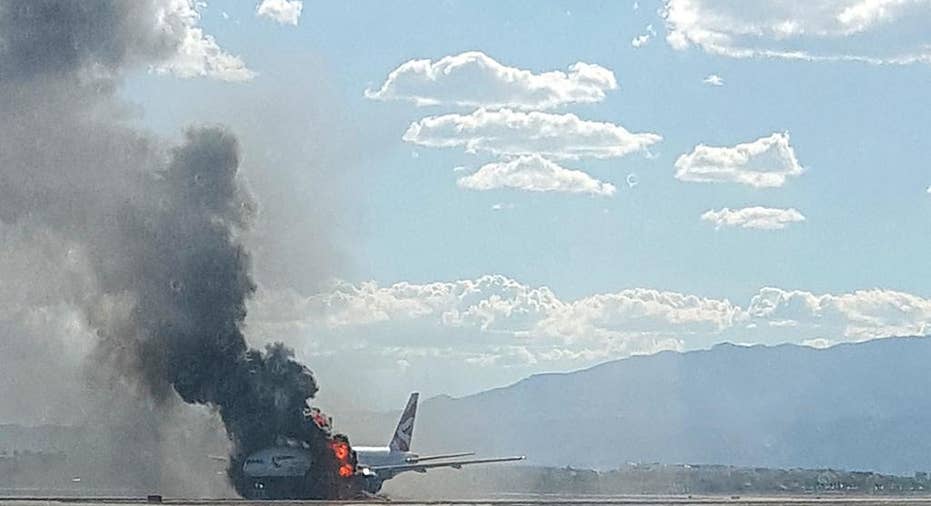 The latest developments on the British Airways jet engine fire at Las Vegas' airport. All times local (PDT):
1:30 p.m.
Federal investigators say parts of an engine compressor were found on the Las Vegas airport runway where a British Airways jet aborted takeoff as its left engine burst into flames.
The National Transportation Safety Board said Thursday that investigators also found damage to the left engine case, or armored outer shell, and several pieces of the compressor on the tarmac.
Aviation expert Don Knutsen in Kansas says that points to catastrophic compressor failure. But he says it might not have sparked the fire itself.
British Airways Flight 2276 was accelerating down a runway Tuesday when the engine caught fire. Slides deployed, and 170 passengers and crew escaped without serious injury.
The Boeing 777, built in 1998, had two GE90 engines made by GE Aviation.
Federal investigators and teams from Boeing and GE are examining the aircraft before removing the left engine for shipment to a facility for a complete tear-down.
___
10 a.m.
The British Airways pilot credited with halting a burning airplane taking off on a Las Vegas runway says he had only one other flight planned before his retirement, but he thinks he'll skip it and stop flying.
Chris Henkey of Padsworth, England, tells NBC News (http://nbcnews.to/1UHU7AY) the only flight left on his schedule was a trip to Barbados.
The 63-year-old was going to stay in Barbados and vacation with his daughter. But he now says it's unlikely he'll make that flight because he's "finished flying."
Henkey was captain of the London-bound plane that caught fire Tuesday as it accelerated for takeoff. The 170 passengers and crew on the Boeing 777 escaped without serious injury.
Henkey says he'd never experienced such a dramatic emergency in his 42-year career. He deflected praise, saying the entire crew helped ensure passengers' safety.
___
9 a.m.
Aircraft "black boxes" are in the hands of federal investigators probing a blaze that engulfed the engine of a London-bound airliner while passengers and crew escaped down emergency slides on a Las Vegas runway.
National Transportation Safety Administration spokesman Eric Weiss says a team in Las Vegas may provide preliminary findings as early as Thursday.
Weiss says flight data and cockpit voice recorders have arrived in Washington, D.C.
Investigators in Las Vegas are expected to talk with pilots, and begin looking at everything from fuel lines to maintenance records to engine history to pinpoint what sparked the blaze.
British Airways Flight 2276 was accelerating down a runway Tuesday when one engine caught fire.
The takeoff was aborted, slides deployed, and 170 passengers and crew escaped the Boeing 777 without serious injury.