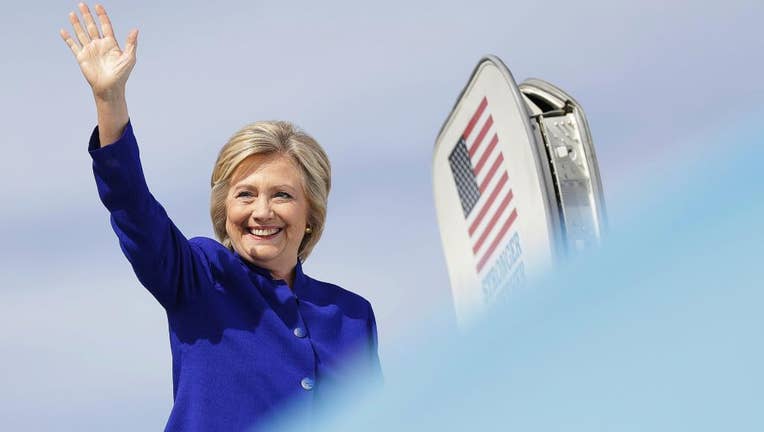 The Latest on the U.S. presidential campaign (all times EDT):
3:40 p.m.
Donald Trump Jr. is defending a tweet comparing Syrian refugees to poisoned candy.
Trump Jr. said Wednesday in Salt Lake City that his tweet was spurred by his concern as a father about inadequate vetting of people coming into the United States. His remarks came during a visit with editorial boards from the Mormon-owned Deseret News and KSL-TV.
Trump Jr. said "We've seen what's going on in Europe. We can't be naive to that and pretend that's not happening there,"
Trump Jr. has been widely criticized for his posting this week. It showed a bowl of Skittles, a multicolored candy, and asked: "If I had a bowl of Skittles and I told you just three would kill you, would you take a handful?"
___
3:20 p.m.
Hillary Clinton is stressing her support for people with disabilities.
At a campaign event Wednesday, Clinton pledged to "build an inclusive economy that welcomes people with disabilities." She was speaking at the Frontline Outreach Family and Youth Center in Orlando, Florida.
Clinton promised to provide more job opportunities and to get rid of the sub-minimum wage for people with disabilities. She also promised to make colleges and universities more accessible and to provide more support for people with autism.
Clinton did not directly mention Republican opponent Donald Trump, though she did repeat her campaign mantra that "love trumps hate."
Clinton's campaign and her supporters have highlighted a video of Trump appearing to mock a disabled reporter, which has drawn strong reaction from voters in focus groups and other forums.
___
2:55 p.m.
Hillary Clinton says recent police-involved shootings in Tulsa, Oklahoma, and Charlotte, North Carolina, add two more names "to a long list of African-Americans killed by police officers."
She says "it's unbearable and it needs to become intolerable."
But Clinton, at a campaign event Wednesday in Florida, also noted that many police chiefs are committed to reforms. And she credited police officers for showing courage and skill in responding to attacks in New York, New Jersey and Minnesota during the weekend.
Clinton says America is safer "when communities respect the police and the police respect communities."
___
2:10 p.m.
Donald Trump says that he's planning to add nine names to the list of men and women he says he'll pick from to fill vacancies on the Supreme Court.
The Republican presidential nominee said during an appearance at an Ohio church on Wednesday that he's planning to expand the list that he unveiled in May to 20 names from 11.
Trump has sometimes wavered in his language, saying at times that he'd pick directly from the list and at others that his picks would be similar.
But he says now that he "will pick from that group of 20 people."
Trump is also railing against Republicans who are withholding their support from him, saying they "should be ashamed of themselves" because the Supreme Court is at stake.
___
1:48 p.m.
Hillary Clinton's communications director says the candidate is preparing for the "different Trumps" that could show up at the first debate.
Jennifer Palmieri told reporters Wednesday that the Democratic nominee's campaign thinks Republican Donald Trump "may be aggressive or he may lay back." She added: "That's hard to game out."
Clinton and Trump meet at the first debate Monday night. Clinton is appearing in Florida Wednesday, but has no campaign events scheduled in the coming days as she prepares for the debate. Palmieri declined to say who is playing Trump in their practice sessions.
Palmieri said the campaign is concerned that Clinton and Trump will be judged differently, saying "my biggest concern continues to be a low bar set for him on expectations."
___
1:51 p.m.
A House hearing on whether to impeach the IRS chief has detoured into a discussion of Skittles, the multi-colored candy playing a role in presidential politics.
Donald Trump's son this week tweeted a comparison of Syrian refugees to Skittles. In the tweet, Donald Trump Jr. asked whether people would still eat a handful of Skittles if they knew that three in the group were deadly.
Wednesday in the House Judiciary Committee, Illinois Rep. Luis Gutierrez was chewing the multi-colored candies when it was his turn for questions.
He described his love of Skittles and said when he gets a bad one, "I don't ban them all because I get one" that's bad.
He added, "Just like we shouldn't ban all the little girls who are fleeing murder and rape and human bondage and torture."
___
12:05 p.m.
Former President Bill Clinton is expected to deliver a personal defense of his family's foundation Wednesday afternoon.
The former president will speak at the closing session of the Clinton Global Initiative, an arm of the Clinton Foundation. This week marks the last CGI meeting, an annual gathering of political leaders, philanthropists and celebrities in New York.
Organizers say Clinton's speech will be an inherent rebuke of the criticism and controversy that has surrounded the foundation in this election year. Donald Trump has accused Hillary and Bill Clinton of using the foundation to enrich themselves and to give donors special access to the former secretary of state while she served as America's top diplomat.
Bill Clinton has said he will step down from the foundation board if his wife wins the November election.
___
11:50 a.m.
Boxing promoter Don King has let slip a racial slur as he makes the case for black voters to support Donald Trump.
King was talking about what it's like to be black in America as he introduced the Republican presidential nominee at an event in Cleveland organized by Darrell Scott, a prominent black pastor.
King said a black man is always framed by his skin color.
King recalled telling pop icon Michael Jackson "if you're poor, you're a 'poor Negro.' If you're rich, you're a 'rich Negro.'" An educated black man is "an intellectual negro."
He continued: "If you're a dancing and sliding and gliding n----- — I mean Negro — you are 'a dancing and sliding and gliding Negro.'"
Gasps and laughs could be heard from the audience.
___
11:35 a.m.
Democrats are using a House Judiciary Committee hearing on whether to impeach the IRS chief to attack Republican presidential candidate Donald Trump.
With IRS commissioner John Koskinen at the witness table, New York Rep. Jerrold Nadler asked if people under an IRS audit can release their tax returns. Koskinen said they can.
Trump has declined to release his tax returns, citing an audit.
Nadler asked if it's proper to use money from a charitable foundation for a portrait of themselves or to pay fees from legal disputes. Reports have said money from the Donald J. Trump Foundation has been used for those purposes.
Koskinen said generally, charitable money shouldn't be used to benefit someone who runs a charitable foundation. He declined to comment on specific details.
____
11:15 a.m.
Donald Trump says he doesn't know what a police officer was thinking when she shot an unarmed Tulsa man.
Trump said during an appearance Wednesday at a Cleveland Heights church that he is a "tremendous believer in the police and law and enforcement."
But he is questioning the actions of the police officer who shot and killed Terence Crutcher, who was unarmed when he was shot alongside his vehicle in Tulsa, Oklahoma.
Trump said he's seen video of the incident, and that it looked like Crutcher had done everything right.
Trump said he is "very, very troubled" by the actions of the officer. He said: "People that choke, people that do that, maybe they can't be doing what they're doing."
___
10:35 a.m.
Boxing promoter Don King is praising Donald Trump as "the only gladiator" who can take on a system that King said is "rigged" and "racist" and "sexist."
King introduced the Republican presidential nominee to a group of pastors in Cleveland on Wednesday.
King said white women and African-Americans should vote for Trump to topple the established order.
He wore a bejeweled denim jacket and held American and Israeli national flags.
King has long supported his friend Trump, but the appearance Wednesday marks his highest-profile appearance on the Republican nominee's behalf. King wanted to speak at the Republican National Convention in July. But GOP officials kept him off the stage, in part to avoid a focus on his manslaughter conviction in the 1960s.
___
9:55 a.m.
Donald Trump is calling for unity after the shootings of black men in two cities.
The Republican nominee tweeted Wednesday: "The situations in Tulsa and Charlotte are tragic. We must come together to make America safe again."
Terence Crutcher was unarmed when he was shot alongside his vehicle in Tulsa, Oklahoma.
Keith Lamont Scott was shot Tuesday in Charlotte, North Carolina. Officers say he was armed. But a woman claiming to be Scott's daughter said in an online post that he was unarmed. The shooting prompted a demonstration that injured about a dozen police officers.
Trump tweeted: "Hopefully the violence & unrest in Charlotte will come to an immediate end. To those injured, get well soon. We need unity & leadership."
____
7:30 a.m.
Mike Pence is defending Donald Trump against new criticism of how the Republican presidential hopeful used his charitable foundation.
The vice presidential nominee told NBC's Brian Williams in an interview broadcast late Tuesday that he's confident the Trump Foundation will be able to "demonstrate that they fully complied with the law."
The Washington Post on Tuesday reported Trump used money the foundation had raised to pay legal settlements for which he was personally liable. Such transactions, the newspaper reported, could violate federal tax laws against using charities for "self-dealing."
The report was based on interviews and legal documents.
Pence told NBC there are "a number of factual errors in that story." Pressed on what those errors are, Pence said he things "the foundation will be able to lay those out."
___
7:25 a.m.
Donald Trump is continuing his attempted outreach to African-American voters as he and running mate Mike Pence meet with a group of pastors Wednesday in Cleveland.
The gathering will be held at the church of the Rev. Darrell Scott, an early supporter of the Republican presidential nominee. Scott has sometimes traveled with Trump during the campaign and spoke on his behalf at the Republican National Convention in July.
Aides say Pence will introduce Trump, who will speak and then take questions from Scott.
Polls show Democratic nominee Hillary Clinton with a wide advantage among black voters. African-Americans could prove crucial in several battlegrounds states, including Ohio.
___
4:25 a.m.
Donald Trump's appeal to black voters sounds familiar in Gary, Indiana, and not in a good way.
In 1993, Trump swooped into Gary on his private jet and pledged to make the down-on-its-luck city great again with a riverboat casino along a Lake Michigan shoreline littered with shuttered factories.
Little more than a decade later Trump's company declared bankruptcy, leaving behind lawsuits and hard feelings in the majority-black city.
Trump's lawyers later argued in court that his pledges to Gary were never legally binding.
Looking back, Trump tells The Associated Press that his venture worked out well for Gary.
But a Democratic former Gary city councilman, Roy Pratt, calls Trump a "slick business dealer" and says, "He got as much as he could and then he pulled up and left."