The Latest: Bipartisan effort to improve 'Obamacare' over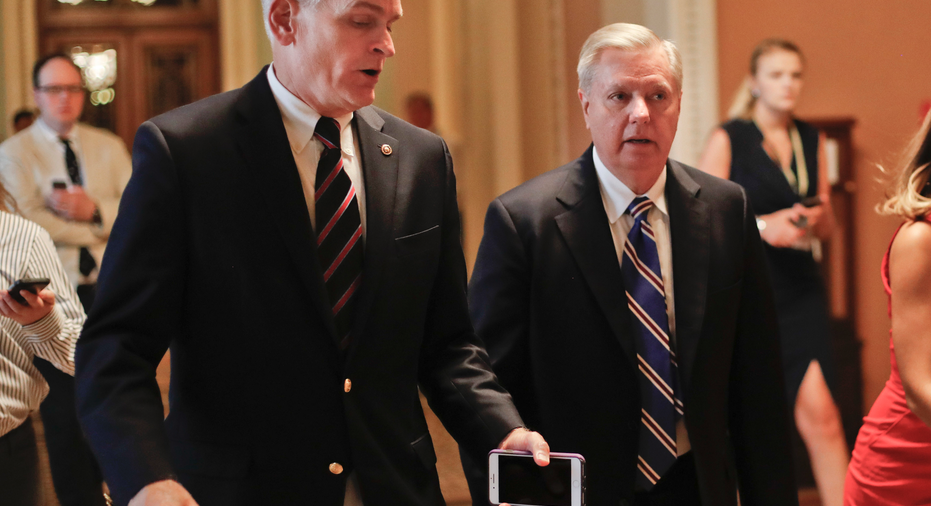 The Latest on the GOP effort to repeal former President Barack Obama's health care law (all times local):
6:10 p.m.
A bipartisan attempt at shoring up the Affordable Care Act is officially over in the Senate.
The development comes as the GOP has revived its partisan attack on "Obamacare," with Senate leaders and President Donald Trump pushing repeal and replace legislation.
GOP Sen. Lamar Alexander, who chairs the Senate's health committee and had been working with top committee Democrat Patty Murray, says in a statement that they "have not found the necessary consensus among Republicans and Democrats."
But Murray disputed that, alleging GOP leaders "decided to freeze this bipartisan approach."
Alexander and Murray had been aiming for a limited short-term plan to stabilize insurance premiums. But passage through the House or the Senate would have been an uphill struggle, since most Republicans want to repeal "Obamacare," not improve it.
___
6:05 p.m.
Fifteen Republican governors are lining up behind the Senate GOP effort to turn much of President Barack Obama's health care law into block grants that states could spend as they wish.
The governors wrote a letter to lawmakers Tuesday saying they "appreciate" the bill by GOP Sens. Bill Cassidy and Lindsey Graham.
The White House and Republican leaders hope the Senate will approve the measure next week as the GOP tries reviving its effort to repeal Obama's 2010 law.
The letter came after 10 governors from both parties wrote separately to senators rejecting that bill and calling for a bipartisan health care drive.
The GOP governors said "adequately funded" federal grants to states "are the last, best hope" to replace Obama's law.
___
2:55 p.m.
A chief sponsor of Republican bill to dismantle Obamacare says he's "never felt better about where we're at" but stopped short of predicting the GOP has the votes to pass the measure.
That's the word from South Carolina Sen. Lindsey Graham who spoke to reporters after Republicans' close-door luncheon where Vice President Mike Pence joined the lobbying effort for the measure.
Senate Majority Leader Mitch McConnell said lawmakers spent the luncheon talking about the bill and there was "lots of interest."
Graham said at the "end of the day" we need 50 votes. Republicans are aiming to vote by the end of the month before Democrats' ability to filibuster legislation kicks in.
____
1:26 p.m.
Vice President Mike Pence says the Trump administration is "all in" on a last-ditch effort by Republicans to undermine former President Barack Obama's health care law.
Pence was speaking to Republican senators at their weekly luncheon and urging them to act on health care.
Pence and South Carolina Sen. Lindsey Graham flew back to Washington from the United Nations to push the health care bill.
They spoke by phone to Trump and House Speaker Paul Ryan about the plan. Pence called West Virginia Sen. Joe Manchin, a Democrat, about the proposal and Alaska Gov. Bill Walker also received a call.
Graham says Trump called him Monday night to encourage him.
The plan would replace much of Obama's law with block grants to states and reshape Medicaid.
____
1:20 p.m.
A bipartisan group of 10 governors, including the leader of the National Governors Association, is calling on Senate leaders to reject the latest Republican bill to dismantle Obamacare.
In a letter Tuesday, the governors urged top Republican Mitch McConnell and top Democrat Chuck Schumer "not to consider" a compromise crafted by Sens. Lindsey Graham of South Carolina and Louisiana's Bill Cassidy, but rather to support a bipartisan solution.
Republican Ohio Gov. John Kasich (KAY'-sik) and Democratic Colorado Gov. John Hickenlooper have teamed up to push the bipartisan path.
They signed the letter along with Nevada's Brian Sandoval, the NGA chair, and the governors of Alaska, Montana and Louisiana, where senators are being lobbied aggressively to support the latest bill.
The governors of Pennsylvania, Virginia, Massachusetts and Vermont also signed.
____
12:57 p.m.
The American Medical Association is opposed to the latest, last-ditch Republican effort to dismantle Obamacare.
That's the word Tuesday from the largest association of physicians. In a letter to Senate leaders, the AMA says the Senate should reject any bill that would jeopardize health insurance for tens of millions of Americans. The organization said Congress should focus on measures to stabilize health insurance markets.
The group says the proposal from Sens. Lindsey Graham and Bill Cassidy violates the precept of "first do no harm." The AMA expressed concern that repeal of Medicaid expansion and temporary block grants through 2026 would result in tens of millions of people losing coverage.
Senate GOP leaders are trying to round up support for the legislation and vote before end of the month.
____
12:28 p.m.
House Minority Leader Nancy Pelosi is telling colleagues that she wants "all hands on deck" to defeat the latest Republican effort to undo the Affordable Care Act.
Pelosi calls the bill a moral monstrosity. The Senate bill relies on sending block grants to the states to provide health coverage.
Pelosi says members are encouraged to participate in what she called a tweet storm against "Trumpcare" Tuesday afternoon from noon to 2 p.m.
She is also urging members in "this emergency request" to schedule town hall meetings and press conferences to speak out against the legislation. Senate Republicans must pass the measure by Sept. 30 to avoid a Democratic filibuster.
Pelosi says House Democrats will fully mobilize to lift up the voices of families who would be devastated by the legislation.
____
10:40 a.m.
Senate Majority Leader Mitch McConnell is praising a last-ditch Republican bill to repeal and replace "Obamacare" — the latest sign the GOP's repeal effort may be back from the dead.
McConnell calls the bill by Sens. Bill Cassidy and Lindsey Graham "an intriguing idea, and one that has a great deal of support."
The bill would undo major elements of Barack Obama's health care law and send block grants to the states instead. The Senate must act on the bill by Sept. 30 — or face a certain Democratic filibuster.
McConnell says the GOP's ability to repeal the law after years of promises "may well pass us by if we don't act."
___
3:28 a.m.
Top Senate Republicans say their last-ditch push to uproot President Barack Obama's health care law is gaining momentum.
But the GOP has less than two weeks to succeed. And it still faces a tough fight to win enough rank-and-file support to overcome Democratic opposition and reverse the summer's self-inflicted defeat on the issue.
Republicans commanding the Senate 52-48 would lose if just three GOP senators are opposed.
That proved a bridge too far in July. Three attempts for passage of similar measures fell short and delivered an embarrassing defeat to President Donald Trump and Senate Majority Leader Mitch McConnell.
McConnell has said he'd not bring another alternative to the Senate floor unless he knew he had the 50 votes needed. Vice President Mike Pence would cast the tie-breaking vote.