The Latest: Bargainers announce $1.3 trillion budget deal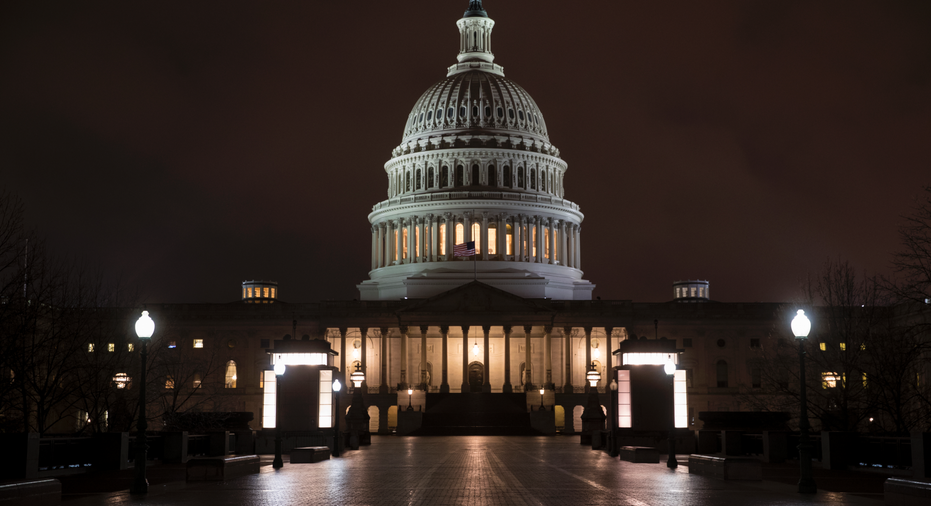 The Latest on negotiations in Congress over a $1.3 trillion government spending bill (all times local):
8:20 p.m.
Congressional bargainers have announced a bipartisan $1.3 trillion budget deal financing government agencies for the rest of this federal fiscal year. Lawmakers now have until midnight Friday to approve it and prevent the year's third embarrassing government shutdown.
Passage seems certain.
President Donald Trump was limited to $1.57 billion to begin constructing his wall with Mexico and take other border security measures. The bill does not contain steps to protect young Dreamer immigrants from being deported.
It also has no federal payments to subsidize health insurers in order to help curb premium increases this fall, just before congressional elections.
The compromise provides big spending increases for defense and domestic programs. That includes added money for veterans, infrastructure projects and attacking the growing, deadly use of opioid drugs.
___
3:08 p.m.
The White House is voicing its support for a $1.3 trillion government spending bill that is expected to be unveiled later Wednesday.
White House press secretary Sarah Huckabee Sanders says the president spoke with House Speaker Paul Ryan and Senate Majority Leader Mitch McConnell about "their shared priorities secured in the omnibus spending bill" and their "support" for it.
The White House notes the bill includes a number of items the president pushed for, including a boost in military spending, money for Trump's promised border wall, more money to combat the opioid crisis and new infrastructure spending.
Ryan's office says the leaders had a good conversation about the wins delivered for the president, and said he is supportive of the bill.
____
1:02 p.m.
Leading GOP lawmakers are accusing Democrats of blocking relief for consumers struggling with soaring health insurance premiums. Republicans say Democrats are playing politics over abortion, but Democrats say it's the other way around.
At a press conference, some Republicans grew irritated.
Sen. Lindsey Graham of South Carolina addressed Democratic objections -- saying, "This is phony ... I hope you lose votes. I hope you lose seats. You're not worthy of governing."
At issue is a relief package that would lower premiums for millions of people who buy their own health insurance. Republicans included longstanding federal "Hyde" restrictions on abortion funding. But Democrats say that wasn't part of the deal they thought they had, and are pressing for less restrictive language.
The impasse may doom hopes for insurance relief in the budget bill.
___
12:34 p.m.
Republicans said a gun background check provision will be tucked into the $1.3 trillion government spending bill as congressional leaders race to finish the deal.
The package will include a version of the "Fix NICS" bill, which would provide funding for states and agencies to comply with the existing National Instant Criminal Background Check system and penalties for those that don't comply. The bipartisan measure stalled in Congress, but lawmakers are anxious for passage after recent school shootings.
Adding the guns provision was among several tentative accords emerging from morning meeting with top congressional leaders, according to aides speaking anonymously because they weren't authorized to discuss ongoing negotiations publicly.
Leaders also tentatively included two tax provisions — a GOP effort to fix part of the recent tax cut law that is harming Midwestern grain companies and a Democratic one strengthening low-income housing tax credits.
__
11:14 a.m.
House Speaker Paul Ryan said congressional negotiators are in a "good place" as they try to finish a big $1.3 trillion spending bill before an end-of-the week deadline to fund the government.
Ryan told reporters, "we're finalizing and we expect to post something very soon." He spoke Wednesday as he emerged from a meeting with top congressional leaders.
Ryan and the other leaders had been meeting for about an hour Wednesday behind closed doors to finish the deal after missing earlier deadlines this week to unveil the bill.
Democrats largely agreed as they left the meeting that progress had been made.
Senate Minority Leader Chuck Schumer said, "We hope we'll be ready to go in a few hours."
__
10:02 a.m.
Two sources close to congressional budget talks say an emerging government-wide spending bill won't renew protections for young Dreamer immigrants facing possible deportation.
It also won't provide subsidies to insurers who cut costs for low-earning customers. And it won't have federal payments to carriers to help them afford to cover their costliest clients.
Both health proposals were aimed at curbing premium increases and had bipartisan support. Democrats wouldn't accept Republican demands to include abortion restrictions on the money.
President Donald Trump has ended protections for immigrants brought to the U.S. illegally as children. In return for renewing them, White House bargainers wanted more than the $1.6 billion the final bill contains for border security including Trump's proposed wall with Mexico.
The Republican and Democratic sources spoke on condition of anonymity because they weren't authorized to speak on the record about a bill that isn't yet public.
__
7:10 a.m.
Talks over a $1.3 trillion government spending bill are almost complete as the White House and Capitol Hill Democrats ironed out deals on a scaled-back first round of funding for President Donald Trump's border wall.
Congressional aides said Trump would win $1.6 billion for constructing older designs and border security technology but would be denied a more recent, far larger request for multi-year funding.
Negotiators planned to officially unveil the massive government-wide spending bill later Wednesday in hopes of passing it before a Friday midnight deadline to avoid a government shutdown.
The bill would give Trump a huge budget increase for the military while Democrats would cement wins on infrastructure and other domestic programs that they failed to get under President Barack Obama.
The aides required anonymity because they weren't authorized to speak publicly about an agreement that is not yet public.
-By Andrew Taylor
__
12:18 a.m.
Talks over a $1.3 trillion government spending bill are dragging on as lawmakers find themselves tangled in side issues ahead of a midnight Friday deadline for avoiding a shutdown.
Republican leaders had hoped that a deal could be announced Tuesday evening, allowing for votes in the House and Senate this week.
The measure on the table would provide major funding increases for the Pentagon, bringing the military budget to $700 billion and giving GOP defense hawks a long-sought victory.
Domestic accounts would get a generous 10 percent increase on average, awarding Democrats the sort of spending increases they sought but never secured during the Obama administration.
Holding up an agreement are a scaled-back plan for a border wall with Mexico and a fight over a tunnel under the Hudson River.