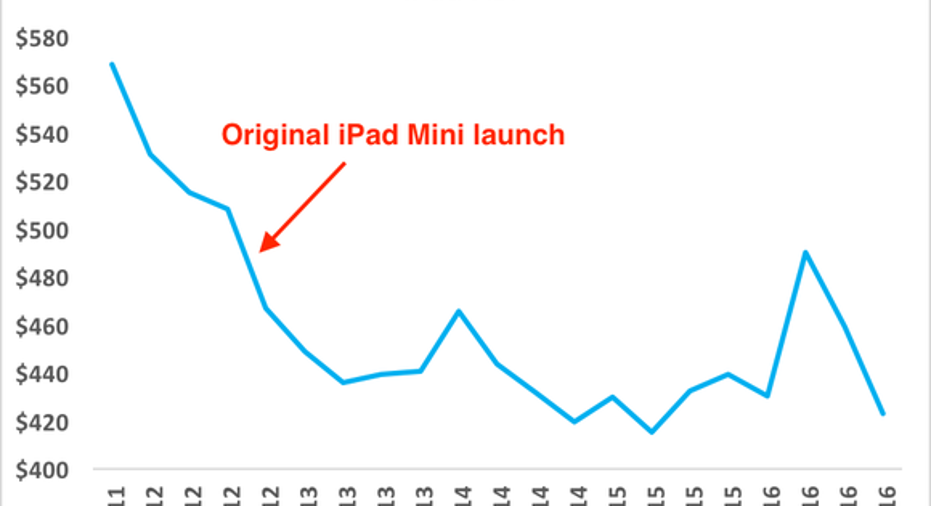 And I'm not talking about unit sales. That happened years ago, specifically Q4 2013; Apple (NASDAQ: AAPL) sold 26 million tablets that quarter, and unit sales have trended lower ever since.
Rather, it seems like Apple may be running out of product ideas for the iPad. Not only has Apple started to elongate iPad product cycles, which now seem to be occurring every two years or so instead of every year, but the new features and updates that the iPad gets are increasingly incremental. This has been true of iPhones and smartphones more broadly for quite some time, but at least in the case of the iPhone the device continues to sell in record numbers.
Consider the current round of rumors regarding the iPad(s) that Apple is expected to unveil as early as next week, according to MacRumors.
iPad Pro and Apple Pencil. Image source: Apple.
Rumor has it
Three new iPad models are reportedly imminent: a 9.7-inch model, a 10- to 10.5-inch model, and a 12.9-inch model. The smaller and larger versions of the trio are differentiated enough in form factor, but it's hard to imagine consumers complaining that their 9.7-inch iPad would be so much more useful if only the diagonal measurement was 0.8 inches larger.
As far as specs go, the newest models should receive an A10X chip, which should be a more powerful version of the A10 Fusion that powers the iPhone 7 and 7 Plus. Beyond the expected cadence of spec bumps, there don't appear to be any major new features or functionalities in store. There's also almost no way that Apple is ready to transition iPads to OLED displays, which are expected to appear (finally) this year in the most expensive iPhone. That's especially true since displays are always the largest cost driver, OLED displays are quite expensive, and the iPad is much larger than the iPhone.
Is Apple focusing on the wrong market segment?
Judging by the steady decline in iPad average selling prices (ASPs) over the years following the introduction of the cheaper iPad Mini lineup, it should be clear that the smaller form factor is resonating more with consumers than the larger and more expensive models.
Data source: SEC filings. Chart by author. Calendar quarters shown.
Yet the iPad Mini still gets lower priority than the larger iPads. Instead, Apple is focusing on moving upmarket with the 12.9-inch iPad Pro that is intended to cater to the enterprise. In order for Apple's enterprise strategy to work, it needs to really make the iPad Pro competitive as a laptop replacement. This is a pitch that Apple has only recently begun making, historically positioning the iPad as a third category of device that consumers should buy, while rivals have been pursuing 2-in-1 form factors for much longer.
Apple makes it clear that it does not target the sub-$200 tablet market. That's all fine and in line with Apple's premium brand positioning, but it could still tackle the $200-plus tablet market by simply allocating more developmental resources to the iPad Mini. On one hand, it makes financial sense that Apple continues to prioritize the iPhone as its largest revenue driver. On the other hand, the iPad arguably needs more attention so that iPad unit sales can perform better.
10 stocks we like better than AppleWhen investing geniuses David and Tom Gardner have a stock tip, it can pay to listen. After all, the newsletter they have run for over a decade, Motley Fool Stock Advisor, has tripled the market.*
David and Tom just revealed what they believe are the 10 best stocks for investors to buy right now... and Apple wasn't one of them! That's right -- they think these 10 stocks are even better buys.
Click here to learn about these picks!
*Stock Advisor returns as of February 6, 2017
Evan Niu, CFA owns shares of Apple. The Motley Fool owns shares of and recommends Apple. The Motley Fool has the following options: long January 2018 $90 calls on Apple and short January 2018 $95 calls on Apple. The Motley Fool has a disclosure policy.