The Healthcare Revolution for Seniors That Few Are Talking About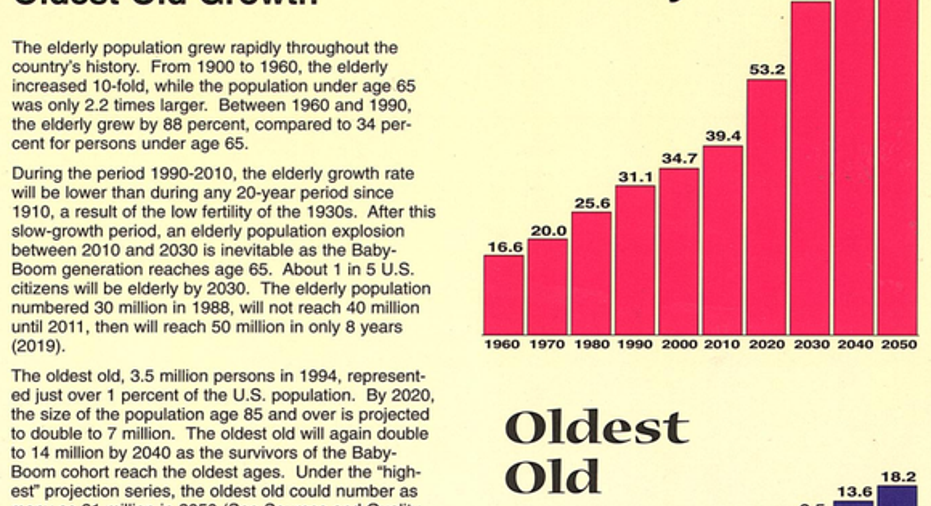 Image source: Pixabay.
We have a senior dilemma on our hands, but you may not realize it yet.
A growing (older) dilemma On one hand, people are living longer than ever thanks to advancements in medicine, improved access to medical care, and increased knowledge regarding what could be risk factors for certain diseases, including cancer. Since the 1960's, the average life expectancy in the U.S. has jumped by nearly nine years to almost 79, according to the Centers for Disease Control and Prevention. That's a good thing, because it means more time to do the things we enjoy and spend time with the friends and family we love.
But data from the U.S. Census Bureau also implies possible headwinds in the future. From a population of 39.4 million seniors in 2010, the Census forecasts an explosion to 69.4 million seniors by 2030, mostly as a result of baby boomers aging and retiring. By 2050, we'll have nearly 79 million seniors in this country. The numbers of the "oldest old," defined as those ages 85 and up, are projected to more than triple from 5.7 million in 2010 to 18.2 million by 2050.
Image source: U.S. Census Bureau.
Again, living longer and better lives is a good thing for all the reasons noted above. However, seniors and the oldest old are also the biggest strain on our healthcare system (i.e., they need the most medical care), meaning we can potentially expect healthcare spending and demand to rise at a rapid pace in the coming decades.
A quiet revolution is taking place for seniors How will we care for this growing population of aging seniors? The solution offered by the federal government is Medicare.
Medicare is a program that comes in two parts: Part A, which typically has no premium and covers eligible hospitalization costs, and Part B, which does have a monthly premium attached and helps pay for eligible outpatient services and clinic visits. In general, Medicare covers about 80% of a seniors' eligible medical costs with the patient handling the remaining 20%. This entitlement program is a good way of easing the burden on our nation's seniors during their golden years. But it also comes with one major flaw: There is no annual cap to the amount a person may be required to pay out of their own pocket under Medicare.
This last point is why we've been witnessing a quiet but steady revolution in caring for our aging population: the rise of Medicare Advantage.
Medicare Advantage is a plan offered almost exclusively to seniors that replaces the original Medicare, and allows them to add more expansive coverage options such as prescription drug coverage, vision, and dental. Medicare Advantage plans are offered by private insurers, not the federal government, but they maintain at least the same benefits as the public plan. What that means for seniors is they'll pay no more for certain services under a Medicare Advantage plan than they would were they covered by the original Medicare.
Image source: Medicare.gov.
The major difference between Medicare Advantage and original Medicare is that Medicare Advantage plans do have annual caps on what you can be asked to pay out-of-pocket. The limits tend to be adjusted each year in step with inflation, but in 2015 the maximum out-of-pocket expense for a Medicare Advantage member was $6,700. If a patient has to undergo a costly operation or cancer treatments, Medicare Advantage's out-of-pocket cap could be a financial lifesaver, especially for pre-retirees or recent retirees, whose nest eggs took big hits during the Great Recession.
A recent study from J.D. Power also showed that seniors on Medicare Advantage plans tend to have longer doctor-patient relationships (which is valuable for establishing a diagnostic history) and usually wait less to see their primary care physician. Under the original Medicare, patients waited an average of 14.7 days to be seen by their PCP, compared to just a 7.7 days for Medicare Advantage members.
Of course, nothing is perfect. Medicare Advantage plans can potentially cost more than original Medicare on a premium basis -- which makes sense, considering they are more encompassing and have those out-of-pocket limits -- and the insurers offering these plans can freely add and drop health providers or approved medications on an annual basis. In other words, the risks that your PCP may not be within network, or that your medication may not be on the approved list, are greater with a Medicare Advantage plan.
The data doesn't lieDespite these concerns, the numbers don't lie: Seniors love their Medicare Advantage plans. The Kaiser Family Foundation notes that membership in Medicare Advantage plans has more than doubled from 13% of all Medicare-type plans in 2005 to 30% as of 2015. We can see even more detail below from the newly updated and transparent data from the Centers for Medicare and Medicaid Services.
Image source: Centers for Medicare and Medicaid Services.
Between 2010 and 2014, original Medicare enrollment has grown by more than 1.7 million people, or 4.9%. By comparison, the number of Medicare Advantage enrollees has jumped from 11.8 million to 16.4 million, a gain of nearly 40%. As a whole, the percentage of eligible Medicare enrollees who have Medicare Advantage plans has jumped 5% to 30% since 2010, with the majority of enrollees coming from California, Texas, New York, Florida, and Pennsylvania.
Who's really reaping the rewards of the rise in popularity of Medicare Advantage plans? The enrollees appear to big beneficiaries, as the plans help them remove a lot of the expense risk associated with original Medicare coverage. For an elderly individual with a chronic condition, Medicare Advantage could be a smart move from both a medical and financial perspective.
We're also seeing private insurers that offer Medicare Advantage plans flourish. Some of the health insurance providers that are most reliant on Medicare Advantage to drive their profits are Universal American , Humana , Health Net , and UnitedHealth Group , the nation's largest insurer. Universal American nets about 70% of its revenue from Medicare Advantage plans, Humana in the neighborhood of 65%, and both Health Net and UnitedHealth around a quarter each. Medicare Advantage growth could be a particular sweet spot for UnitedHealth Group, which has been critical of the dynamics of the Affordable Care Act and may wind up dropping out of the Obamacare marketplaces entirely in 2017. All of these insurance providers should continue to see benefits as Medicare Advantage plans gain steam.
Although seniors should analyze both original Medicare and Medicare Advantage to see which one best fits their health and financial needs, there's no denying anymore that Medicare Advantage plans are set to play a critical role in the physical and financial well-being of our nation's seniors in the years to come.
The article The Healthcare Revolution for Seniors That Few Are Talking About originally appeared on Fool.com.
Sean Williamshas no material interest in any companies mentioned in this article. You can follow him on CAPS under the screen nameTMFUltraLong, track every pick he makes under the screen nameTrackUltraLong, and check him out on Twitter, where he goes by the handle@TMFUltraLong.The Motley Fool recommends UnitedHealth Group. Try any of our Foolish newsletter services free for 30 days. We Fools may not all hold the same opinions, but we all believe that considering a diverse range of insights makes us better investors. The Motley Fool has a disclosure policy.
Copyright 1995 - 2015 The Motley Fool, LLC. All rights reserved. The Motley Fool has a disclosure policy.