The Germans Are Coming for Tesla Motors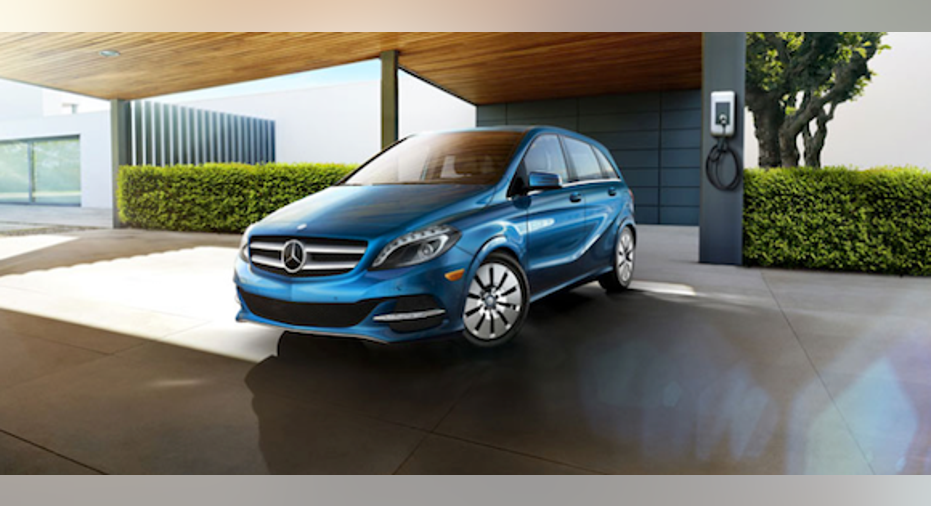 Model S. Image source: Tesla.
The best way to attract the attention of a competitor is to steal its most-profitable customers. That's what investors are seeing play out in the luxury market, with Tesla's dominance of the U.S. luxury segment in 2015 (even with traditional rivals "punching" cars more than ever before). This is a segment that has long been dominated by the German Big Three -- BMW , Volkswagen , and Daimler AG .
Model S beat out all other comparable European models, including the Porsche Panamera, Audi A7, Audi A8, BMW 6 Series, BMW 7 Series, Mercedes-Benz CLS-Class, and even the venerable Mercedes-Benz S-Class. This was mostly true in 2014, as well, but the headline story was really Tesla overtaking the S-Class.
This top-down approach is partially why you could argue that Tesla is not technically "disruptive," because classical disruption theory states that new disruptors come in from new or low-end markets. That creates asymmetric competition where incumbents don't have much motivation to innovate and compete. But when you start grabbing the cream of the crop, incumbents are highly motivated to respond in kind.
The Germans are coming for Tesla.
BMW doubles down on "i"Just last week, as it celebrated its 100th anniversary, BMW made it quite clear that its future will be built on electric cars. The Bimmer maker expects 2016 to set new records in terms of both unit volumes and profit before tax.
The Automotive division should see an EBIT margin of 8% to 10%. Importantly, BMW is putting an aggressive focus on shifting its strategy toward EVs, and plans on adding more autonomous capabilities. In order to help fund the development investments, BMW will focus on its existing lineup of large luxury SUVs like the X7, as well as its flagship 7 Series.
i8. Image source: BMW.
BMW already offers the all-electric i3 alongside the plug-in hybrid i8, but CEO Harald Krueger's Strategy NUMBER ONE > Next includes a wide range of EVs to expand its "i" portfolio. The next model will be the iNEXT, which will take at least five years to hit the market. In the meantime, a convertible i8 and a revamped i3 with a bigger battery are en route.
Daimler ditches TeslaHaving partnered with Tesla years ago for the electric Smart car, Daimler is no stranger to the Silicon Valley company's technology. Daimler invested in Tesla way back when Tesla was still private, only to sell its entire stake in 2014.
B-Class. Image source: Mercedes-Benz.
Tesla has also been supplying Daimler with the battery pack and electric drive train for its B-Class for a couple of years. However, rumors first surfaced last year that Daimler was preparing to ditch Tesla -- rumors that came to fruition last week when Daimler confirmed it was cutting all ties to the electric automaker.
Instead, Daimler will go it alone from here on out, insourcing EV development. Daimler is also investing heavily in expanding its own battery production, expecting to triple capacity during the next two years.
The upside of VW's DieselgateIn the wake of its massive Dieselgate scandal, VW hopes to rebuild the brand around EVs, while expectedly trying to shift away from diesel engines. VW was already dabbling in EVs, announcing an electric Audi SUV last year slated for a 2018 launch. VW also started selling its electric e-Golf in a handful of states a couple of years ago. But the e-Golf was arguably a compliance vehicle -- selling in limited volumes in select markets specifically to meet fleet emissions regulatory requirements.
BUDD-e concept. Image source: VW.
But the scandal has added a new sense of urgency. Regulators are still trying to come up with an appropriate punishment for VW, and Elon Musk supports the idea of making VW accelerate its EV roadmaps. VW has now unveiled its BUDD-e concept car.
However, VW faces an uphill battle in the U.S., especially after the company's U.S. chief Michael Horn resigned, who was seen as a key intermediary with dealers. American VW dealers have invested heavily in inventory, but sales have already been falling short of targets.
Three's companyTo be clear, the German Big Three have already been setting their sights on Tesla. Automotive development cycles are long, and Tesla has been steadily growing unit volumes while capturing the broader media's attention. Incumbents have undoubtedly been investing in EV development for a few years now, but we're now starting to see some meaningful progress with EV product introductions and announcements.
But we're now at an inflection point thanks to a unique confluence of events. Tesla took the U.S. luxury crown at the same time as launching Model X, which threatens yet another lucrative market segment, luxury SUVs. Dieselgate has widespread implications concerning policy trajectory, which increases regulatory risk for all gas-powered incumbents.
Tesla will need to work to defend the turf that it's claimed, but I don't have too many fears about the company's ability to compete.
The article The Germans Are Coming for Tesla Motors originally appeared on Fool.com.
Evan Niu, CFA owns shares of Tesla Motors. Evan Niu, CFA has the following options: long January 2018 $180 calls on Tesla Motors. The Motley Fool owns shares of and recommends Tesla Motors. The Motley Fool recommends BMW. Try any of our Foolish newsletter services free for 30 days. We Fools may not all hold the same opinions, but we all believe that considering a diverse range of insights makes us better investors. The Motley Fool has a disclosure policy.
Copyright 1995 - 2016 The Motley Fool, LLC. All rights reserved. The Motley Fool has a disclosure policy.