The First 3D Printing Facility in Space Is Open for Business!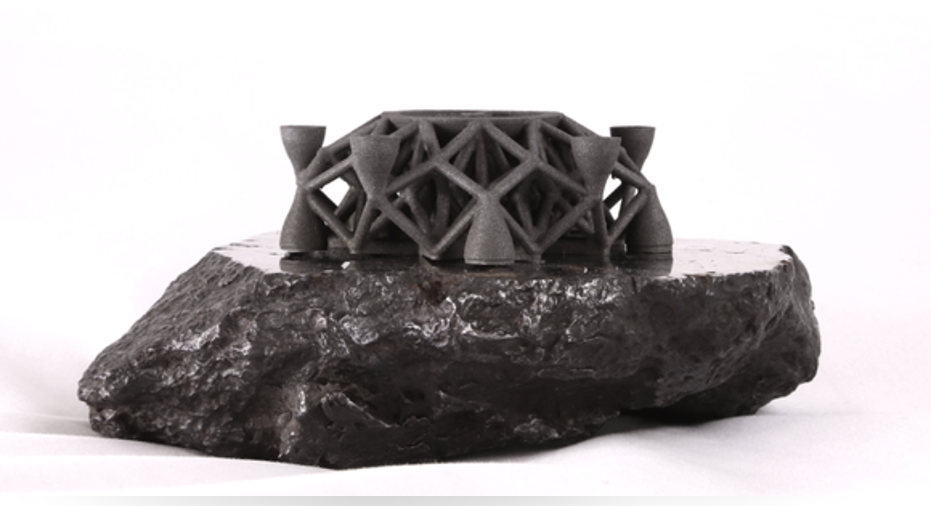 The International Space Station is now equipped with a permanent 3D printer thats commercially available. Image source: NASA.
If you're ever zooming around in space and find yourself in need of a 3D printer, just stop by the International Space Station. On March 26, the ISS became equipped with a permanent 3D printer, supplied by privately held Made In Space and partnerLowe's Innovation Labs, the innovative hub of the home retailer. The 3D printer was among cargo delivered to the orbiting lab as part ofOrbital ATK'sfifth commercial resupply mission for NASA, and its available for use by NASA and others for a fee.
This story is a testament to how far 3D printing has come since it was largely invented by the founders of3D Systems andStratasys in the mid-1980s as a quite basic technology to speed up prototyping. Heres what you should know.
The historic significance of the"Additive Manufacturing Facility"
Image source: Made In Space.
While this 3D printer -- dubbed the "Additive Manufacturing Facility" -- is the second 3D printer in space, its the first 3D printer thats a permanent fixture there, as well as the first thats commercially available. Made In Space, founded in 2010 and based at NASA's Ames Research Center, launched its first 3D printer to the ISS in September 2014, as part of its "3D Printing in Microgravity Experiment" demonstration. It used findings from that mission to develop the AMF.
The AMF is also the first "hardware store in space," with Lowes the first retailer operating off-Earth. While Made In Space owns the 3D printer, Lowe's will use it to produce branded tools that will be commercially available. Autodesk also clinched a first: Its software was used to design the printer. (Made In Space also used Autodesks software to design its first 3D printer.)
About the AMFThe AMF is an extrusion-based 3D printer that has a build envelope of 14 cm (w) x 10 cm (d) x 10 cm (h) -- equivalent to about 5.5 x 3.9 x 3.9 inches. In addition to having a larger print volume than its predecessor, it also has expanded materials capabilities. Initially, it will print in more than 30 polymers, including ABS (which is the plastic from which Legos are made), HDPE, and PEI/PC, but its designed to print with other materials as they become approved for ISS operations. The printers resolution capabilities are in the 0.1-to-0.44-millimeter range, depending upon material.
The 3D printer can be operated locally and remotely, including from Earth. This remote operability feature opens up the AMF for commercial use, as it allows Made In Space personnel and customers on Earth to upload designs to be 3D-printed. It also provides backup support to those operating the AMF locally.
Image source: Made In Space.
The AMF isavailable to research and commercial entities, as well as to NASA and the U.S. National Laboratory on board the ISS. It can be used to produce hardware for experimentation, tools, parts, education purposes, and microgravity research. Built to be modular and upgradable, the AMF will also be used as a research platform to advance other in-space manufacturing techniques.
NASA and other customers will pay Made In Space to use the AMF. The cost will generally range from $6,000 to $30,000 for one print job, Made In Space's head of product strategy, Spencer Pitman, toldTech Crunch,though there are discounts for education initiatives. Pitmansaid that the company already has orders from more than 20 customers, including for medical research components, parts for satellites and other spacecraft, and parts for school projects, according toTech Crunch.
Benefits of in-space 3D printingThe benefits of in-space 3D printing include faster delivery time; the ability to design lighter, more optimized parts; and increased safety. Some benefits also result in cost savings.
Being able to produce spare parts and tools in space will be tremendously valuable to NASA and astronauts. Currently, NASA has to launch considerably more parts than any mission will need, which is extremely costly. After all, it's not like astronauts can make quick jaunts tothe nearest hardware store or call a contractor like we earthlings can if we're in need of a quick fix.
Another advantage relates to the design of the parts themselves. Objects made on Earth often need to be structurally reinforced to withstand the stresses of the launch, which subjects them to gravitational forces three to nine times those on Earth. This additional weight isnt needed once the object is in orbit, so in-space printing will allow for the creation of ultra-light objects. Less material use means less cost.
These facts illustrate the potential for in-space 3D printing to make life in space easier and considerably less costly:
About 30% of the parts on the ISS could be replaced by 3D-printed constructs, according to Made In Space.
It costs roughly $10,000 to launch just one pound of payload into orbit, according to NASA. However, the true cost is likely far higher because all the materials and parts going to the ISS have to go through a lengthy and costly certification process. NASA has already spent $1.2 billion on spare parts for the ISS, the vast majority of which will never be used, according to Made In Space.
Ultimately, NASA's goal is to include 3D printers on all space missions. Beyond the moneysaving and convenience factors, there's the safety aspect. There's no way even a group of rocket scientists can foresee every conceivable emergency scenario. So, having a 3D printer on board to crank out jerry-rigged fixes on space missions could be lifesaving.
Kick-starting the burgeoning "space economy"The AMF's availability for commercial business should help kick-start the burgeoning space economy, which some predict could ultimately be a trillion-dollar market. Self-sufficiency, or at least near-self-sufficiency, is a must if humans are to eventually colonize other planets, such as Mars, which SpaceX founder and Chairman Elon Musk believes will occur within 20 years.
The first object -- a prototype of a spacecraft -- ever 3D-printed from asteroid material. Image source: Planetary Resources.
A few companies, such as Planetary Resources and Deep Space Industries, have formed with the goal of mining asteroids to use as feedstock for off-Earth manufacturing. Planetary Resources, in fact, together with its partner 3D Systems, revealed the first object ever 3D-printed using asteroid material at the Consumer Electronics Show in January 2016.
One giant leap for investors?Off-Earth 3D printing will certainly eventually present investment opportunities for individual investors. While Made In Space is currently a private company, there's the possibility that it could go public to raise capital to help fund expansion.
Companies entering the asteroid mining business also bear watching. Planetary Resources, which is building spacecraft for harvesting asteroids, counts billionairesLarry Page, CEO and co-founder ofAlphabet(parent company of Google), and Sir Richard Branson, founder of the Virgin Group, among its founding investors.
3D Systems and Stratasys? Personally, I don't think they'll enter the off-Earth 3D printing "space," as it has extremely high barriers to entry, and they have enough potential business on Earth.
One thing's for sure: The sky is no longer the limit for 3D printing -- or its profits.
The article The First 3D Printing Facility in Space Is Open for Business! originally appeared on Fool.com.
Suzanne Frey, an executive at Alphabet, is a member of The Motley Fools board of directors. Beth McKenna has no position in any stocks mentioned, and will leave the Red Planet to Martians and billionaires if it doesn't have pretty greenery, but will contribute to science by looking after Musk's digs during his extended absence. The Motley Fool owns shares of and recommends Alphabet (A and C shares). The Motley Fool recommends 3D Systems and Stratasys. Try any of our Foolish newsletter services free for 30 days. We Fools may not all hold the same opinions, but we all believe that considering a diverse range of insights makes us better investors. The Motley Fool has a disclosure policy.
Copyright 1995 - 2016 The Motley Fool, LLC. All rights reserved. The Motley Fool has a disclosure policy.