The Economy's Lone Strength: Manufacturing?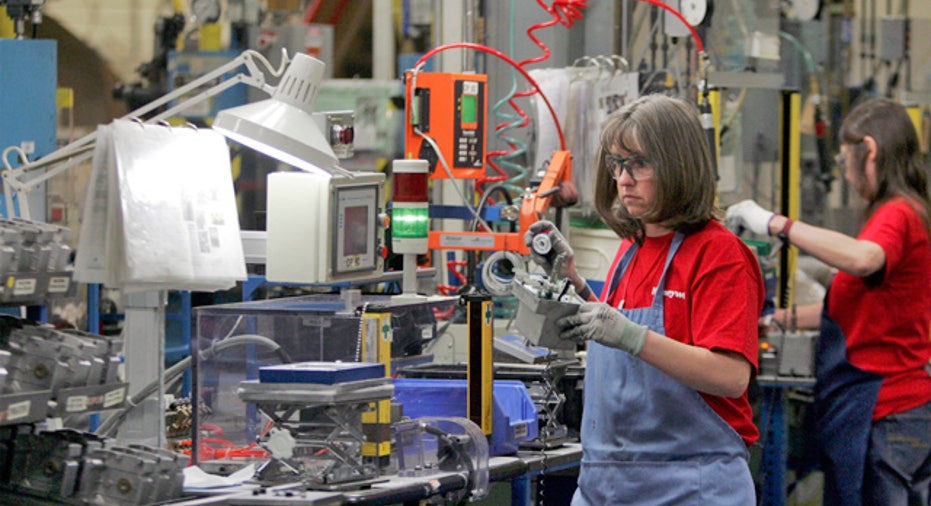 With unemployment stuck at around 9% and the housing market threatening to drag the U.S. into another recession, manufacturing has provided one of the few bright spots on the economic landscape.
Indeed, the ISM Manufacturing Index, which measures the level of manufacturing activity in the previous month, is expected to reach its highest level in nearly three decades when the March figure is released on Friday.
That's a little ironic given that the sector's supposed decline has been regarded for years as a wistful reminder of a time when U.S. factories hummed, churning out products for consumers around the globe.
Turns out they still do.
"Manufacturing has a bum rap," said Frank Vargo, vice president for international economic affairs with the National Association of Manufacturers. "Manufacturing is not on its last legs. It's not at its peak, but it's growing faster than the rest of the economy and it's leading the economy."
Consider some numbers from the U.S. Department of Commerce: 2010 factory shipments totaled $5 trillion, up 9% from $4.6 trillion in 2009; the value of pesticides, fertilizers and other agricultural chemicals shipped from U.S. factories rose 44% in 2010 from 2009; the value of iron and steel mill products rose 42% from a year earlier; and the value of construction machinery increased 35% year over year.
What's more, Vargo noted that in 2010 the average U.S. factory worker could produce 40% more than the same worker did a decade ago. "I mean, that's productive," he said.
As indicated by the heavy industrial products whose shipment values have surged in recent years, U.S. manufacturers are shipping most of these goods overseas to developing countries.
"Exports is where the manufacturing strength is so we need to keep those export markets strong," said Vargo.
It's those overseas markets that have fueled the sector's revival. Big, developing economies in China, India and Brazil have bounced back from the recent economic crisis faster than the U.S. and strong demand in those countries has prodded production here in the U.S.
That production has by necessity been ramped up to its highest level in three decades (according to the forecasted IMS index reading) in large part because inventories were dramatically depleted during the economic crisis.
With demand drying up in late 2008 many companies liquidated inventories to ensure they didn't have products gathering dust in warehouses. Other companies, in an effort just to stay afloat and raise cash during the worst of the downturn, liquidated virtually all of their inventories.
Now that demand has increased as the global economic crisis has subsided companies have needed to quickly rebuild those inventories and manufacturers have benefited.
"It was predictable that when the economy began to turn the shelves were going to have to be restocked," said Cliff Waldman, an economist for the Manufacturers Alliance/MAPI, a public policy and economics research organization in Arlington, Va.
That accounts for the strong manufacturing data as reported in various government and private indexes.
The crisis in Japan has raised concerns that supply chain disruptions in that devastated country could hinder U.S. manufacturing efforts, but those fears seem focused almost exclusively in the auto industry.
While economists are quick to point out the discrepancies between the conventional wisdom toward U.S. manufacturing, some of the widely held views are accurate. Namely, the U.S. no longer competes well in the consumer goods sector -- toys, video games and clothes, for instance.
Instead, the U.S. has taken a leading role in the production of what are called capital goods, or products used by manufacturers to make other goods. High-tech robotics used in factories to make medical devices are a good example.
"It's important to remember what the U.S. does well, and what U.S. manufacturers are good at is capital goods -- goods used by businesses to make money. A pizza oven is capital spending for a pizza shop," Waldman explained.
Elaborating, Waldman said U.S. manufacturers have thrived in recent years creating and supplying the market for goods that help developing nations "increase the capital efficiency of the manufacturing process."
Robotics is a rapidly emerging technology that increases the capital efficiency of the manufacturing process, he noted. So a plant in China might buy a U.S.-built robot to increase its manufacturing efficiency.
"That's where our niche is," said Waldman.
Cleveland-based Parker-Hannifan Corp. (NYSE:PH), which manufactures an array of motion control technologies used in the production of other equally sophisticated products, is a good example of a U.S. company that makes capital goods.
Zacks Investment Research recently named Parker-Hannifan one of the top five performers in the industrial machinery industry.
Economists believe China, Brazil and India will remain good customers for these types of products for decades to come as they build up their own manufacturing capabilities.
With the U.S. trade imbalance standing at about $113 billion in the fourth quarter of 2010, the inherent conflict in that relationship is not lost on economists.
"It's slightly ironic that we are exporting the capital that other countries can use to increase their manufacturing productivity," said Waldman.