The Dow's biggest single-day gains and losses in history
The coronavirus pandemic has produced some of the biggest market swings on record
Volatility remains the name of the game for U.S. investors as we attempt to rebound from the devasting economic and health impacts of the coronavirus and prepare for a new Biden-Harris White House administration.
Ticker
Security
Last
Change
Change %
I:DJI
DOW JONES AVERAGES
36245.5
+294.61
+0.82%
SP500
S&P 500
4594.63
+26.83
+0.59%
I:COMP
NASDAQ COMPOSITE INDEX
14305.03233
+78.81
+0.55%
Still, concerns over the economy, a potential second wave of COVID-19 and vaccine updates continue to produce some of the most volatile sessions in history, including November 9, 2020 developments.
PFIZER'S COVID-19 VACCINE: WHAT TO KNOW
FOX Business takes a look at some of the biggest swings for the Dow 30 on record.
BIGGEST POINT GAINS 
3/24/2020: 2,117.72
With the U.S. economy at a virtual standstill amid the coronavirus pandemic, President Trump is signaling there may be a light at the end of the tunnel.
"I'd love to have the country opened up and raring to go by Easter," Trump said on a virtual coronavirus town hall held by Fox News. In a separate interview with Bill Hemmer on Fox News Trump added, "We want to get our economy back."
His remarks, along with the progress being made in Congress towards a $2 trillion stimulus package, juiced investors.
FED CHAIR POWELL SAYS WEAR A MASK
3/13/2020: 1,985  
Friday the 13th turned out to be good luck for investors as the Dow turned in its biggest point gain ever-rising nearly 2,000 points or over 9 percent after President Trump took hard steps to combat the coronavirus by declaring a national emergency and enlisting America's biggest companies such as Walmart, Target, CVS, Google and others to help organize, test and get the crisis under control.
4/6/2020: 1,627.46  
In what continues to be a roller coaster year for investors, good news came in what appeared to be a stabilization of coronavirus cases in hot spots such as New York. Additionally, there is talk of perhaps a fourth stimulus package that could come as soon as May valued at an estimated $1.5 trillion,
3/2/2020: 1,293.96  
The first trading day of March turned in the Dow's biggest one-day point gain of 1,293.96 after stocks had the worst weekly performance since the financial crisis. Gains accelerated into the closing bell and also lifted the S&P 500 and Nasdaq to the biggest one day point gains as well. Investors returned to equities scooping up heavily discounted stocks and as U.S. health officials make headway in planning around combatting the coronavirus.
3/4/2020: 1,173.45  
Super Tuesday provided more clarity on the race for 2020 as stocks rallied the following day. Former Vice President Joe Biden, who was political roadkill just last month, surged in his wins. As a result billionaire Mike Bloomberg ended his campaign, endorsing Biden. While Sanders also performed well, investors celebrated Biden who is considered a more moderate candidate for Wall Street and corporate America.
3/10/2020: 1,167.14  
As President Trump floated ideas to help combat the economic strain of the coronavirus, investors liked what they heard. A potential payroll tax that could eventually become permanent headlined his list and that helped the Dow roar back from a deficit to close over 1,167 points higher.
12/26/18: 1,086  
Driven by gains in the energy, retail and tech sectors, the climb marked the first time that the Dow has gained more than 1,000 points in a single session. The single-day increase was also the Dow's largest rise since 2008 when the market experienced extreme volatility during the financial crisis.
3/17/2020:  1,049  
With St. Patrick's Day parades canceled nationwide, stocks some luck clawing back from the worst point drop on record, nearly 3,000 the Monday prior adding 1.049 or over 5 percent.
Investors reacted positively to efforts by the Fed and U.S. Treasury Department to shore up liquidity and jump-starting lending to cash strapped businesses.
10/13/08: 936  
The Dow soared this day after governments and central banks coordinated to pour money into markets in a bid to jumpstart a global economy frozen by the 2008 financial crisis.
10/28/08: 889  
Just two weeks later, the Dow nearly set another single-day record on optimism that the Fed would cut a key interest rate. The rise occurred even as consumer confidence at the time reached its lowest level on record.
11/09/2020: 835
Pfizer and BioNTech disclosed their COVID-19 vaccine was 90% effective in trials. The disclosure, which followed Biden being declared President-elect over the weekend, sent the Dow up over 1,700 points before paring gains to 835, rounded up.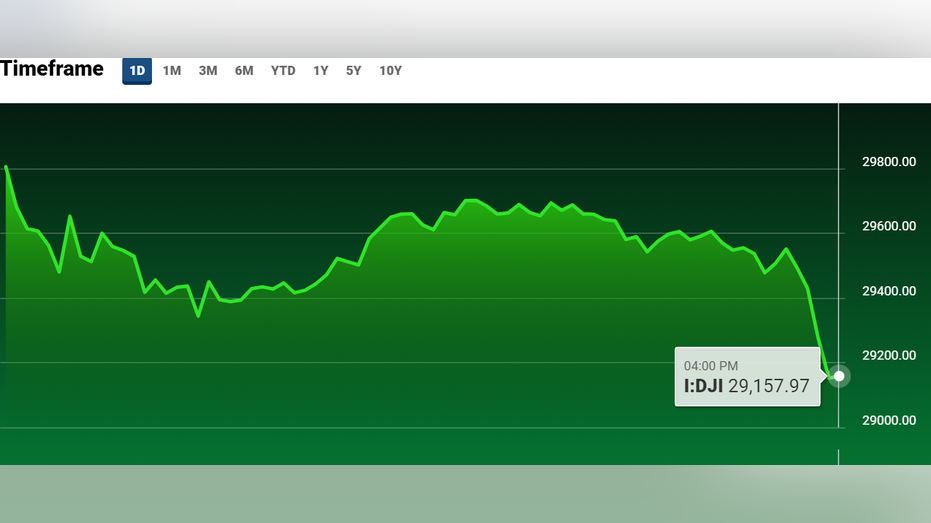 GET FOX BUSINESS ON THE GO BY CLICKING HERE 
BIGGEST POINT LOSSES 
3/16/2020:  2,997 points
Selling accelerated during the final hours of trading this Monday as the coronavirus task force updated the nation on the crisis. In response to a question, President Trump said the crisis could extend until August.
The Dow Jones Industrial Average dropped 2,997 points or nearly 13 percent. The worst point drop on record and worst turn since the 1987 financial crisis.
The markets also ignored an emergency rate cut the prior Sunday in which the Fed cut rates to near zero.
3/12/2020:  2,352.60  
Heavy and consistent selling turned this session into the Dow's worst day since Black Monday 1987. Investors kicked into sell mode despite a second liquidity boost from the Federal Reserve which did little to outweigh fears over the spreading coronavirus.
3/9/2020:   2,013.76  
It was a manic Monday on Wall Street as the Dow, S&P 500 and Nasdaq Composite all dropped more than 7 percent. The catalyst was not only ongoing coronavirus cases but an oil price war between Russia and Saudi Arabia which sent oil down over 30 percent the worst drop since 1991.
VIX SPIKES TO 2008 FINANCIAL CRISIS LEVELS
6/11/2020:  1,861.82 
One day after the Nasdaq Composite crossed the 10,000 mark for the first time ever and investors celebrated the Fed's commitment to keep interest rates near zero through 2022, investors had a change of heart and kicked into sell mode.
Instead, they focused on a slight uptick in cases of COVID-19 as well as Fed Chair Powell's comments that the economic rebound could be weak.
2/27/2020:  1,190  
With just one trading day left in the month of February, which historically is strong for U.S. stocks, the Dow tumbled over 1,190 points with the bulk of the selling taking place in the final half-hour of trading.
2/5/2018:  1,175  
2/8/2018: 1,033  
February 2018 marked a shift for U.S. investors who had pushed U.S. stocks to fresh record levels. After several days of volatility, the Dow posted two of its worst point drops in history. Investors began mulling the reality that interest rates would, in fact, rise as the Federal Reserve promised to end its run of record-low interest rates. The Fed did make good on its promise, raising rates for the third time this year last month. Stocks rebounded amid that trend, notching new records.
2/24/2020: 1,031.61  
Cases of the deadly coronavirus are spreading beyond China, to Europe, South Korea and the United States. While the disease is not being identified as a pandemic at this point by global health officials, investors are bracing for more cases and a possible hit the global economy.
3/5/2020: 969.58  
Skittishness returned to the market as the health officials in both Washington and California declared a state of emergency because of the outbreak, which has infected at least 93,090 people worldwide and killed 3,198. In the U.S. the number of U.S. cases of COVID-19 climbed to 129 and the death toll ticked up to 11, including the first fatality outside of Washington state. The drop follows the second biggest point gain, 1,173.45 on March 4, after former Vice President Joe Biden bounced back in Super Tuesday voting.
9/29/2008: 838.55  
The U.S. House of Representatives sent the market tumbling on this day after it rejected a $700 billion financial bank bailout package, stunning investors and forcing the U.S. government to take other measures to shore up the tanking economy.
10/10/2018:  831.83 
Traders suggested rising U.S. bond yields may have sent investors to do some profit-taking. Large-cap techs also pulled back to the tune of 4 percent for the Nasdaq Composite.
CLICK HERE TO READ MORE ON FOX BUSINESS
FOX Business' Thomas Barrabi contributed to this report, which has been updated to reflect recent market moves in 2020. 
*Last update 11-9-2020