The Dow Jones 2016: What to Expect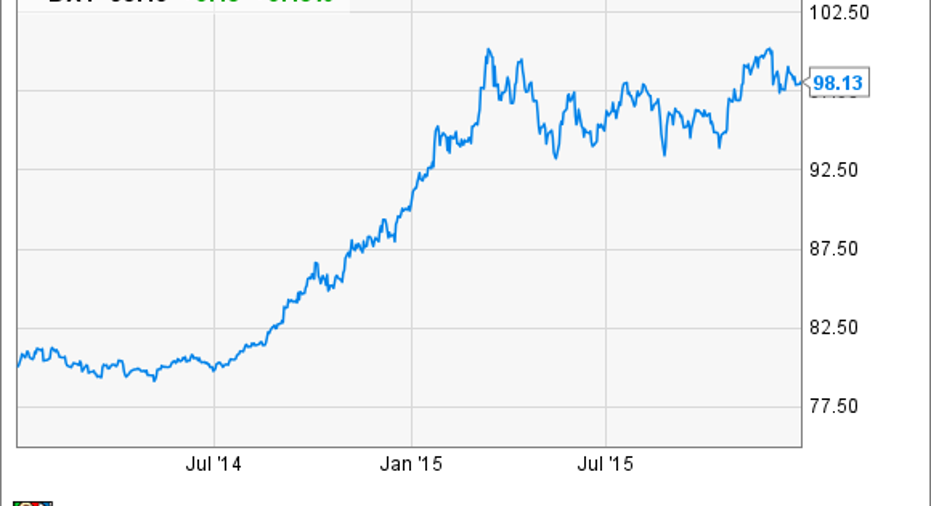 It's essentially impossible to predict exactly where the Dow Jones Industrial Average will end 2016, although even the most Foolish writers have given it a try. When looking into a crystal ball for where the market might be headed I think it's more important to look at what will drive the stock market. And for some hints we may not need to look any further than the driver of 2015's Dow Jones Industrial Average flat performance.
Currency will be a big topic again Depending on how you look at it, 2015's strong dollar was a benefit or a curse. As a consumer, it meant your dollar went further on goods bought abroad. The strong dollar also contributed to falling oil prices and declining commodity prices worldwide.
For companies in the Dow Jones Industrial Average that sell a majority of their products overseas, like 3M, GE, and Apple, however, the strong dollar can present some challenges. Sales made overseas look smaller when converted to strong dollars, meaning growth can appear to be disappointing even if it's strong in local currencies.
As you can see below, the dollar rose sharply in late 2014 and early 2015, meaning most of the year's financial results were affected by the dollar's strength.
If the dollar were to "revert to the mean" and fall in 2016 it could mean better top and bottom line growth for many Dow components. If it continues to strengthen, the slow growth we saw in 2015 will likely continue.
China will be good -- and bad -- for the Dow Another factor to watch closely is China. For a company like Apple, China was a strength in 2015 on strong demand for the iPhone. But overall the country is in a precarious position, and many economists are starting to think the country is entering a recession, or at least a major correction.
The commodity bust of 2015 already caused a lot of pain for companies like Caterpillar, but that could bleed into companies like Walmart, Nike, and Coca-Cola if it drags down the broader Chinese economy. Combine that with all of the companies in the Dow Jones Industrial Average that have major exposure to China and how many are looking to the country for growth and we could see some disappointing results this year.
The Fed will garner a lot of attention While 2015's market headlines were dominated by whether or not the Federal Reserve would raise interest rates, 2016 will be dominated by how much it raises interest rates.
According to Trading Economics, the market thinks short-term rates will be ratcheted up by a quarter percentage point for the first three quarters of 2016. That makes debt more expensive for companies, and could cause them to be even more cautious when investing for the future.
Low interest rates can mask a lot of warts for companies, and when rates rise those warts start to show. 2016 appears to be the year that rates will rise, and that concerns me with a weak global economy and a potential recession in China on the horizon.
Flat will be a good year for the DowEnding 2015, the Dow Jones Industrial Average isn't priced as a value or a huge premium for investors. As of December 28, the index trades at 16.6 timestrailing earnings, which is about its historicalaverage. But if we're in an environment of rising interest rates, a strong dollar, a weak global economy, and falling earnings it seems logical that the market doesn't have a lot of upside in 2016.
If the Dow Jones Industrial Average ends 2016 at 17,700, about where it is as I'm writing, I think it will be a good result for investors. But there are enough headwinds from the global economy that I'm going to be cautious in the new year.
The article The Dow Jones 2016: What to Expect originally appeared on Fool.com.
Travis Hoium owns shares of 3M, Apple, and General Electric Company. The Motley Fool owns shares of and recommends Apple and Nike. The Motley Fool owns shares of General Electric Company and has the following options: long January 2016 $37 calls on Coca-Cola, short January 2016 $43 calls on Coca-Cola, and short January 2016 $37 puts on Coca-Cola. The Motley Fool recommends Coca-Cola. Try any of our Foolish newsletter services free for 30 days. We Fools may not all hold the same opinions, but we all believe that considering a diverse range of insights makes us better investors. The Motley Fool has a disclosure policy.
Copyright 1995 - 2016 The Motley Fool, LLC. All rights reserved. The Motley Fool has a disclosure policy.