The Biggest Threat to Suburban Propane Partners Stock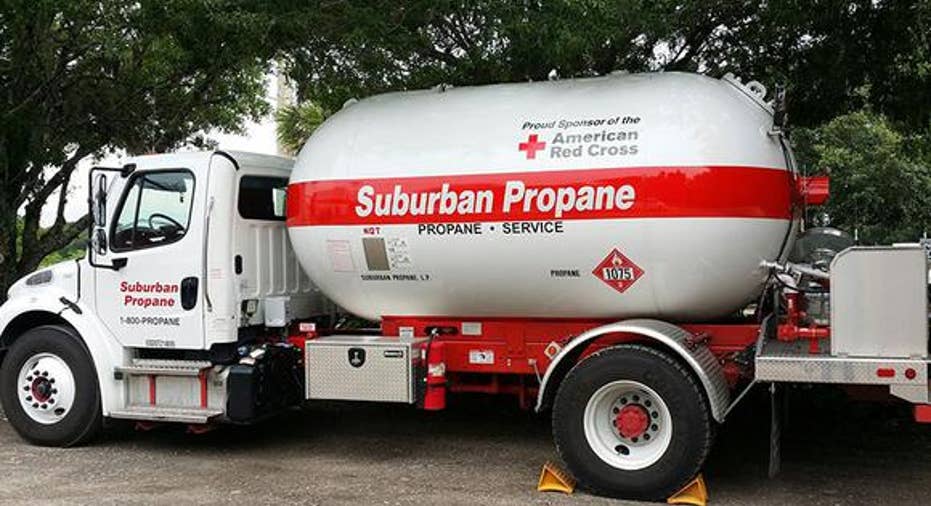 Your friendly neighborhood propane guy. Image source: Suburban Propane.
Suburban Propane Partners has a distribution yield of over 11%. That's a pretty high number and might lead you to ask what's wrong with the company -- even as it entices you to the ticker. The quick answer is that the top line has been falling, but that's not the biggest threat to Suburban Propane Partners stock. Here's why and what you really need to pay attention to.
Top down
Suburban's revenues in fiscal 2014 were $1.9 billion. In fiscal 2015 they fell to $1.4 billion, more than a 25% drop. That's pretty horrible and has a lot to do with the price of propane, which, according to the partnership, fell more than 50% year over year. With the pain in the oil patch, that may not be so surprising. But neither of these numbers is one of the important ones to watch at Suburban.
That's because Suburban is a middleman. It gets paid to deliver propane -- it basically just passes propane costs on to its customers. In fact, low propane prices are really a net positive for the industry, since it reduces the number of customers who defect to alternative fuels -- slow attrition has been a long-term trend in the space. (Remember this little fact, it's important.)
So what should you be looking at? Volume. Suburban delivered nearly 10% fewer gallons in 2015 than it did in 2014. That's why the company's net income was off only about 11.5% last year. That's a big difference, and maybe not what you'd expect, from a cursory look at the top-line decline. Suburban is hardly alone, however. Competitor FerrellGas Partners (NYSE: FGP) sold nearly 12% fewer gallons in the six-month period ended January, the first half of its fiscal 2016. Warm weather was the reason for the volume drop.
Some of Suburban's propane movers. Image source: Suburban Propane.
A slow bleed
But the weather changes quickly, so the future could easily be better than the recent past. In fact, warm weather and low propane prices have an upside because they stop customers from ditching propane in favor of other options, like natural gas and even electric heating. Which gets us closer to the real long-term threat that Suburban Propane has to deal with; Attrition.
Attrition is an ongoing problem for the propane sector and isn't going to stop. But it's one that companies like Suburban have solved by acquiring competitors. For example, Suburban basically doubled its size in 2012 when it bought Inergy's propane business. Who's going to notice a few customers who drop propane when you increase your customer count by 100%?
Big deals, though, aren't the norm. For example, Suburban closed a $45 million deal late last year to buy Propane USA, based in Florida, funding the purchase with cash on hand.The deal was kind of small, adding roughly 7,600 customers and 4.7 million gallons worth of volume. Suburban sold over 480 million gallons of propane last year.
But it's these tiny acquisitions that not only offset attrition but also slowly build up the businesses. That allows for continued distribution growth over time. At least that's the game plan Suburban has long followed (with the exception of the giant Inergy deal). And, despite the current downturn, it isn't changing that approach.
Another truck picture? That's because delivery is so important. Image source: Suburban Propane.
But sustaining a business through constant acquisition activity can be pretty risky. True, Suburban has proven it can handle large transactions, however it still needs to find deals. Warm weather and weak propane prices should make that easier. Yet the deals still have to get done, including finding appropriate financing. That's harder to do with a depressed stock price. Which is one reason why the Florida deal was nice to see, since it didn't involve selling units.
The customer is always right
So the biggest threat to Suburban Propane Partners over the long term is attrition, which brings with it the need for frequent acquisitions. If Suburban can't find enough competitors to buy, it won't be able to offset the slow bleed. And even if it does find acquisition targets, it needs to get the deals financed, completed, and integrated in a timely fashion. That's no easy task.
Suburban is a well run company, but don't get caught up in the seasonal gyrations or the volatile price of the commodity it sells, there's a deeper risk that you need to watch. Even though the partnership has managed the attrition issue well so far, it doesn't mean customer losses and a near constant need for acquisitions won't eventually catch up to Suburban.
The article The Biggest Threat to Suburban Propane Partners Stock originally appeared on Fool.com.
Reuben Brewer has no position in any stocks mentioned. The Motley Fool has no position in any of the stocks mentioned. Try any of our Foolish newsletter services free for 30 days. We Fools may not all hold the same opinions, but we all believe that considering a diverse range of insights makes us better investors. The Motley Fool has a disclosure policy.
Copyright 1995 - 2016 The Motley Fool, LLC. All rights reserved. The Motley Fool has a disclosure policy.