The Biggest Threat to Repligen Stock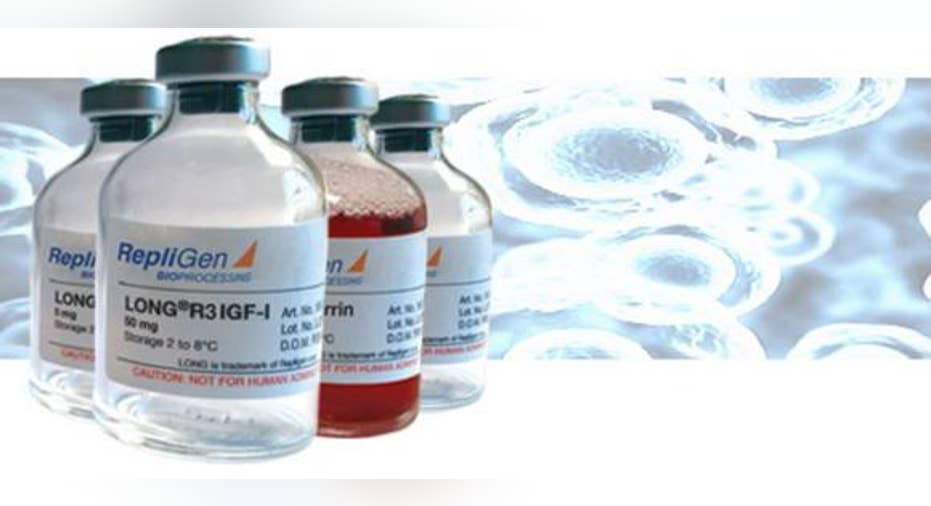 Image source: Repligen.
Last year demonstrated both the promise and the peril associated with investing in shares of Repligen Corporation . By late May, the bioprocessing leader's stock had doubled. By the end of 2015, most of those gains had vaporized. Repligen's downtrend continued through early February of this year, but the stock is now on a roll -- up around 30% over the past two-and-a-half months.
Despite this solid rebound, risks remain for Repligen. One threat in particular holds the biggest potential to derail this once high-flying stock.
Plenty of positivesThere's a lot to like about Repligen. The company's balance sheet looks impressive, with no debt and nearly $72 million in cash. Revenue in 2015 jumped 38% year over year. Earnings grew 14% on a GAAP basis compared to the prior year. That growth, while solid, was heavily weighted by the impact of Repligen's acquisition of Refine Technology. On an adjusted non-GAAP basis, 2015 earnings increased by 69%.
Repligen expects to turn in a good performance in 2016 also. The company projects revenue growth between 11% and 15%. Even better, Repligen thinks that earnings for this year will come in more than 70% higher than its 2015 results.
Are these expectations realistic? Probably so. Around half of Repligen's revenue stems from its protein A ligands business. That business continues to look promising, thanks to growth in the monoclonal antibody (mAb) market. Last year, the FDA approved a record nine mAb drugs. More could be on the way in the next few years, with mAbs representing the fastest-growing segment of the biologics market.
Repligen's protein A ligands dominance seems to be pretty secure. In February, the company extended its supply agreement with GE Healthcare for the Lund, Sweden, manufacturing facility through 2019. The contract with GE for Repligen's Waltham, Mass., facility doesn't expire until 2021. GE Healthcare is Repligen's largest customer and accounted for 37% of Repligen's total revenue last year.
The biggest growth area for the company, though, comes from the alternating tangential flow (ATF) filtration business picked up in the 2014 acquisition of Refine Technology. Repligen's ATF sales soared over 40% in 2015 compared to the previous year. This technology appears to be an emerging industry standard for biologics manufacturers and should continue to generate significant revenue for the company.
The biggest threatAll things considered, Repligen seems to be in good shape. Its core protein A ligands business is thriving. The company locked up a long-term supply deal with GE Healthcare. And it has a great new growth area with ATF filtration. What could go wrong?
The biggest threat for Repligen isn't related to the company's underlying business. Instead, the real risk is related to Repligen's stock price, and that risk is a direct result of the company's success.
Even though Repligen's shares remain well below the highs from mid-2015, the stock still has a sky-high valuation. Repligen currently trades at a trailing 12-month earnings multiple of just under 100. Its forward earnings multiple of 45 looks less scary but is still high.
This kind of premium valuation means that Repligen's stock will pay the price of any misstep. And even if the company itself doesn't stumble, outside factors can still cause problems. We saw this happen in the third quarter last year when Repligen's numbers looked great but a Wall Street analyst downgrade caused shares to plunge 20%.
Digging into that analyst downgrade illustrates the challenge for Repligen. The company made a decision to not move forward with the launch of a new protein A resin. Repligen's rationale was that there were better places to allocate resources that could be more profitable. Although the decision could very well prove to be a smart move, it still hurt Repligen's stock because one analyst thought the company's growth prospects were diminished.
Looking aheadWhat does the future hold for Repligen? There's a high likelihood for sustained business success. The prevalence of biologics will increase -- driving more demand for the protein A ligands supplied by Repligen. Likewise, ATF filtration should also continue to be a high-growth business for the company.
Investors, though, could still experience a roller-coaster ride. Repligen's shares could keep the rebound going, especially if the broader market continues its rally. However, the slightest bump in the road is likely to knock the stock's price down considerably. The higher the valuation, the harder the fall.
The article The Biggest Threat to Repligen Stock originally appeared on Fool.com.
Keith Speights has no position in any stocks mentioned. The Motley Fool owns shares of General Electric Company. Try any of our Foolish newsletter services free for 30 days. We Fools may not all hold the same opinions, but we all believe that considering a diverse range of insights makes us better investors. The Motley Fool has a disclosure policy.
Copyright 1995 - 2016 The Motley Fool, LLC. All rights reserved. The Motley Fool has a disclosure policy.